BU Commencement 2021: Unlike Any in History
Commencement
A BU Commencement Unlike Any in History
US Rep. Ayanna Pressley (D-Mass.), Moderna cofounder Noubar Afeyan to Class of 2021: work for a better world
US Representative Ayanna Pressley (D-Mass.) brought the fire to BU's masked and socially distanced 148th Commencement at Nickerson Field on Sunday afternoon.
Early in her stirring speech at the undergraduate ceremony, she quoted James Baldwin: "The world is before you, and you need not take it or leave it as it was when you came in."
"Baldwin was right. He is right," Pressley (Hon.'21), who had studied at BU for a year, told the Class of 2021 bachelor's degree recipients, both those gathered for the in-person ceremony and those watching the livestream. "You need not take the world as it is, as you inherited it. In fact, you cannot. We need each and every one of you to meet this moment, to imagine a better world, and then to work for it."
The afternoon ceremony was one of two marking this year's historic Commencement; the advanced degrees were given out in a morning ceremony at Nickerson.
Pressley has become a powerful progressive voice in Washington since 2018, when she became the first Black woman elected to Congress from Massachusetts, and she used the Commencement podium to describe a world where racial, social, economic, environmental, and healthcare injustice is the exception, rather than the rule, "where Black and brown folks needn't put our very lives at risk to demand our humanity be seen, affirmed, valued."
---

You need not take the world as it is, as you inherited it. In fact, you cannot. We need each and every one of you to meet this moment, to imagine a better world, and then to work for it.

---
And she said the Class of 2021 must be among those who make that world a reality.
"The Reverend Dr. Martin Luther King, Jr. (GRS'55, Hon.'59) may be one of this institution's most revered alums, but it was Coretta Scott King who said, 'Freedom is never really won—you earn it and win it in every generation,'" said Pressley, who received an honorary Doctor of Laws at the ceremony. "So now it is your turn. You are today's Freedom Riders, today's organizers, today's justice-seekers, today's foot soldiers and organizers."
"When I first ran for Congress, I said, 'Change can't wait.' It still can't, so go now, beyond these walls. Take what you have learned, take the village you carry and the village that has carried you, take your lived experience and build the world you want to see. The future belongs to all of us, and, Boston University Class of 2021, when I look out at all of you, I know that change is on the way."
She wasn't the only one on the dais during the undergraduate ceremony to hit back at injustice. Student speaker Archelle Thelemaque (COM'21) mixed funny notes on campus life—"the hustle and bustle of a GSU lunch rush…shouting Cardi B's 'Bodak Yellow' with the girls before the night out"—with the outrage and grief that have marked the last four years: "#MeToo. #StopAsianHate. #FreePalestine. #BlackLivesMatter. #JusticeforGeorgeFloyd…"
The coronavirus reshaped BU's 2021 Commencement
Because of the COVID-19 pandemic, BU split the 2021 Commencement into separate ceremonies, one for advanced degrees in the morning and the other for bachelor's degrees in the afternoon. No family members or other guests were admitted. Everyone wore masks and the seating layout was designed to provide adequate social distancing.
President Robert A. Brown began both ceremonies by noting how the pandemic had drastically changed campus life since early 2020.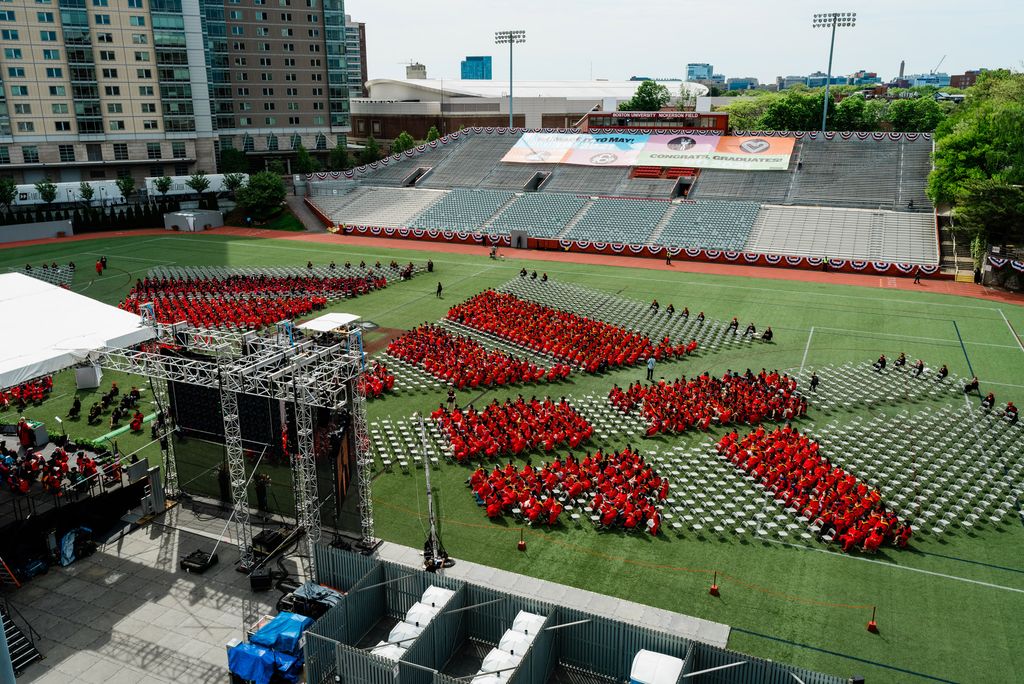 "No one could have imagined the path you would navigate to arrive at today's ceremony," Brown said. "You have become masters of Zoom and accepted mask-wearing as a daily routine."
He applauded the BU community's efforts to keep the campus safe, adding a touch of humor about coronavirus testing: "To date, we have gone through a million swabs. We have the cleanest noses in town."
But during the afternoon event, he also took a serious but hopeful tone. "As we conclude this academic year and look ahead, we have ample reason to celebrate and be hopeful," Brown said. "We succeeded in preventing major outbreaks of the disease. Step-by-step we are restoring campus operations and in-person teaching and learning. This coming fall, we fully anticipate that we will open our campus so that once again it is the vibrant, bustling academic community that we all love."
With that, he honored the University's Healthway team, which has administered BU's comprehensive testing program, contact tracing, and quarantine and isolation protocols under intense pressure since last summer, before the 2020-2021 school began. He brought out Healthway leader Judy Platt, director of Student Health Services, to receive a standing ovation as a proxy for the "over 200 patient and splendidly conscientious individuals" on the Healthway team. "We are forever in their debt," the president said.
At the afternoon ceremony two of this year's winners of the Metcalf Cup and Prize and Metcalf Awards for Excellence in Teaching, the University's highest teaching awards, were honored. The Metcalf Cup and Prize went to Steve Ramirez (CAS'10), a College of Arts & Sciences assistant professor of psychological and brain sciences.
"His passion for exploring and teaching the mechanisms of memory makes him, appropriately enough, unforgettable," Brown said. "Steve Ramirez is deeply knowledgeable and deeply devoted to conveying knowledge with clarity and power."
Metcalf Award winner David Sullivan, a CAS master lecturer in computer science, was honored at the later ceremony, and Fadie Coleman (CAS'97, MED'16), a School of Medicine assistant professor of medical sciences and education, at the morning Commencement.
The afternoon closed with an unusual recessional, a three-song performance on video by the Boston band Dropkick Murphys.
Advanced Degree Ceremony: Moderna Cofounder Tells Students Coronavirus Is Just Your First Challenge
COVID-19 also hovered over the advanced degree ceremony in the morning, but in a good way—as an example of the power of science and as a challenge to graduates.
"You are finishing your advanced degrees amidst a pandemic that has forced you to pioneer your way to a diploma in ways never seen before,"  Commencement speaker and Moderna Therapeutics, Inc., cofounder and chairman Noubar Afeyan (Hon.'21) told graduates, many of whom likely had received his company's coronavirus vaccine. "The question I want to ask you is this: After today, and after the pandemic, will you remain a pioneer?" 
Last January, just 2 days after Moderna learned the genetic sequence of the coronavirus, "we had the design of our mRNA vaccine, and just 42 days later we delivered the first doses to the National Institutes of Health for testing," Afeyan said to grateful applause.
He spoke of a revolution in healthcare to focus on protection and early detection instead of reaction and treatment. "And I shouldn't have to say it, but I will: I believe in science and its capacity to help deliver that revolution, just as today it is leading the way to defeat COVID-19."
Afeyan told the story of Shields Warren (CAS 1918), the grandson of Boston University's first president, whose family name is emblazoned on Warren Towers. Shields Warren graduated from BU in 1918 and was set to pursue a PhD in zoology, but he enlisted to fight in World War I and was sent to Kentucky for training, where he fell ill from the deadly flu pandemic that was then circling the globe. Lying in the infirmary, Warren decided to rewrite his future. He abandoned zoology and became a doctor, going on to be one of the world's leading medical experts on radiation and founder of the Cancer Research Institute at the Beth Israel Deaconess Medical Center; he also served as a BU trustee for 30 years.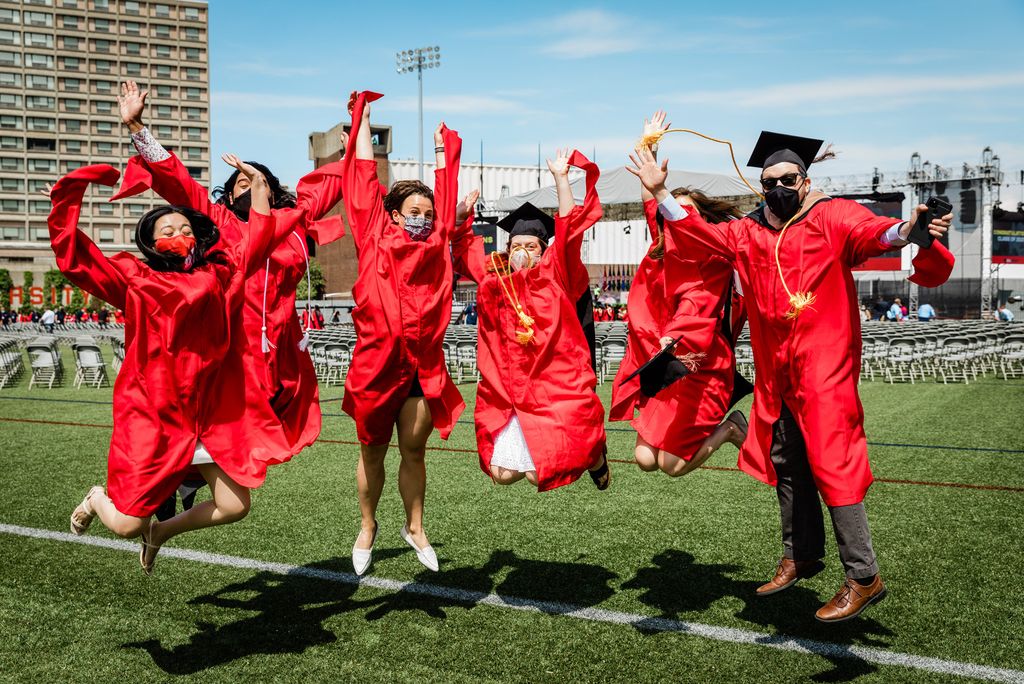 "Looking back on his life, he said that seeing so many people suffer and die in a pandemic helped him learn to disregard fear," Afeyan said. "His fearlessness aided his pursuit of groundbreaking science. His are the footsteps that we should all follow."
Afeyan and Catherine D'Amato, longtime president and CEO of the Greater Boston Food Bank, each received an honorary Doctor of Humane Letters degree at the morning ceremony. D'Amato (Hon.'21) was also honored at the afternoon ceremony. The morning's weather was warm but started out overcast as University leaders recognized 3,217 advanced degree recipients, 2,125 of them receiving master's degrees.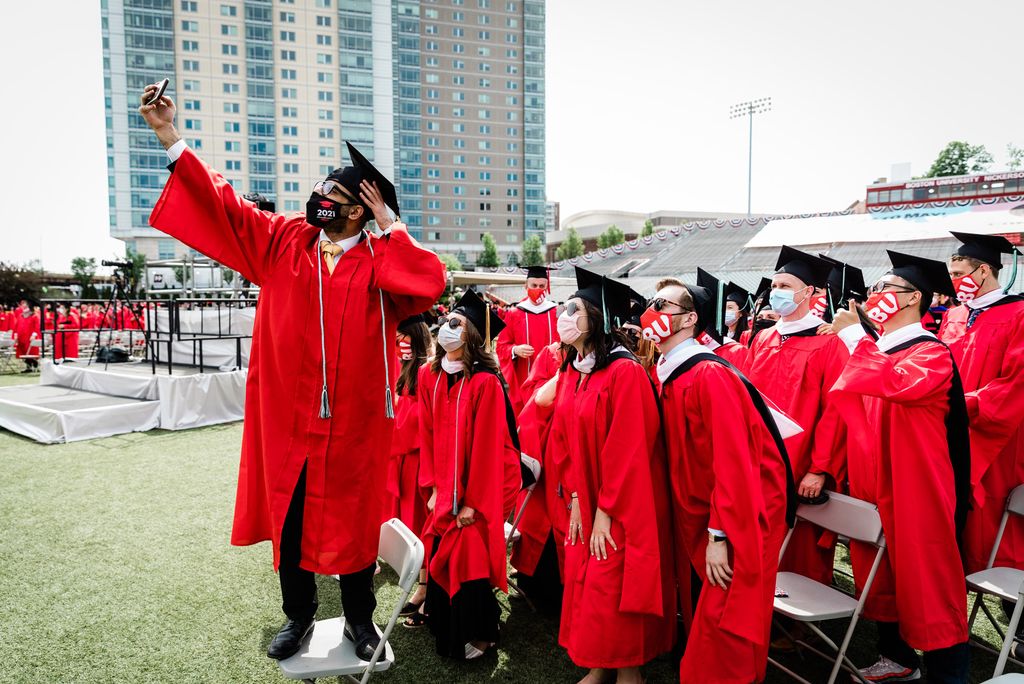 As Brown closed the morning ceremony, he too noted the potential for the Class of 2021 to fight the next pandemic and other problems facing the world.
"On your shoulders rests the enormous responsibility of guiding America and the world and for addressing the substantial challenges we face," he said. "You are the future for this University, for this country, and for humanity. Your Boston University education has prepared you. Go into the world and make it a better place. Congratulations again and good luck to all!"