Neuroscientist Steve Ramirez Awarded BU's 2021 Metcalf Cup and Prize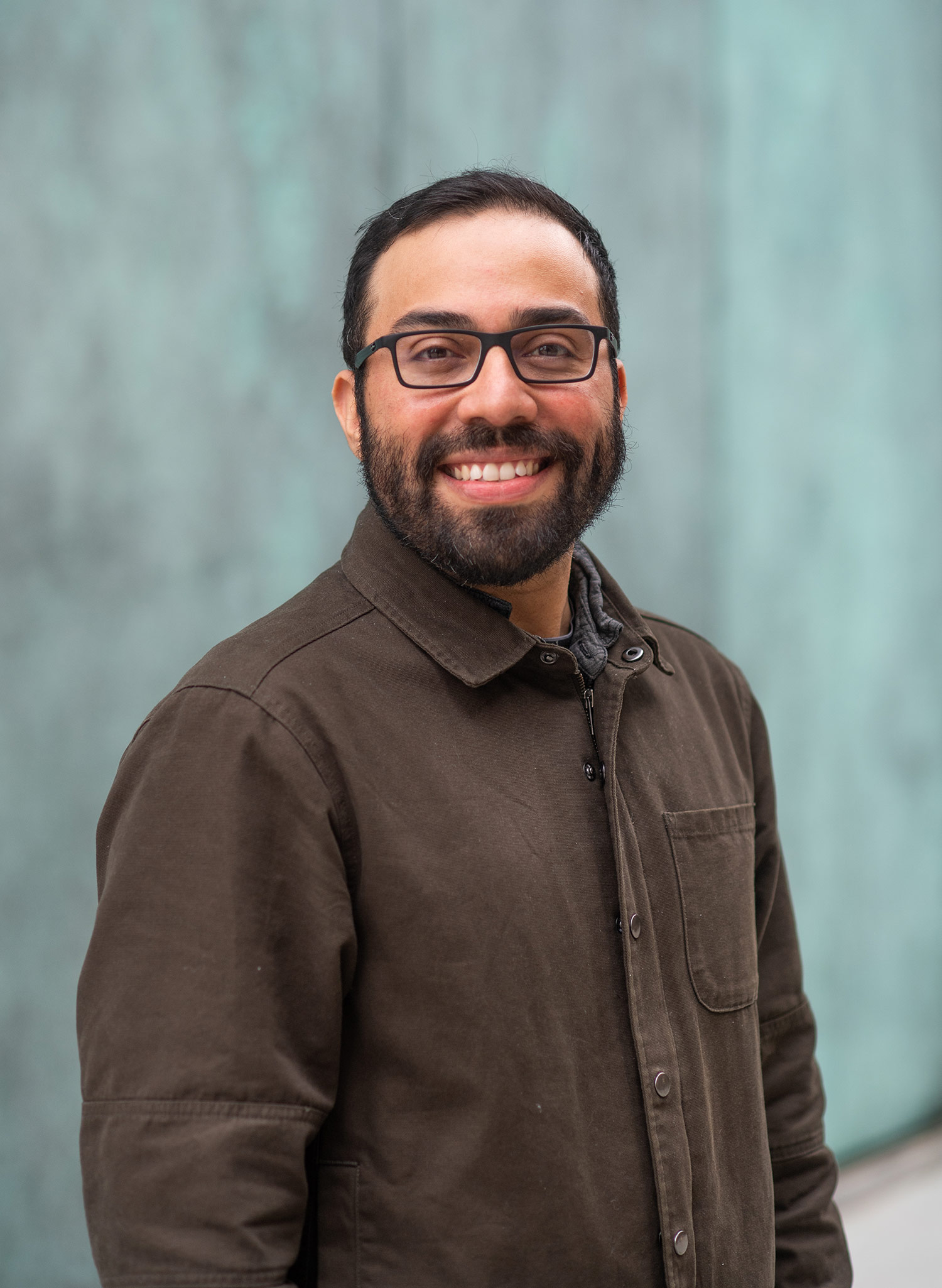 Commencement
Neuroscientist Steve Ramirez Awarded BU's 2021 Metcalf Cup and Prize
Students: he's "humble," "engaging," the "embodiment of a great teacher"
His students may think that when they come to a Steve Ramirez class, they are the ones learning, he is the one teaching. After all, the College of Arts & Sciences assistant professor of psychological and brain sciences is a renowned neuroscience researcher and a leading expert on the science of memory. But what his students don't realize is that just as Ramirez is teaching them, they are teaching him.
"Wisdom is a two-way street when it comes to age. We have to learn from our students as well," Ramirez (CAS'10) says. "When we remind ourselves that students are people too, we listen. What we can do as adults is grow down a little bit."
By growing down, rather than looking down, at his students, he says, he is reminded of all the nuggets of wisdom students can offer. "If you listen and are kind to your classroom, the walls break down for communicating anything."
That listen-first approach is what helped earn Ramirez this year's top BU teaching award, the Metcalf Cup and Prize for Excellence in Teaching.
"Members of the Faculty Teaching Awards Committee were blown away by their visits to Steve's class," the award letter said, citing Ramirez's "masterful organization" in structuring his 50-minute class into defined blocks, while conducting a Zoom chat that was both professional and easily accessible. "Steve presents information in a way that students say is impossible to forget, using personal stories, videos, and pop-culture references they can relate to."
His students echoed the committee's opinion: "It is rare in life to meet someone so willing to help others, and who, despite their incredible academic success, is still extremely humble," one former student wrote in a letter to the committee. "Having the opportunity to discuss neuroscience, and the phenomenon of human memory, with a person who has already contributed substantially to the field, has been incredible. Professor Ramirez is not only a wonderful, engaging lecturer: he is truly the embodiment of what it means to be a great teacher."
Ramirez, at 33 one of the youngest winners of the top Metcalf award, says that after his initial disbelief on learning he was this year's award winner, there was no hesitation about who he'd share the news with first. He calls his parents every day, sometimes twice.
Pedro Ramirez and Delmy Moreno came to the United States illegally, escaping with their son and daughter from a long and deadly civil war in El Salvador and settling in Everett, Mass. (they would later become citizens and have a second son). Seeing his father work 100-hour weeks, from waiting tables to custodial work to eventually managing a lab at Harvard, pushed Ramirez to stay on top of his own schoolwork and become the first in his family to go to college.
"The first thing I thought of was my parents," he says. "Most first-gen students say the same thing. I thought this award was a reflection of my parents' ideals for me. In addition to paying it forward, I wanted to teach it forward. This award recognizes what I want to embody. I want to pay it forward, everything I know and have learned around science literacy."
He's learned a lot. Ramirez's initial interest in neuroscience came as a teenager, when one of his cousins fell into a coma after being anesthetized for a Caesarian section delivery and never completely recovered. As a BU undergraduate, he found purpose in the lab of the late Howard Eichenbaum, a hugely important figure in the study of memory and director of BU's Center for Memory and Brain.
"Wisdom, feedback, and advice"
Today, as principal investigator of his own lab, the Ramirez Group, he is a leading figure in understanding the science of memory, how memory works, and how one day science might be able to help people minimize negative feelings and reactivate older, positive memories. If he's successful in his goal (and he's done it with mice), Ramirez hopes that one day his techniques could help people manage or overcome issues from depression to anxiety to post-traumatic stress disorder, and maybe even the memory loss associated with Alzheimer's disease. A 2015 TED talk he gave on the subject with his research partner Xu Liu, who died in 2015, has garnered over a million views.
"Although Professor Ramirez has not taught for as long as many Metcalf Prize nominees may have, his mastery of the material and his ability to connect with students while helping them both intellectually and personally clearly make him a top candidate for a Metcalf Award," wrote David Somers (GRS'93), a CAS professor and chair of psychological and brain sciences.
As with so many faculty members and researchers, the coronavirus pandemic forced Ramirez to pivot his priorities, his teaching, and even his research in some unexpected ways. "There has always been camaraderie in science," he says, but the pandemic "tied us together closer even while we've been spaced apart."
He has focused his energy on the mental health of his students, arguing that wellness needs to be recognized more than sporadically. "We need wellness forever, not wellness days," he says. He has paid special attention to the stressors on himself and on his students, who appreciate how much he cares about them.
"Rather than staring at the clock waiting for class to end, I found myself wanting to delve deeper into the material and ask as many questions as possible," another former student told the awards committee. "He's a naturally engaging and fascinating person—so much so that it lends extra credence to the wisdom, feedback, and advice that he altruistically shares with his students."
Ramirez says it's important for him to see the world through their eyes, not his, which is why he is active on social media, watches TED talks, and keeps up with what sort of messaging is on TikTok. "I consider myself a student still. I try to put myself in their shoes as much as possible and lean into what they are doing in their free time. Instead of rolling my eyes, I see those things not as distractions, but as opportunities for teaching students in a more organic language."
And even though people all over joke nowadays about how "time doesn't matter anymore" and we forget if it's Monday, Wednesday, or Saturday, Ramirez says, those feelings will have a real impact on his own lab's research.
"We are so used to having memories have a beginning, middle, and end," he says. "But in the last year that was completely turned upside down. We all entered our own heads more."
Unlike other tragedies, like 9/11 or the Space Shuttle Challenger explosion, which had very defined periods of time and grieving, the pandemic has been one gradual, prolonged tragedy. "Something deeper is happening here," he says.
"An award like this is a collective validation of the risks I take in the classroom," Ramirez says. "And I think that has resonated with students. Every time you see a professor do something human, like trip or come to a class late because they were stuck in traffic, students are reminded that professors are human. And I try to remember that students are human too."
A gift from the late Arthur G. B. Metcalf (Wheelock'35, Hon.'74), a Board of Trustees chair emeritus and former professor, funds the Metcalf Cup and Prize and the Metcalf Awards for Excellence in Teaching, created in 1973 as the University's highest teaching awards. The Cup and Prize winner receives $10,000; the Award winners $5,000 each. A University committee selects winners based on statements describing nominees' teaching philosophy, supporting letters from colleagues and students, and classroom observation of the nominees.
The winners of this year's Metcalf Awards for Excellence in Teaching are Fadie Coleman, a School of Medicine assistant professor of medical sciences and education, and David Sullivan, a CAS master lecturer in computer science. The Metcalfs will be presented at the University's 148th Commencement on May 16.