Economic Impact of Pandemic Has Boosted Demand for BU's Program for Food-Insecure Students
Campus Life
Economic Impact of Pandemic Has Boosted Demand for BU's Program for Food-Insecure Students
Terrier Meal Share expected to grow this year as COVID-19 continues
When Terrier Meal Share, the University's program to combat food insecurity among BU students, launched last year, 18 students requested meals. That modest demand was expected, "after a soft rollout to be sure that the program was working as planned," says Steve Singer, associate dean of students for shared business services, who oversees the program.
Then COVID-19 and its accompanying lockdowns hit. As those sliced families' incomes, students' food insecurity—inadequate amounts to eat because of financial or logistical impediments—soared. By the end of the academic year last May, Terrier Meal Share had served 77 students with 830 meals, says Singer. Students typically received between 5 and 20 meals each.
The completely confidential Terrier Meal Share uses an online portal, where students donate their extra guest dining hall meals to food-insecure peers. Those peers sign up to have five meals put on their Terrier Card, usable in all University dining halls.
The demand remains at BU, Singer says, though it's been depressed this fall because many students are studying remotely. Hunger is growing on college campuses during the current COVID surge, and across the country more Americans are using Supplemental Nutrition Assistance Program benefits, usually called food stamps, to buy groceries online.
Singer discussed the need for Terrier Meal Share and its impact with BU Today. 
BU Today:
How many students have requested help this semester?
Steve Singer: We have provided meals to 16 students, a total of 190 meals. We're rolling out information to remind students about this program. We started with information in the Howard Thurman Center weekly newsletter. We're rolling out similar information in many other departmental newsletters. Many of our colleagues—Financial Assistance, University Service Center, Student Services offices—are aware of this support program. Students can learn about the program on the Dean of Students and Wellbeing Project web pages.
BU Today:
Do you expect more students to sign up as the year progresses?
Steve Singer: Yes. Due to various financial and personal situations, we do expect an uptick. Keep in mind that Financial Assistance, the Dean of Students office, and others collaborate to understand if the student is having any additional challenges, such as the need for textbooks, daily supplies, and living expenses, etc. The Terrier Meal Share program has been designed to assist the student in the short term. Our goal is to review any long-term solutions that we can put in place to assist the student.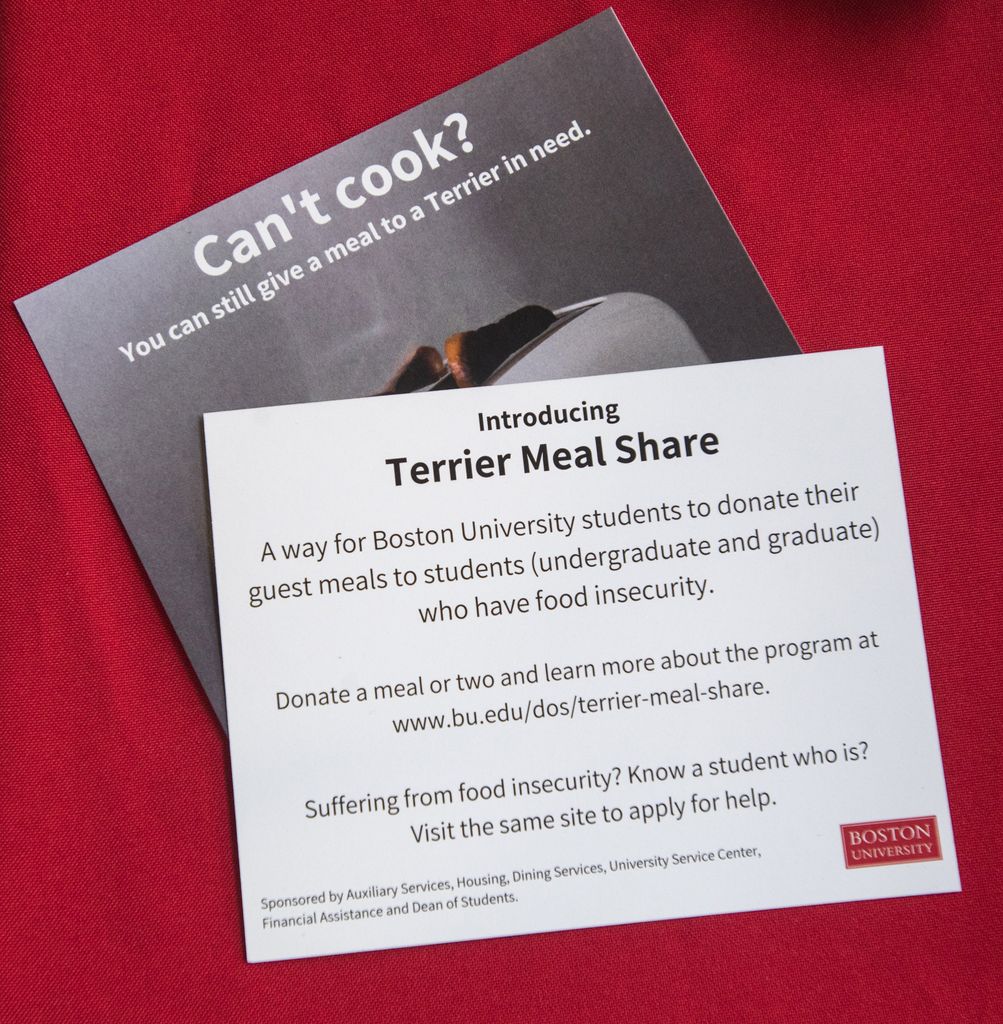 BU Today:
Was last year's increase in demand caused by the pandemic?
Yes. Last spring, we saw an increase in demand as the program was more well known. From March and beyond, the pandemic was mentioned by many requesting meals. Fortunately, we were able to provide assistance to all students in need who requested.
BU Today:
How many meals have been donated so far this fall? Are students aware of the greater need and responding?
We have received 35 donated meals from students. Auxiliary Services once again is matching meals by providing one meal for every meal a student donates. The combined total is 70 meals donated—35 by students and 35 matched by Auxiliary Services. Auxiliary Services also provided 250 meals to begin the school year.