FAQ about This Year's Second BU Commencement: Times, Transit, COVID Precautions, and More for the 2020s' Delayed Big Day
Answers to FAQ about times, transit, COVID precautions, and more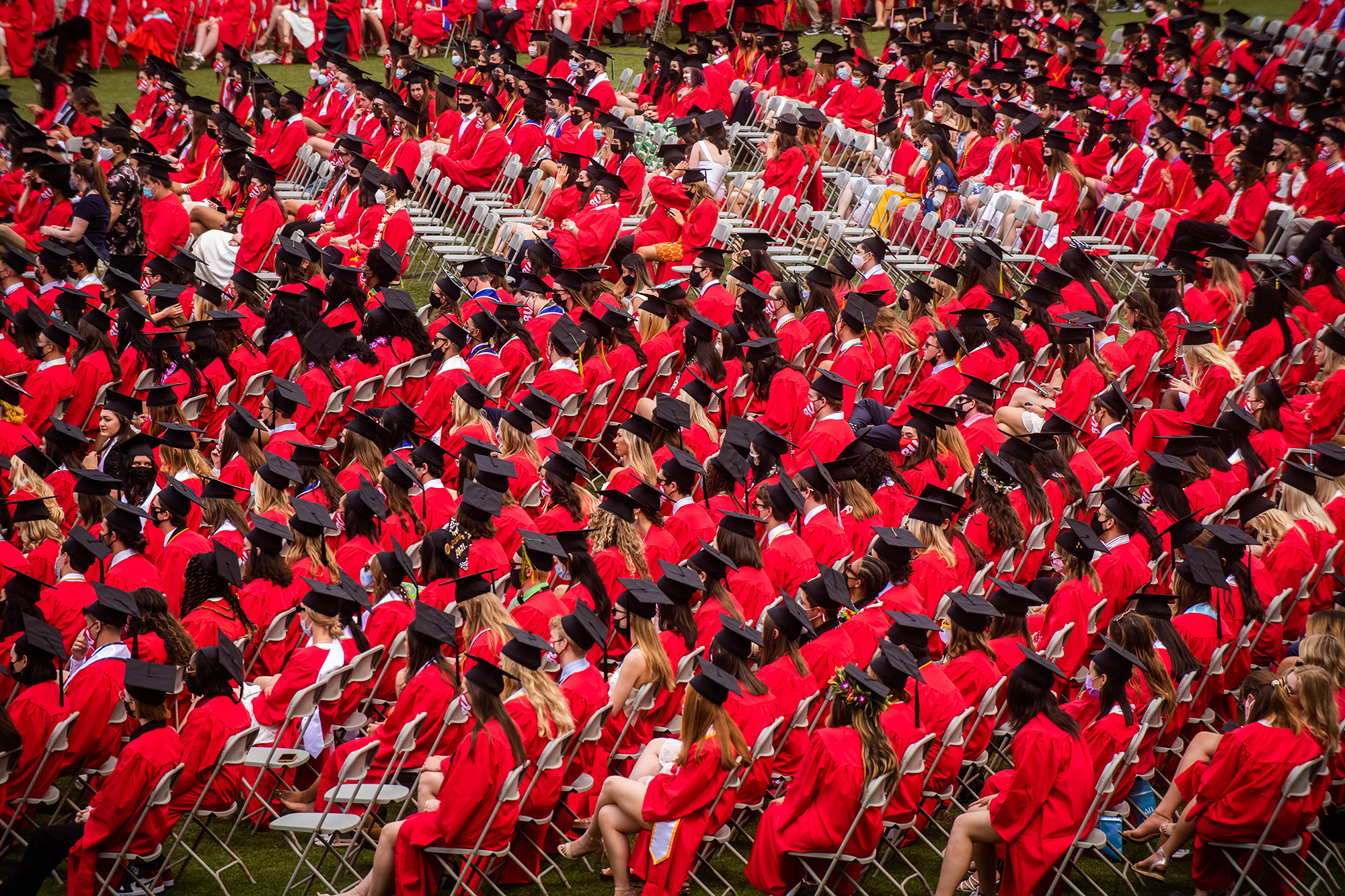 Commencement 2020
Class of 2020 Commencement Is Sunday: Here's What You Need to Know
Answers to FAQ about times, transit, COVID precautions, and more
Better late than never: BU fetes the Class of 2020 in a pandemic-postponed All-University Commencement this Sunday, October 3, rain or shine, on Nickerson Field. With looser (though not completely eliminated) COVID-19 restrictions than last May's Class of 2021 event, this one is expected to draw an estimated 7,500 people, including 1,818 Class of 2020 graduates.
Individual school and college "recognition events" (called convocations in past years) meanwhile should see 2,445 members of the Class of 2020, along with their guests. The 2020s will mingle with lots of fellow alums, as the University is also hosting its annual Alumni Weekend. Here are answers to commonly asked questions, compiled with information from the University's Commencement website and BU leaders.
So who are all these people in crimson caps and gowns?
Anyone who earned a BU undergraduate or graduate degree from September 2019 through the following September was eligible to register for the ceremony. On-campus housing is not available, but BU has been helping Commencement and Alumni Weekend visitors find discounted rooms at special rates; find a list of those here.
Whens and wheres, please?
The Baccalaureate will be held in Marsh Chapel at 11 am on Sunday and will run about an hour. Seating is first-come, first-served, with overflow seating available. The speaker will be Yolanda Kakabadse, former director of the World Wildlife Fund International, who will receive a Doctor of Humane Letters at Sunday's 147th Commencement ceremony. The ceremony will begin at 1 pm on Nickerson Field and run about two hours. The Class of 2020 graduates will be seated with their school or college and recognized as a group.
Both the Baccalaureate and Commencement will be livestreamed on the Commencement website.
Who are the other speakers and honorary degree recipients?
Victor J. Dzau, president of the National Academy of Medicine, will give the Commencement address and receive an honorary Doctor of Science. The other degree recipients are Thomas R. Insel (CAS'72, MED'74), former director of the National Institute of Mental Health, Doctor of Science; David Satcher, 16th US Surgeon General, former Secretary for Health in the Department of Health and Human Services, and former director of the Centers for Disease Control and Prevention, Doctor of Laws; and Mark Volpe, who recently stepped down as president and CEO of the Boston Symphony Orchestra, Doctor of Humane Letters.
For the first time in BU history, the Commencement student speaker will be an alum: Macken Murphy (CAS'20). The student singer will be Rozime Lindsey (CFA'23).
The 2020 Metcalf Cup and Prize for Excellence in Teaching, the University's highest teaching award, will be given to Sarah Sherman-Stokes, a School of Law clinical associate professor and associate director of the Immigrants' Rights & Human Trafficking Program. Seth Blumenthal, a College of Arts & Sciences Writing Program senior lecturer, and Courtney Goto, a School of Theology associate professor of religious education, will receive the 2020 Metcalf Awards for Excellence in Teaching.
With COVID-19 still raging, what safety precautions is the University implementing and how many guests are allowed to attend?
The University has mandated vaccination for all current students, faculty, and staff, and BU encourages visitors, including returning 2020s and their guests, to be vaccinated as well. While on campus during Commencement weekend, visitors must, under University safety protocols, wear masks or cloth face coverings indoors at all times except when eating or drinking.
As Commencement will be outside, no masking or distancing requirements will apply on Nickerson Field, but 2020s are limited to four guests each at the ceremony.
I had originally planned to attend my individual BU school or college convocation event. Are those still being held?
As your Commencement experience is different from any other in BU history, so too is convocation. First, it isn't being called "convocation," but rather a "recognition event." This gives schools leeway to craft their individual ceremonies. (Not all of them have speakers, a departure from years past, and members of the Class of 2020 have already received their diplomas, usually distributed at convocations.) A list of times and locations for school and college recognition events is here.
With the double-whammy of Commencement and Alumni Weekend, will there be road closures?
On Sunday, Harry Agganis Way will be closed to all vehicular traffic from 8 am until approximately 4 pm. Families and guests attending Commencement will be directed to the various access ways to Nickerson Field.
What am I allowed to bring to Baccalaureate and Commencement?
No backpacks, luggage, food, or beverages are allowed at either ceremony.
What about special parking arrangements?
Campus parking—limited and subject to availability—will be at these locations:
Agganis Arena C-2 Lot, 925 Commonwealth Avenue (enter on Buick Street)
Langsam Garage, 142 Gardner Street
Buick Street Lot & Garage, 25 Buick Street
CFA Lot, 855 Commonwealth Avenue
Essex Street Garage & Lot, 148 Essex Street (Brookline)
766 Commonwealth Avenue Lot, 766 Commonwealth Avenue
Upper and Lower Bridge Lot, One University Road
What public transit is available for those who don't want to drive?
Boston's MBTA trolley (Green Line B) and the 57 bus run along Comm Ave and will be offering regular Sunday service on Commencement Day.
Special BUS (BU Shuttle) service will be available on Sunday from 7 am to 5 pm. Shuttles will service all stops below every 10 minutes at the beginning of service and then every 5 minutes beginning at 11 am until the end of service:
Eastbound
#1 Commonwealth @ Pleasant Street
#2 Commonwealth @ Saint Mary's Street
#3 Commonwealth @ Blandford Street
#6 Commonwealth @ Buick Street
Westbound
#4 Commonwealth @ Silber Way
#5 Commonwealth @ Saint Mary's Street (Marsh Plaza)
#6 Commonwealth @ Buick Street
NOTE: Face coverings are required on the BUS and on the MBTA.
And as for ridesharing…?
To avoid traffic on Comm Ave, if you're using a ridesharing service, please ask your driver to drop you off at 250 Pleasant Street, Brookline. This location is across the street from the Agganis Way entrance to Nickerson Field.

After the ceremony, for those picking up your party or being picked up, proceed to Sullivan Tire, 950 Commonwealth Avenue. Limited live parking will be available, and any cars left unattended will be towed as parking is strictly forbidden in this lot. Please wait with your car until your party crosses the street after Commencement.
I've had to wait a year-plus for my special day. Do I get any special compensation?
There will be a reception on Nickerson to celebrate the 2020s immediately following the ceremony.
Oh !@#$%—I forgot to reserve my mandatory cap and gown for Commencement.
A limited selection is available for purchase (or rental for doctoral degree recipients) at the Barnes & Noble at Boston University, 910 Commonwealth Avenue. The store will be open extended hours this weekend for last-minute needs: 8 am to 8 pm on Saturday and 8 am to 7 pm on Sunday. While every attempt will be made to provide walk-ins with the regalia appropriate for their degree, sufficient inventory cannot be guaranteed.
Boston University's 147th Commencement is Sunday, October 3, at 1 pm, rain or shine. Find more information about Commencement here.