Six BU Students on an Unforgettable Summer Working at Boston City Hall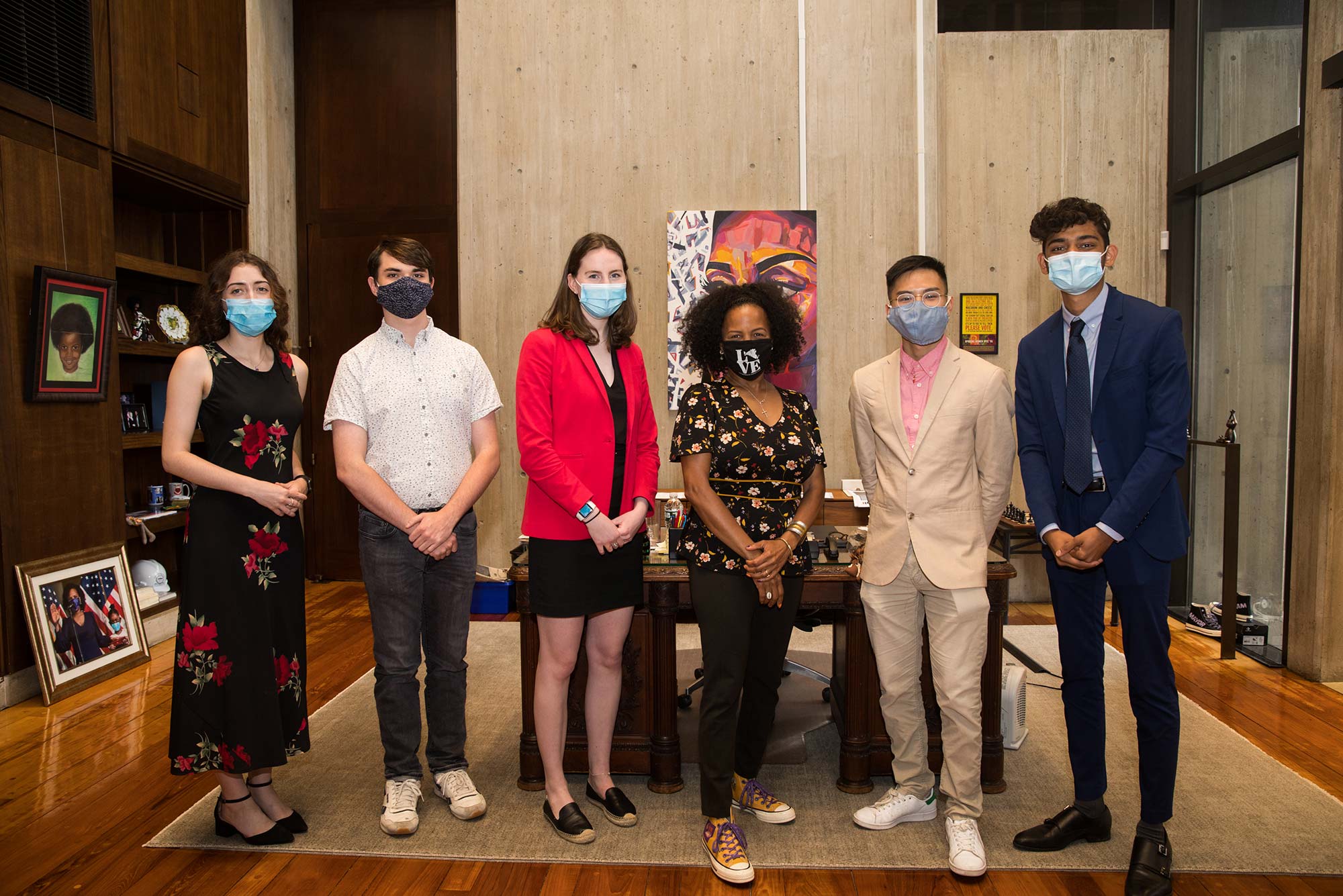 Government
Six BU Students on an Unforgettable Summer Working at Boston City Hall
2021 City Scholars and Initiative on Cities Summer Fellows talk about an experience that influenced and shaped their career goals
Climate change. Social and economic inequities. Racism. These are among the most pressing issues facing society. And this summer, six BU students got to tackle those topics and more as interns at Boston City Hall, where they learned firsthand about policy-making, public health, the environment, and more from leaders in city government.
Three of this year's interns were BU City Scholars Summer Fellows, a program funded by the University's Government & Community Affairs office open to any full-time sophomore or junior Thomas M. Menino Scholar or Boston Community Service Scholar who demonstrates an interest in public service and local government. The other three were 2021 Initiative on Cities Summer Fellows, an internship program funded by BU's Initiative on Cities (IoC), cofounded by Thomas M. Menino (Hon.'01), the late mayor of Boston. That program is open to both undergraduate and graduate students.
"I wound up working for late Boston Mayor Tom Menino after a summer grad student internship many years ago, so I know how life-changing eight weeks can be," says Katharine Lusk, IoC codirector and founding executive director. "Even for students who don't choose to make a career at City Hall, I hope they walk away with an understanding of government as a force for good and local government as a place where passionate people—at any age, from any background—can make a difference."
"We are so proud of our students for their service and contributions to the City of Boston through the BU City Scholar Summer program," says Jake Sullivan, BU vice president for government and community affairs. "We are fortunate to have the support of so many mentors within the administration and City Council who have provided invaluable career exploration to our students. It's rewarding to see these graduates of the Boston Public Schools now attending Boston University continue to thrive and contribute their talents in service of the city." 
The students—all of whom received a stipend from the University to support their internships—say that the opportunity to gain firsthand exposure to how municipal government works proved invaluable and has helped influence and shape their future career goals. BU Today asked them to share what they learned working at City Hall this summer.
BU City Scholars Summer Fellows
Lily Kelly (CAS'22)
Major: political science and history
This summer I worked in the Mayor's Office of Policy and Planning, working on several policy-related research projects focused on education, housing, and workforce development. My daily responsibilities included meeting with city officials and reading and writing about my policy focus areas. I attended and recorded meetings for Boston's Equitable Recovery Taskforce, a group of community members focused on allocating funds granted by Congress' American Rescue Plan Act of 2021. After gathering research, I gave presentations on policies to strengthen the middle class in Boston. I also spent time in, and learned about, other departments in the mayor's office, such as the communication team, scheduling, and neighborhood services.
My most rewarding project was supporting the newly established Children's and Youth Cabinet. In June, Mayor Janey announced Boston's first-ever cabinet focused solely on children and youth issues. I worked closely with the chief of policy and the policy team to research models of successful children's cabinets, potential framework, government and community membership, and other projects. I added my unique perspective as a recent Boston Public Schools graduate and current BU student to answer questions on how to best reach and serve youth in Boston.
Witnessing firsthand how policies progress from an idea to implementation, I learned the importance of equity and community engagement to make sure no one is left behind. I saw how impactful city government is on our everyday lives and how important it is to stay engaged. My summer in the mayor's office was an amazing experience that only increased my passion for public service. I would love to return to city government after graduation and give back to the Boston community.
Christopher Dew (CAS'22)
Major: political science
I had the amazing opportunity this summer to work with Boston's City Council in the office of Councilor Kenzie Bok. Throughout my time there, I did research on issues around the city and possible policy solutions that the council could adopt. I also helped constituents in the councilor's district deal with various issues. I served as an assistant liaison for Beacon Hill and helped residents of that neighborhood enact change at the local level. This involved meeting with local organizations, participating in service work, and interacting with other city departments. I worked on three major policy proposals throughout the summer, focusing on housing discrimination, sustainability, and municipal broadband. Each of them was presented to the councilor and will help inform policy priorities for the coming months.
I became passionate about these issues through my work interacting with people in Boston and talking about the issues they faced. I saw many citizens struggling with subtle forms of housing discrimination. I also found, through my research, that there is a disproportionately high LGBTQ+ homeless population throughout the state. Discussions with neighborhood groups pointed to high levels of food and plastic waste the city was creating at a time when the impact of climate change has become so apparent. As a student who went through online learning during the pandemic, I also understood the importance of internet access. Hearing about the existing inequity regarding Boston residents' access to broadband inspired me to research proposed municipal broadband ordinances for Boston.
Each of these issues had a level of intersectionality and depth that made finding solutions to them difficult, but rewarding and each addressed inequality in American politics, which I have devoted a lot of my time at BU to studying. Getting to do in-depth research about issues I am passionate about was an incredibly fulfilling experience that has helped inform me about what I would like to do with my future career. Working at City Hall has helped me realize my passion for research and activism for social justice. Interacting with residents across the city has also helped me gain more perspective into the topics I study and has shown me the importance of engaging with the community to create tangible and lasting change. I hope to use the skills I have developed throughout my time with the councilor's office to pursue a career studying the history and solutions to structural injustice.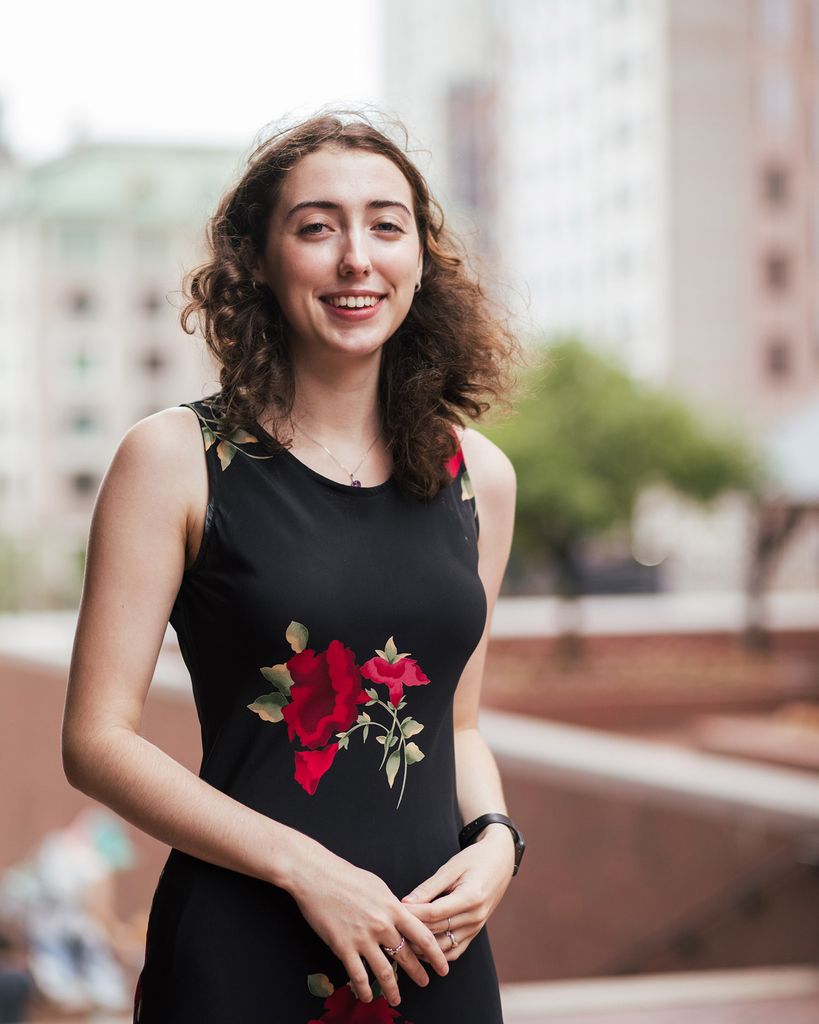 Julia Sullivan (Sargent'22)
Major: health sciences
This summer, I had the amazing opportunity to intern in the office of Boston City Councilor Liz Breadon. My responsibilities included public policy research and mass communication. One project that I loved working on was just successfully referred to the Committee on Government Operations for further action. For the project, I researched predatory towing and eventually drafted a preliminary ordinance to present to the City Council. The final ordinance advocates for a towing bill of rights against unethical towing practices in Boston. Predatory towing comes in many forms and has the potential to exacerbate financial hardship and homelessness, and even jeopardize lives if medication in a towed vehicle is withheld. Some of the protections the ordinance calls for include access to personal items, reimbursement for damages and unauthorized tows, and prohibition of predatory practices (like patrolling commercial property without cause). It is surreal to have contributed to work that will safeguard people's financial stability, shelter, and lives.
Another fun part of the internship involved my communication responsibilities, creating newsletters and social media content. As a health sciences major, it was particularly exciting to be able to design and distribute weekly COVID-19 material for thousands of constituents that included statistics and lists of resources. The experience challenged me to consider from a public health perspective how to convey critical information in a way that will engage the most people.
Prior to this internship, I was only partially aware of the true magnitude of municipal government's impact on our lives. It fiercely and regularly tackles big issues like the opioid crisis, homelessness, access to education, and COVID-19. The fulfillment I gained from this experience reaffirmed my desire to pursue a career that improves the lives of others. When I graduate, I hope to work with those experiencing substance use disorders before applying to medical school. While I have not set my sights on a specific medical field, I find myself intrigued by infectious disease, substance use disorders, and emergency medicine. One day, I would like to combine my passion for government and medicine with a career at the Centers for Disease Control and Prevention, which works to combat infectious disease and the opioid crisis.
BU Initiative on Cities Summer Fellows
Deep Patel (CAS'22)
Major: economics
This summer, I was fortunate enough to have worked in the Mayor's Office of Policy and Planning. It was nothing short of a truly transformative and fulfilling experience. Prior to this fellowship, I had taken a course at BU on public policy analysis that sparked my interest in this area. My time at City Hall has not only reinforced this passion, but also bolstered it, especially as it relates to the principles of equity, recovery, and inclusion.
Another intern and I worked on a summer-long middle-class policy project where we researched, developed, and presented a number of municipal policies to keep Boston's young adults and middle-class families in the city. Our work included government intervention and support in the fields of workforce housing, green workforce development, public transit reform, and long-term COVID-19 health precautions.
Yet another policy project that I took on with a fellow intern was increasing awareness and usage of the B-Local app, an application that allows Bostonians to shop for food and services at discounted prices from local minority and BIPOC-owned businesses. We worked with a team from Colu, the developers of the B-Local app, and discussed ways in which we could market the app particularly to college students through intercollegiate competitions. We even met with BU's Student Government to initiate preliminary planning.
One of my main responsibilities and personal policy projects this summer was working to establish the right to cooling in residential Boston given the extreme heat waves our city experienced this summer. I worked with members of the environment team and the Boston Public Health Commission to develop my research to help ensure that we have the best mechanisms in place for a heat-resilient future.
The most important thing I learned from this fellowship was the importance of equity in municipal policy work. Everyone in my office and at City Hall taught me that though there are myriad ways to improve the city of Boston, if a policy is not helping those most in need, more work needs to be done. My fellowship enabled me to gain both professional and practical experience working with elected officials and community leaders, expanded my knowledge and network, and sparked a desire to continue working in public service. As a rising senior who will be graduating in May 2022 from the College of Arts & Sciences and Kilachand Honors College and who plans on going to law school, this fellowship helped me realize how academia, policy, and law can translate into a career in which I can advance the public good.
Avi Nguyen (CAS'22)
Major: political science and economics
I had the privilege of working for the Mayor's Office of Resilience and Racial Equity this past summer. My responsibilities revolved around my main project: planning a multicultural speaking event. I was given the opportunity to choose the theme, which was immigration heritage and food stories. I wanted to highlight the ways in which immigrant communities around Boston spice, sauté, and share their love through the food they prepare. The greatest challenge in developing this project was understanding the bureaucracy of municipal government. The event had to be coordinated through numerous departments, such as Special Events, Immigration Advancement, and Food Access. There were several meetings to ensure that every department understood the role it would play during the event. Despite the sometimes overwhelming nature of the work, I felt supported; everyone was encouraging and helped in the planning process. I felt like I was participating in a project creating new connections for the Office of Resilience and Racial Equity. My experience overall left me feeling proud.
My other responsibilities included meeting with local organizing groups that tackled neighborhood problems in innovative ways. For example, one group sought to give low-income children experiences, such as dirt biking, to make them more courageous and willing to engage in rewarding activities.
My time at the Mayor's Office of Resilience and Racial Equity gave me a sense of independence and community that I would not have otherwise. It was a summer of learning how to operate in, and adapt to, new networks by myself, and I am thankful for that.
Kimberly M. Rhoten (GRS'26)
Working on a PhD in sociology
During my fellowship with the City of Boston's Mayor's Office of New Urban Mechanics, I worked closely with the Office of Returning Citizens (ORC). Since its inception in 2017, the ORC has met with 1,100 clients and provided more than 2,700 referrals to service providers in the Boston area. The ORC caseload has risen by over 700 percent since it first launched. I had the great opportunity of working with the current ORC staff to evaluate the successes and challenges the office has faced over its four-year tenure. To accomplish this, I collected and analyzed client and referral data, identifying patterns in services, successful referrals, and current gaps in resources for returning citizens. After identifying the resource gaps, we explored potential expansion efforts for the office, including adding not only additional services and resources, but also ORC staff to better fit the needs of Boston's returning citizens. I spoke with reentry offices across the country to identify model practices and potential reforms. On a typical day, I would be on calls with reentry service providers, analyze client data, and later draft a comprehensive document for city officials on my findings.
I discovered that municipal government is a complicated wicket, indeed. There are many moving parts that must work together for change to occur. I am excited to see where our work goes, but I know that it may take many more meetings and some elbow grease. The best part of the job was working closely with the ORC staff, who are not only phenomenal at what they do, but do it with such heart. I am walking away from this experience with a profound respect for those who commit their lives to public service.
After I complete my PhD, I hope to engage in a dual academia/public service role where I can put into practice the theories we engage in within sociology. I wanted to take part in the MONUM Fellowship to get a firsthand perspective into the inner workings of municipal government work.
Find more information about the Boston University City Scholars Summer Fellows program here. Find more information about the Initiative on Cities Summer Fellowship program here.