Manchego, Brie, and Gruyère: BU Cheese Lovers Society Likes Them All
Club serves up tastings, trivia, and tips for DIY cheesemaking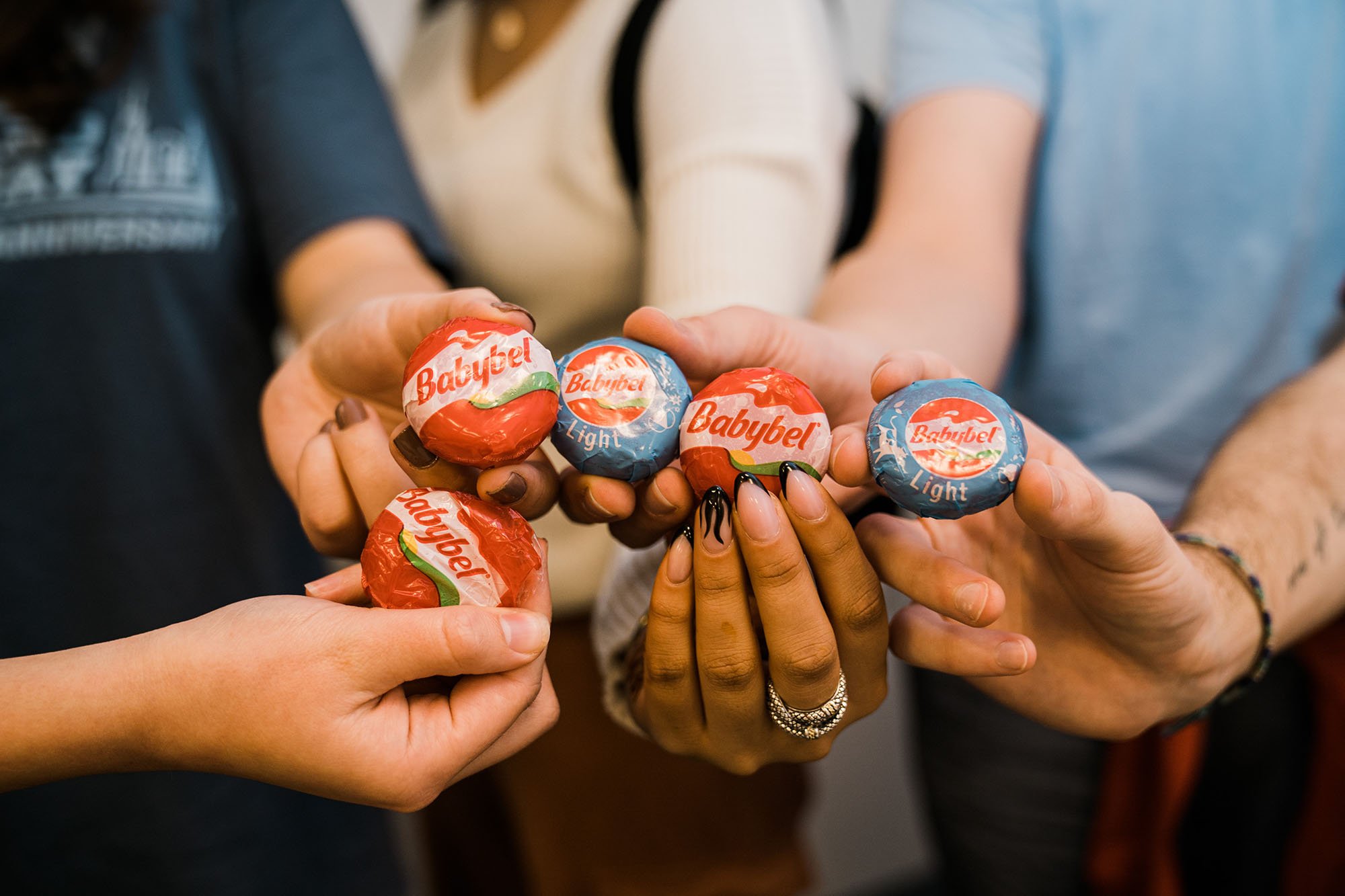 Student Clubs
Manchego, Brie, and Gruyère: BU Cheese Lovers Society Likes Them All
Club serves up tastings, trivia, and tips for DIY cheesemaking
Manchego, Brie, Cotswold, and Havarti are among the cheeses favored by BU students, BU Today learned last Tuesday night at the first BU Cheese Lovers Society meeting of the year. More than 40 students, many undoubtedly drawn there by the promise of free cheese, showed up at a College of Arts & Sciences basement classroom excited to talk about their favorite milk by-product, snacking away on some cheddar while doing so.
The BU Cheese Lovers Society launched last year, after four friends returned from a study abroad trip to Spain, inspired by all the great cheeses they had tasted in Europe. Home in their childhood bedrooms during the pandemic, they wanted to start a fun nonacademic club. Today, their mission is to build community through a shared interest in cheese, learn about different cultures through the cheeses of the world, and show that shopping for cheese doesn't have to be intimidating or super expensive.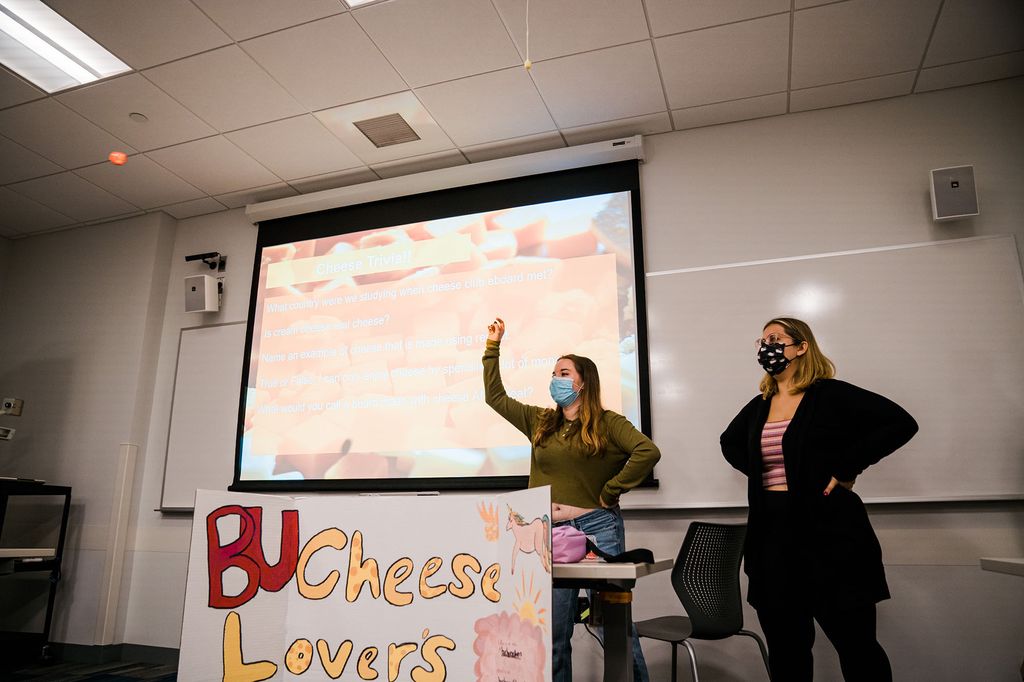 "We want to bring people together and help them discover what their own cheese taste is," says club president Hannah Gorman (Sargent'22), a human physiology major, who owns a cheese board with the saying, "Sweet dreams are made of cheese" engraved on it. "With the demographic we are appealing to, we know many members want to learn how to enjoy cheese on a budget. We want to take away the intimidation and help students learn what they do and don't like."
The global cheese market was valued at $157 billion in 2020, and is projected to reach almost $200 billion by 2030, according to industry reports. Experts say this growth is the result of an increase in fast food consumption, as well as people learning more about the health benefits of cheese and the rise in popularity of European food culture across the world, especially in the Asia-Pacific region.
The BU Cheese Lovers Society e-board is admittedly not super well-versed in cheese, so leading the club and coming up with activities is a learning process for them, too.
In last week's first in-person meeting (the group aims to meet monthly), the BU Cheese Lovers Society kicked off with a (fun) cheese trivia PowerPoint. First question: Which two are not cheese? Options: Philadelphia Cream Cheese, cottage cheese, Kraft Singles American, and Cheese Whiz. Turns out the latter two are not cheese, because they contain little-to-no milk fat or rennet (an enzyme produced in the stomach of cows, sheep, and goats). Those who got the answers correct got a Babybel or a cheddar cheese stick tossed to them from across the room.
Gorman shared some of her favorite local cheesemongers, like Trader Joe's, Smith's Country Cheese, a Winchendon, Mass., farm that sells at the Copley Farmers Market, and Harry's Cheese and Cold Cuts in Haymarket, a no-frills shop with prices way below what you would find at Whole Foods and high-end South End retailer Formaggio.
Later this semester, the group hopes to get hands-on, with cheese making demonstrations and lessons on how to build a charcuterie board. They also plan to share cheese-centric recipes, and they hope to repeat an activity they did last year, where they taught students over Zoom how to make ricotta using a dorm room microwave and simple ingredients—whole milk, salt, and vinegar or lemon juice—and a paper towel or clean cloth to strain.
"That one is easy—it's just heat and acid, and you just add something to curdle it," Gorman tells the group. Mozzarella is tougher, she says, because it involves sticking your hand in boiling milk. 
Returning member, and goat cheese fan, Julia Samuels (Wheelock'24) says she joined the club last year because it seemed like a good diversion from her intense schoolwork, and a way to meet people, since she was new to BU. "It was one of the few virtual clubs that had fun activities that weren't academic-heavy," she says. "The first month of school has been a little exhausting because it's been so long since we've had to make small talk." Her friend Emily Prendergast (CAS'24), who says she puts parmesan cheese on everything, agrees.
Much of the club's vibe is collaborative, Gorman says, since members have varying expertise in cheese. One member is from the town in Italy where parmesan originated, and it's a big part of his family history. Another has shared info about a yogurt cheese that her family enjoys in Lebanon.
"One of the things I realized when we started the club was that you can look at any culture or country, and many have cheese," says Gorman. "So we find members bring in their own cultures, family history, and relationship with cheese. And then we can all enjoy."