BU Academy Sees Admissions Boom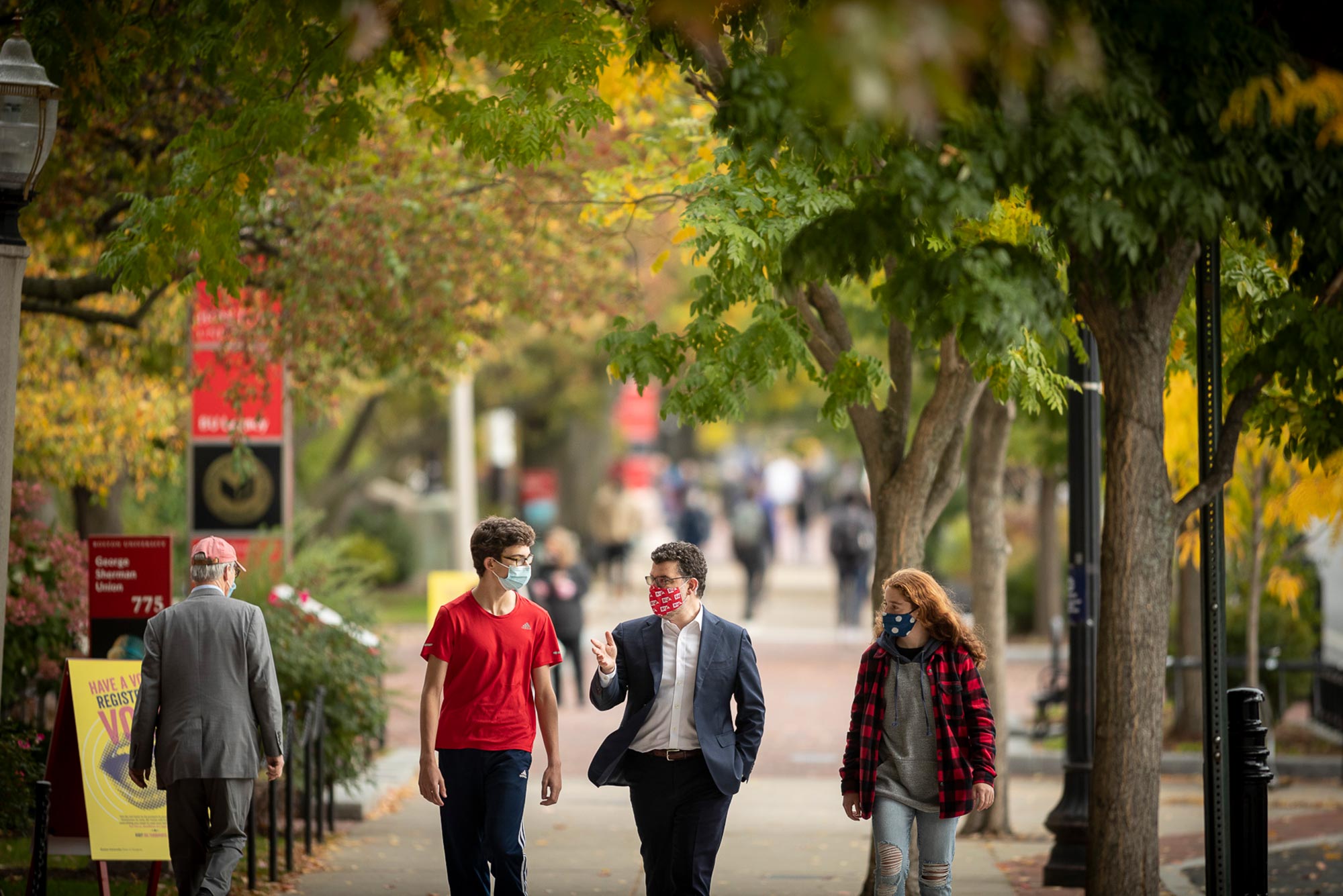 University News
BU Academy Sees Admissions Boom
Special atmosphere and BU COVID precautions credited for increase
Boston University Academy, the independent coed private high school operated by BU, will enroll its largest ever ninth grade class this fall. Applications increased by a third, driven by the academy's ability to take advantage of the University's COVID testing protocols—and its growing reputation.
"It's impossible to tease out how much of this is due to a pandemic boost, but there are plenty of things that indicate to me that it's more than that," says Christos Kolovos, BUA head of school, who took charge of the school at the corner of Comm Ave and University Road last summer.
BU Academy's "yield"—the percentage of accepted students who choose to enroll—also hit an all-time high. The school typically aims to enroll 48 to 50 ninth-graders each year, but next fall the incoming ninth grade comprises 69 students, split into five sections instead of the usual four, requiring schedule adjustments and the hiring of one or two new adjunct faculty members.
BU Academy was unusual among high schools nationally, public or private, by returning to full in-person learning on campus four days a week for the 2020-2021 school year despite the pandemic, going remote only on Wednesdays. Although vaccines have created a brighter outlook for the fall, that was a selling point for many families during the application process back in March and before.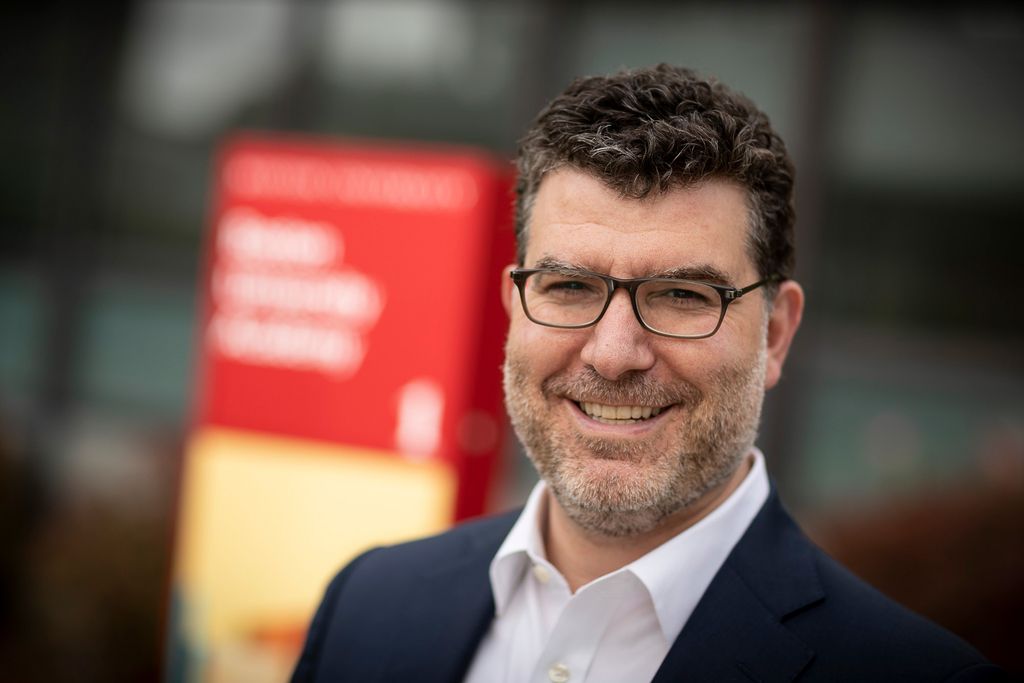 "The pandemic side is pretty important as you look at families—we've heard this over and over again—who've had experiences with public and other independent schools that have not been positive," Kolovos says. "There are some kids who haven't been in school in person since March 2020. Our having kids in school four days a week has a lot to do with BU. The testing has been huge for us."
Following the University's protocols, BU Academy tested everyone twice a week, and had only two positive tests all year among students and one from a part-time staff member, with no on-campus transmission. "That says to me it's not just the testing, it's the compliance," Kolovos says. "We've got kids who really want to be in school. Not being able to be there? They took that seriously. They had a chance to do something amazing, and they were all over it."
The academy also improved ventilation and adjusted classroom layouts for better social distancing, again with BU's help.
While the pandemic definitely meant a bump in the numbers, Kolovos says, that's only part of a broader story, as parents and students help spread the word about the value of a BU Academy education.
Two key parts of that value proposition are also connected to BU, he says. One is that 11th and 12th graders, and sometimes younger BUA students, can take courses at the University. "We hear from professors a lot and often that BUA students are among the top students in their undergrad classes," Kolovos says. "They're bright kids, they do all the work, and professors love having them. The other students often don't know they're high school students—and they [our students] like it that way."
Ask Abhi Lingareddy (BUA'22), who presented his research on the urban heat island effect at the Campus Climate Lab Info Session as part of this year's BU Sustainability Earth Week 2021. BUA students have to write a senior thesis, and Lingareddy is already conducting his research, with a $1,500 grant from BU's Campus Climate Lab and guidance from Dan Li, a College of Arts & Sciences assistant professor of earth and environment, and Victoria Perrone, a BUA chemistry instructor and director of student life. Lingareddy spent the grant on sensors he has placed around the BU campus to study existing solutions to the urban heat island effect, such as white roofs, green roofs, and landscaping.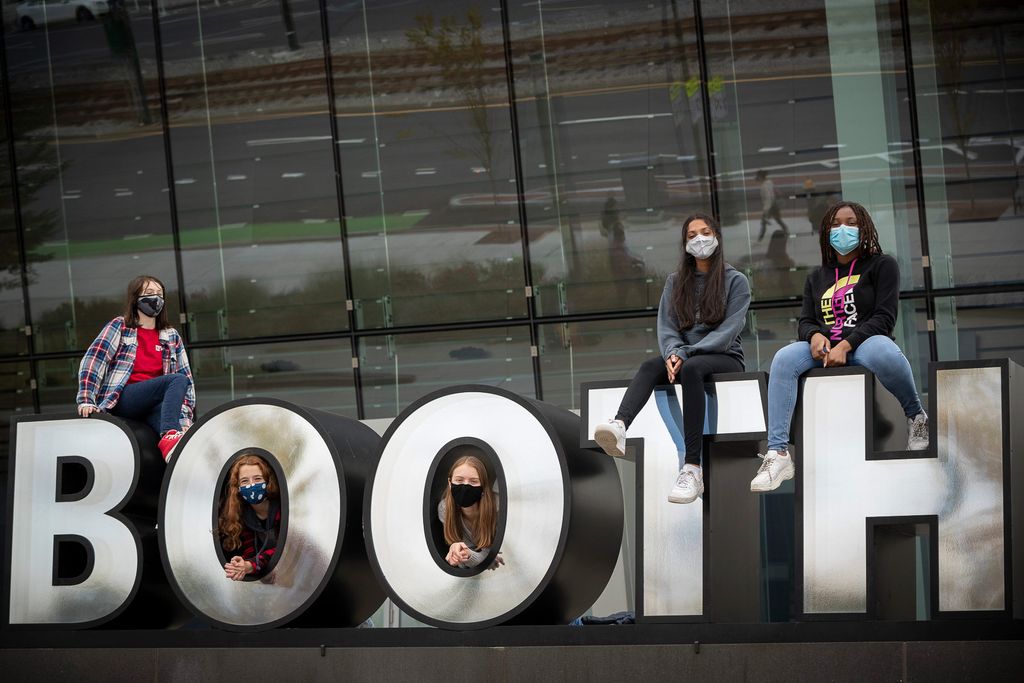 "What inspired me to pursue my own research was we got a tour of Professor Li's lab, where they focus on a lot of this kind of urban climate research," says Lingareddy. "I was thinking, what can I do personally to help out the cause and actually do something myself? A few weeks later, I saw an email from the Campus Climate Lab that they were giving out grants, and I wondered: would I be able to get one? And they said even though I'm a BU Academy student, I could apply.
"Honestly, I'm a little surprised myself," he says with a grin. "I didn't think I'd get this far. I knew I'd be taking BU classes, but I had no idea I'd be getting a grant. I think a lot of it is just seeing what opportunities you have and just going for them."
His BU Academy experience has been so positive that his younger sister applied and is part of this fall's entering class.
Taking University classes looks good on a high school transcript, and students can even pile up enough credits to shorten their time in college. The other part of the equation is that BUA grads in good standing are all but certain to be admitted to BU. And for BU faculty and staff who send their teenagers to the academy, BU's tuition remission policies apply for the students' senior year.
But the biggest selling point, says Kolovos, is the school's culture. It's not just about test scores. The ideal BU Academy student is always described with two adjectives…
"You're gonna hear 'kind and curious' over and over," Kolovos says with a smile. "I might add 'capable.' It might sound like bragging, but it's one of the things that really distinguishes our kids. Truth is, we leave a lot of kids with perfect scores on the table in the admission process. If something on record indicates they're not great citizens of their current school or not really interested in the learning but just going through the motions, they're not a BUA kid."
---

You're gonna hear 'kind and curious' over and over. I might add 'capable.' It might sound like bragging, but it's one of the things that really distinguishes our kids.

---
Jeff Furman, a Questrom School of Business associate professor of strategy and innovation, says his daughter, Alex, and her public-school classmates struggled to adjust to their junior high Zoom classes this year, and that Alex was surprised by the student engagement and lively discussions in the BUA Zoom classes she visited during the admissions process.
"That experience got her more interested in the school and in learning why the BUA students cared so much about the topics they were studying," he says. "Her conversations with BUA students and teachers during the admissions process made it seem like everyone was on an intellectual adventure. She recognizes that BUA will be a big challenge, but she became deeply convinced that it is a challenge she would like to take." And now she's part of that record class too.
And as much difficulty as the coronavirus brought, Kolovos says, "we have learned stuff through the pandemic that is going to make school better in normal times."
The school is changing up its academic schedule for this fall, embracing later start times that better match adolescent sleep cycles. Fewer but longer classes each day will mean more gets done and that students will have fewer homework assignments each night.
"We've also changed the way we communicate with parents," he says. "It's easier for parents to have a college counseling visit on Zoom than to schlep into the city for a half-hour meeting." Zoom is also better because socioeconomic differences can make it harder for some parents to make that schlep.
Kolovos notes that the student body will be 61 percent non-white next year and more than 30 percent of students will receive some form of financial assistance—pretty diverse for a school of its type.
"More to the point, you get on campus and it doesn't feel stuffy, it doesn't feel exclusive," he says. "I think some of that is the kids we're selecting. Just these sweet, bright kids who really love to learn."