POV: Bad Umpiring Hurt Baseball in 2021, Especially in the Playoffs. It's Time for Change
When it comes to calling balls and strikes, MLB picks umpires based on seniority over performance, a practice that must stop, Questrom professor argues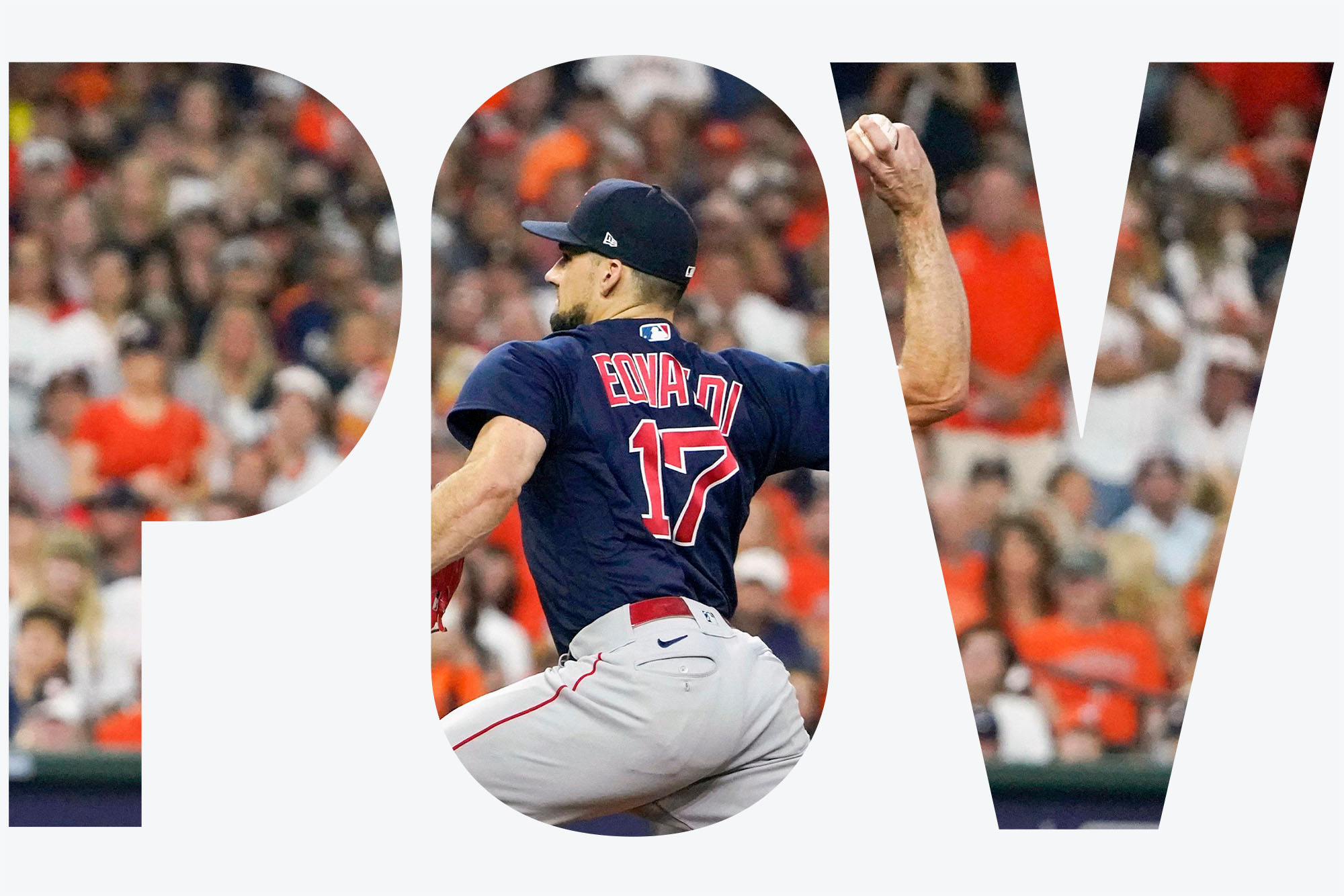 Red Sox
POV: Bad Umpiring Hurt Baseball in 2021, Especially in the Playoffs. It's Time for Change
When it comes to calling balls and strikes, MLB picks umpires based on seniority over performance, a practice that must stop, Questrom's Mark Williams says
The 117th World Series is now behind us, with victory going to the tenacious Atlanta Braves, their first title since 1995. While different teams may win the trophy, one constant remains—bad pitch calling behind home plate. Players and fans deserve better, especially with so much riding on every pitch come playoff time.
After conducting a detailed performance study for the 2021 regular season, analyzing over 353,000 pitches, covering 2,430 games, there were a troubling 29,101 incorrect ball and strike calls made, equating to 12 times per game, or 1.3 per inning. On average, full-time umpires got it wrong 8.3 percent of the time, while younger call-up (substitute) umpires got it wrong 7.9 percent of the time. During the postseason and through the World Series, when the stakes are the highest and every pitch matters the most, Major League Baseball continues to allow second-rate umpires to officiate the biggest moments. The two best teams made it to the 2021 World Series, but unfortunately the best umpires did not. Of the seven umpires chosen, none were ranked in the top 10 for pitch-calling accuracy, and in fact, many ranked in the bottom quartile.
Home plate umpires exert the greatest influence on the game, judging every pitch that's not hit. For the 2021 season, there were 74 full-time and 25 call-up umpires. The average age of full-time umpires was 49. The youngest (Nic Lentz) was 31 and the oldest (Joe West), 69. Interestingly, when rating pitch-calling performance, younger umpires tended to be higher performers.
Which makes sense, as this demanding job requires strong reflexes, eyesight, and physical stamina. The top-10 ball-strike callers averaged 5 years of experience, whereas the bottom 10 averaged 22 years behind the plate.
Prior to each opening day, MLB assigns 19 crews of four umpires. Based in part on seniority, one umpire is appointed crew chief. Crews work each game, assuming one of four field positions (except for the World Series, when seven umps are utilized). Though it seems counterintuitive, each game, crew members rotate positions clockwise—from base umpire to home plate duties—regardless of their pitch-calling ability. This is a major flaw, since we know that MLB umpires are not equal in their ball-strike accuracy. Some are better at field positions and others are best behind the plate. This rotation approach is relatively new. In the earlier days of the sport, there was specialization, and home plate duties were the purview of the most experienced umpires.
Last season, full-time umpires, on average, worked the plate 26 times and judged 3,840 pitches each, while call-up umps, on average, worked the plate 19 times and each judged 2,766 pitches; collectively, these umpires made over 29,000 bad calls. For this work, senior umpires can make $450,000 or more—not including the perks of postseason work.
Each year, the ball-strike calling of the top umpires continues to get stronger. However, the problem is that the lower performers are allowed to continue to work the plate. At some point, just like athletes, plate umpires hit their peak. Yet this reality appears to be ignored by MLB.
---

If pitch-calling accuracy demonstrated over the course of the regular season is not the primary criteria for working the big game, then what is?

---
There is a stark difference between the very top and very bottom performers. Here is one example: Tripp Gibson, age 40, who won UmpScores 2021 Umpire of the Year award, had an impressive regular season bad call ratio of only 6.43 percent, missing under nine calls per game. But, at the other end of the spectrum, Ed Hickox, age 59, had a bad call ratio of 10.82 percent, missing a staggering 16.3 calls per game, almost twice as many as Gibson. Why is that sizable error rate acceptable to MLB?
These two individuals are not outliers. When comparing the top and bottom 10 pitch callers, a deep accuracy divide remains. For 2021, the top 10 (average age 36) made bad calls only 6.89 percent of the time, or 9.8 per game. The bottom 10 (average age 56) made bad calls 10 percent of the time, or 14.71 per game. This staggering 45 percent swing in accuracy reinforces the fact that it matters who is behind home plate.
Bad plate calls also tilt the advantage to the pitcher or to the batter. Among MLB umpires, not only is there extreme variability in pitch-calling accuracy, certain umpires are notoriously bad at ball-strike calling during critical-count situations, such as 3-2, 2-2, 3-0, 0-2, and 1-2.
One bad plate call can dramatically change offensive opportunities. For example, on a 1-1 count, batters tend to hit .332, but on a 1-2 count, this advantage drops to .160. On an 0-2 count, the advantage drops to .156, which is why batters attempt to avoid two strike situations. When umpires make ball-strike errors, game odds and outcomes change.
Just ask Boston Red Sox ace pitcher Nate Eovaldi. During the critical game 4 of the American League playoffs between the Houston Astros and the Red Sox, plate official Laz Diaz missed an astonishing 21 ball-strike calls. In a key moment, Eovaldi was facing batter Jason Castro with two on and two outs, with the Red Sox holding a 2-1 series lead and home park advantage. The batter count was 1-2 (advantage to the pitcher), Eovaldi threw a curve ball for a strike that would have ended the inning, tied 2-2. Instead, Diaz called it a ball and two pitches later Castro hit a run-scoring single that blew the game wide open. Ultimately, the Red Sox also lost the series and a chance to advance to the Fall Classic.
Poor pitch calling by Laz Diaz should not have come as a surprise to the MLB, players, or fans. For the entire 2021 season, the 58-year-old umpire had been a bottom quartile performer, ranking only 64/74, with a bad call ratio of 9.55 percent, over 14 bad calls per game. The fact that MLB handpicked Diaz to umpire in the postseason is baffling, and the league must be held more accountable for allowing subpar officiating behind the plate.
If pitch-calling accuracy demonstrated over the course of the regular season is not the primary criteria for working the big game, then what is? Looking at the average age of top-performing umpires and the ones chosen for the 2021 World Series, it is clear that MLB and the union don't utilize a merit-based system, but instead reward seniority over ability. This is a fundamental flaw.
The debate will rage on about whether robot umpires should be deployed to improve plate umpire accuracy. In the interim, there are incremental steps that MLB should make that could greatly reduce pitch-calling error rates and adverse impact on the game, and improve player and fan experience.
First, MLB should rethink their crew assignments, the outdated rotation system, and allow only the top ball-strike callers to specialize behind home plate. Baseball is a sport of specialization, so why shouldn't this also be applied to home plate umpires? Adopting such an approach would allow the other umpires to focus primarily on base umpiring.
Second, umpires picked for the World Series should be at the top of their game. Choosing seniority over performance needs to stop. Working the postseason should be a privilege earned by umpires (young or old) that demonstrate strong pitch-calling performance over the regular season, and not a perk driven by seniority.
Third, MLB needs to recruit and promote stronger pitch callers, acknowledge peaking behind home plate, and weed out underperformers sooner. Higher standards should be used when determining who gains the privilege to work the plate. Major League Baseball Umpires Association also needs to wake up and realize that bad plate calls tarnish the profession, hurt the game, and diminish fan experience.
The number of full-time umpires is capped at 74, and with only a few new slots coming open each season, new talent is shut out until older, lower-performing umpires are retired. As extensive data from my original 2019 research showed (further supported this past season), umpires, like athletes, peak. Umpires such as Joe West, age 69, a perennial underperformer, who only after 44 years, is now retiring, should not have been allowed to continue to work the plate. Laz Diaz has also demonstrated his plate-calling duties should end. And it's time MLB let new talent flourish.
Mark T. Williams (Questrom'93) is a recipient of the James E. Freeman Lecturer Chair. He is the founder of UmpScores, a performance app dedicated to providing baseball fans with home plate umpire statistics, analysis, and ratings.