Amie Grills Will Be New Associate Provost for Undergraduate Affairs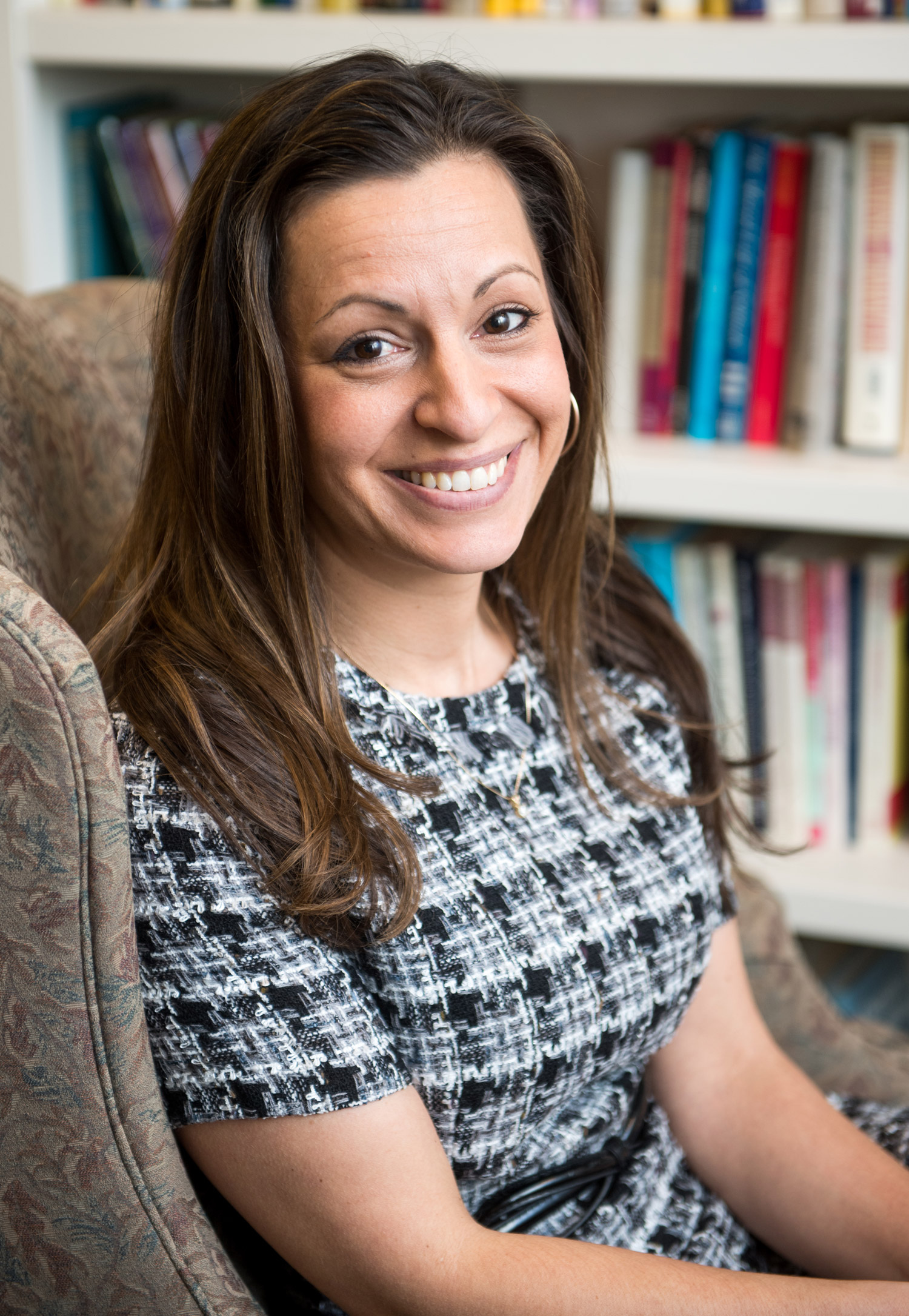 Promotions
Amie Grills Will Be New Associate Provost for Undergraduate Affairs
Scholar, teacher, and leader is known as a bridge builder
Amie Grills approaches her newest job in academia with a solid understanding of the stresses that her profession can induce. A clinical psychologist with a particular expertise in treating anxiety in youth, her coedited book Critical Issues in School Mental Health: Evidence-Based Research, Practice, and Interventions (Routledge, 2015) won a Choice Magazine Outstanding Academic Title Award in 2017. Now, Grills, currently Wheelock College of Education & Human Development associate dean for faculty affairs and research and a professor of counseling psychology and applied human development, will use that knowledge, along with her equally well-documented leadership skills, for the expansive purview of the University's associate provost for undergraduate affairs.
In her new job, which starts September 1, Grills will oversee the BU Hub, the Undergraduate Research Opportunities Program (UROP), Kilachand Honors College, and in collaboration with the associate provost for digital learning and innovation, the BU Center for Teaching & Learning.
In a letter sent to faculty and staff, Jean Morrison, University provost and chief academic officer, says Grills is one of the University's most engaged and respected scholars, teachers, and leaders in undergraduate and graduate education.
"Professor Grills has held a leadership role in the Strategic Planning process over the last year, leading efforts for the Vibrant Academic Experience pillar as a University-wide strategic priority sponsor," Morrison writes. "Her energetic work in this area has meant developing partnerships with a wide range of University-wide initiatives that will play centrally in her work as Associate Provost, including the BU Hub, the Faculty of Computing & Data Sciences, Student Wellness and Health Initiatives, and the Post-COVID to 2030 Working Group. Throughout this work and her efforts within Wheelock, Professor Grills has emerged as a bridge-builder, with a reputation among colleagues as an exceptionally good listener who is able to think creatively and bring people together around common solutions."
Grills says there are many reasons she is excited about her new position. "The two topmost," she says, "are: one, having the opportunity to dedicate my time to undergraduate affairs, and two, being able to think about and enact ways to engage and support students so they can fully experience all that a University like BU has to offer.
"There is some truly extraordinary growth and change that can occur in the undergraduate years," she says. "I love the broadening of perspective that occurs as students are exposed to a greater range of worldviews and learn to appreciate difference and diversity. Some of my favorite classroom discussions are those where I can see students working hard to listen and learn from each other's experiences. You can also sometimes see a spark emerge for students when they get exposed to a whole array of courses and fields that they previously had little or no experience with—for instance, when what was an interest in math becomes a love of applying it to music or data science."
Grills can vividly recall her own experiences sitting in college classrooms for the first time learning about topics she didn't even know existed. "Those courses sometimes confirmed that I would not take another course on that topic," she says, "but I often found myself just wanting to learn more or continue the incredible conversation that had emerged in class. As a faculty member, it's always exciting to get to see this kind of transformation occur in my students. I'm driven to think about ways to enhance these sorts of interactions and to provide our undergrads with opportunities to leave BU feeling invigorated and prepared for their next adventures. I can't wait to develop and collaborate on initiatives that will increase these experiences for our students."
A licensed clinical psychologist and researcher, Grills specializes in the treatment of child and youth anxiety in school settings, as well as the resiliency factors in individuals of all ages following traumatic events. She has received a host of national awards for her scholarship, including from the Association for Psychological Science, the Anxiety Disorders Association of America, and the Association for Behavioral and Cognitive Therapies. In 2017, she was chosen BU's United Methodist Scholar/Teacher of the Year (now the University Provost's Scholar-Teacher of the Year). Her research has been continually supported by the National Institutes of Health, and she has published two books and over 50 papers in high-tier refereed journals, along with numerous book chapters and encyclopedia entries. She joined the BU faculty in 2009.
Morrison's letter to faculty and staff also expresses her thanks to Suzanne Kennedy, saying Kennedy has performed exemplary work in the role of associate provost ad interim for undergraduate affairs since January 2020, leading Undergraduate Affairs during the most challenging year in memory and helping to oversee the rapid shift from in-person to remote learning.