Helping Students Navigate College Earns Duo BU's Academic Advising Awards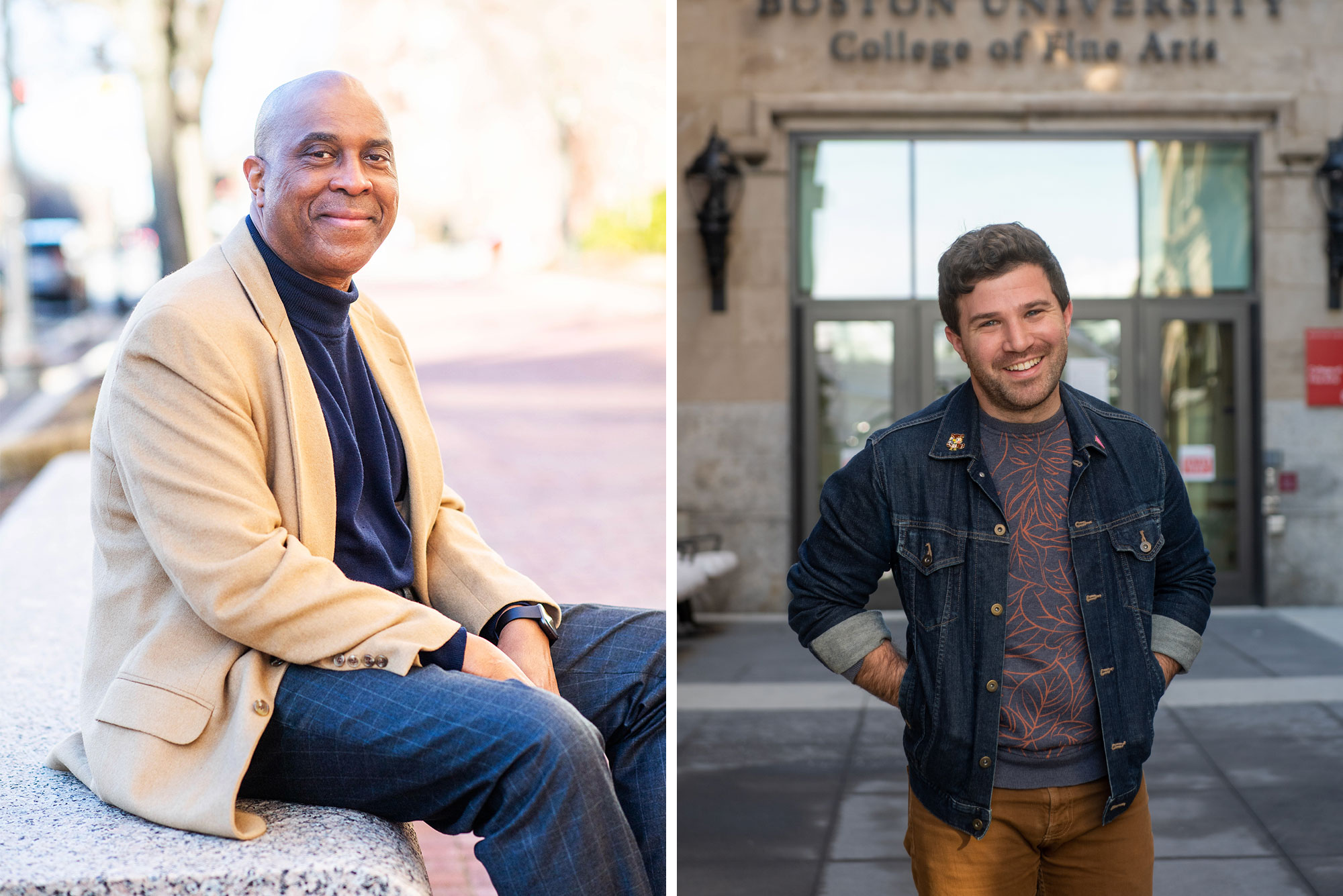 Accolades
Helping Students Navigate College Earns Duo BU's Academic Advising Awards
Jeffrey Allen ( Questrom) and Brian Dudley (CFA) to be honored at virtual ceremony today
If "academic advising" sounds dry, talk to Jeffrey Allen. He'll tell you about the student he was advising who had experienced homelessness and was uncertain about where their next meal was coming from. (Allen got the problems addressed through the Dean of Students office.) Another advisee was in tears outside Allen's office, overwhelmed by BU's workload after transferring from a community college.
Allen, a Questrom School of Business assistant professor of information systems, helped that student craft a work management plan and was delighted "watching them build and gain confidence in their abilities to…graduate and find a great first opportunity in information systems," Allen's own field.
These lifelines to students in need have earned Allen one of the University's two annual awards for academic advising. He and cowinner Brian Dudley, a College of Fine Arts undergraduate academic advisor, will receive $1,500 each.
They'll be honored at Friday's eighth annual Academic Advising Symposium, being held virtually from 9 am to noon. The symposium will also include remarks from Karen Oehme, director of the Florida State University Institute for Family Violence Studies and principal investigator of its Student Resilience Project, who'll talk about how advisors can help students with resilience. RSVP for the symposium here.
The event marks the debut of a new Undergraduate Advising website, a one-stop cyber-resource with information on the purpose of advising and how to choose an advisor and prompts that lead to schools' and colleges' advisors.
Allen has taught at Questrom for 20 years. His passion for advising arose from the support he got from advisors during his own student days. "I'm simply keeping my end of the agreement to those good people by paying it forward," he says. "The advisor role is one of the most important aspects in connecting, bonding, and working with students. The social/emotional part of the advising role is in many cases more important than the academic advising role."
---

"There is no one right way, one right answer, one path forward in our lives as students, artists, and people, but many."

---
Dudley has been advising CFA theater students, "formally and informally," since coming to BU in 2014. What started as a small interest blossomed into a passion as he discovered that advising, like theater, is a collaborative pas de deux.
"The more I worked with our students and the more I got to know them," Dudley says, "the more I was pulled towards more direct advising and mentorship work. From the beginning of my career as a theater artist and educator in Boston, I have found joy and success in roles and experiences that are rooted in collaboration and teamwork. As advisors, the best thing we can do is to be on the same team as our students and create a space in which we have the capacity to be the right person for them."
He offers the CliffsNotes version of his years on the job in three best-advice tips: "One, that no one will know how good you are at something until you tell them, so you've got to brag about yourself, and two, that there is no one right way, one right answer, one path forward in our lives as students, artists, and people, but many. I love to celebrate failure, missing the mark, or realizing when something isn't a right fit. We learn more from trial and error than from never trying.
"And last and probably most importantly, everything feels a little bit better when we've had enough sleep."
The Undergraduate Academic Advising Awards are given each year to advisors "who have engaged students in the collaborative process of advising and have had a significant impact on students' academic careers." The awards are given in two categories. Dudley won as a "professional academic advisor," a BU staff member whose main job is advising. Allen took the award for "faculty academic advisor," given to a faculty member whose main focus is teaching and/or research, but who devotes part of their time to advising.
A committee—comprising undergraduates, a representative from the Office of the Provost, two previous winners, and faculty/staff from the Provost's Advising Network—chooses the annual winners from nominations made by students, faculty, staff, and alumni.