Introducing BU Remotely: University Goes to First-Ever Zoom Orientation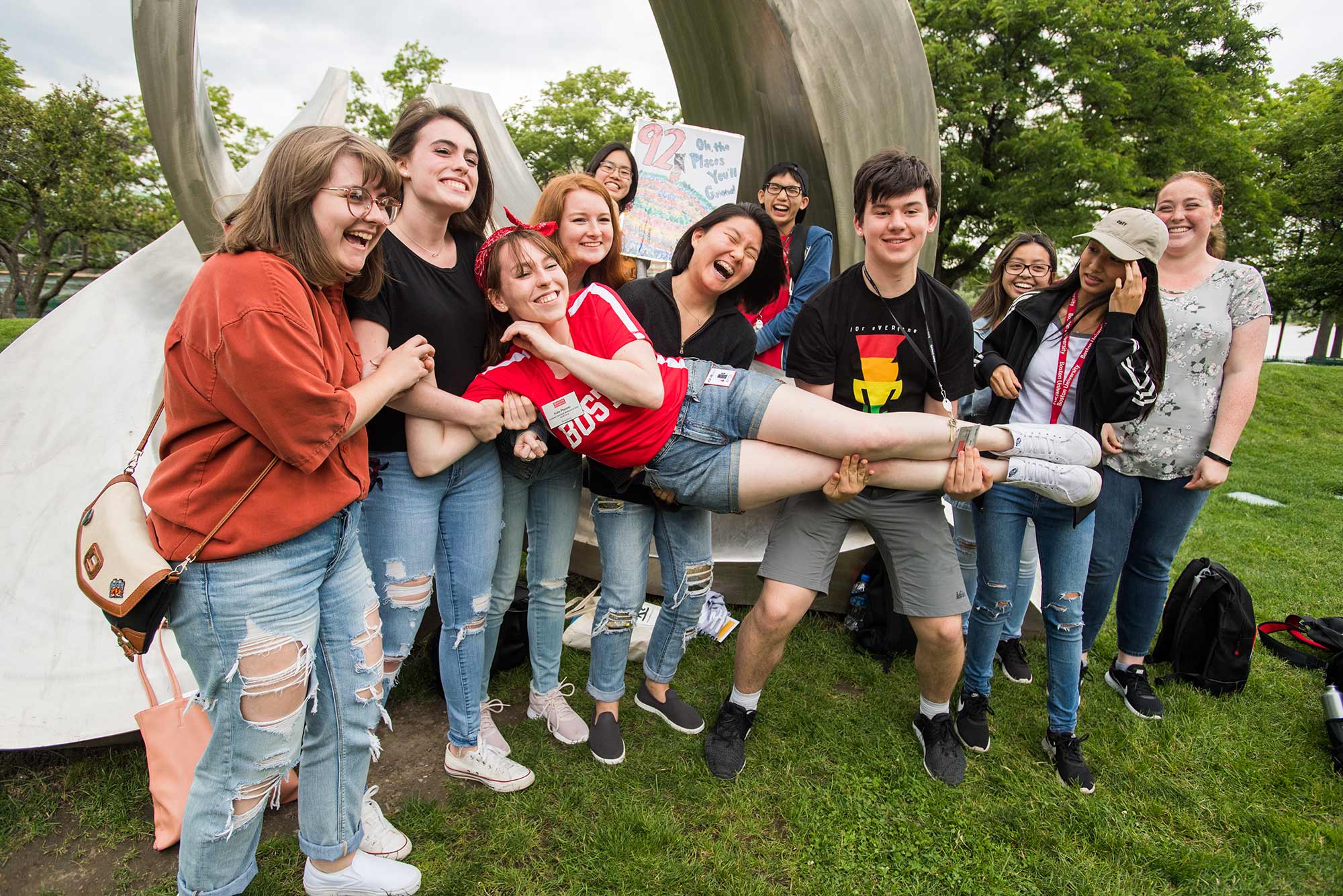 Orientation
Zooming into Orientation
Class of 2024 summer introduction to BU will be held online
BU's 2020 Orientation will be conducted on Zoom
For the first time in the ritual's 132-year history it won't be held on campus
Boston University invented the college orientation in 1888
It's a tradition almost as old as the University: summer Orientation for new students, invented by BU as a higher-ed exercise back when Grover Cleveland was president (1888, to be precise), has offered an on-campus how-do-you-do for incoming Terriers.

But that in-person ritual is bowing, like everything else these days, to the reality of COVID-19. For the first time in 132 years, this year's Orientation will be Zoomed, and that has required several tweaks beyond migrating the event online. The Orientation registration deadline is this Sunday, May 31: register here.
"Orientation has morphed from a 29-hour program on campus to a series of engagement experiences throughout the summer," says Shiney James (CAS'99), the University's orientation director. "Students attend a remote live session in June or July. Then they have the opportunity to meet new students, current students, and faculty and staff through our Continuing Conversations series. Finally, they will have a self-paced Blackboard course with the community-building platform Yellowdig."
The typical half dozen in-person Orientation sessions will be replaced by 10 remote live sessions between June 4 and 5 and July 9 and 10 (that last one for transfer students only), says James. There will be more than 100 Continuing Conversations. And during the main sessions, as part of a program called Common Ground, she says, "we are asking students to select a reflection question that they would be confident to share the answer to with strangers."
---

Our hope is no student can come to campus and say they didn't have a chance to get a sense of this place and make connections.

---
Students then will be grouped, about 10 each, based on their questions, with an upperclassman guiding the conversation. "The goal of the remote Orientation is for our community to interact with each other," James says. "The best way to make this happen on the platform is in small groups."
Orientation will also include a presentation from Judy Platt, director of Student Health Services, on the University's plans to keep students safe from COVID-19 during this fall's hoped-for resumption of residential learning.
Befitting the high-tech mode, Kenneth Elmore (Wheelock'87), associate provost and dean of students, recorded a video greeting on the Orientation 2020 website, opening with him staring into the camera and asking, "Have we met before?"
The playful tone reflects Elmore's aim to telegraph a warm, human welcome to an audience that for now can make his acquaintance only on a screen. "Here is where you will come to meet those folks who are going to help you with your academic experience, and where you'll get some advising," he says in the message. "You'll get a chance to meet other students who have made wonderful community here before you. And you'll get a chance to meet your other colleagues—your classmates."
Each Orientation session will run two days, on a Thursday and Friday, with afternoon and evening sessions on both days. Each day's early session runs from noon to 3 pm EDT, with the evening session from 8 to 11 pm EDT.
Developing this Zoom-era Orientation has been a herculean task, James says. "We typically work with 80 different departments on campus to make our in-person program happen," she says. In addition to those regular contributors, her office had to tap University technology experts to design the Orientation website and create the Blackboard site.
Even with the changes, James promises that incoming Terriers will still learn essential parts of the BU DNA: "We are holding strong to our tradition of introducing students to the philosophies of Howard Thurman through our Common Ground program." Thurman (Hon.'67), dean of Marsh Chapel from 1953 to 1965, was the first African American dean at a mostly white US university.
As part of Orientation, students will also be required to complete a safety component this year on Blackboard, she says.
All of which is to say that while the means of orienting students will be different, James says, the result will be the same. "Our hope is no student can come to campus and say they didn't have a chance to get a sense of this place and make connections."