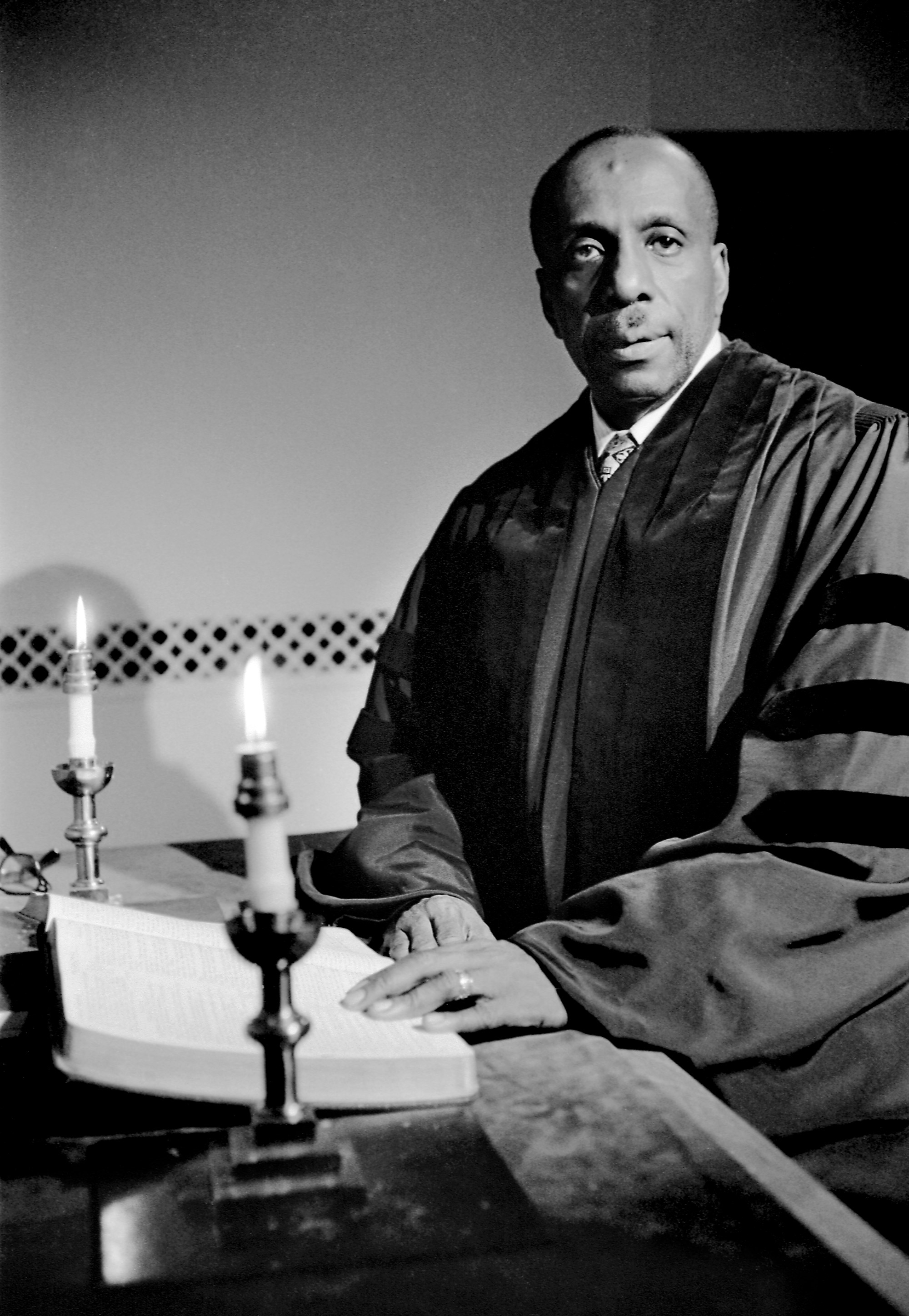 Religion
Who Was Howard Thurman?
Remembering Marsh Chapel's path-breaking black dean
More than a century ago, an African American seventh grader from segregated Daytona, Fla., prepared to board a train for Jacksonville and high school. His family dropped him at the train station with the fare, but neglected to give him enough money to ship his luggage. A boy like other boys, without an adult's self-sufficiency, he did what any stranded child might do—he sat down and cried. Then a black man, a stranger, covered the bill for him. Years later, when the boy became a man and wrote his life story, he dedicated it to the stranger who "restored my broken dream."
Howard who?
With the opening January 21 of an expanded and relocated Howard Thurman Center for Common Ground, his namesake BU center, Thurman (1899–1981) remains unknown to many students. His life bridged eras: born the grandson of a former slave in horse-and-buggy days, he died the year the IBM personal computer debuted. Death took Thurman (Hon.'67) long enough ago to fog the history he made. He preached a philosophy of Common Ground, which taught that humans need to seek an inner spiritual happiness that would lead them to share their experience in community with others. In 1944, Thurman cofounded San Francisco's Church for the Fellowship of All Peoples, the first integrated interfaith religious congregation in the United States. In 1953, he became the dean of Marsh Chapel, the first black dean at a mostly white American university, mentoring, among many others, Martin Luther King, Jr. (GRS'55, Hon.'59) as he developed his philosophy of nonviolence.
Yet Thurman didn't live the dramatic public activism of King or suffer a similar martyrdom. In fact, critics called him a backbencher in the Civil Rights Movement, more preoccupied with mystical meanderings than frontline protesting. Thurman countered that the first order of social change was changing one's individual internal spirit. "He rather gently and powerfully moved through the world in a spirit of grace, dignity, and humility," says Walter Fluker (GRS'88), the School of Theology Martin Luther King, Jr., Professor of Ethical Leadership, who published Thurman's papers, taught a seminar on the man last semester, and wrote his dissertation on Thurman and King.
Who exactly was Howard Thurman?
In an interview shortly before his death, Thurman said he caught the "contagion" of religion from his grandmother, who cared for him after his father died when Thurman was seven and his mother became the family breadwinner. His grandmother recited for Howard the mantra of the black preacher she'd heard as a child on her owner's plantation: "You are not slaves. You are not niggers. You're God's children!" His grandmother's charismatic rendition, Thurman told the interviewer, inspired in him the belief that "the creator of existence also created me."
That belief took him to Morehouse College in Atlanta, then to seminary and a series of jobs as pastor and professor. His first pastorate after his 1925 ordination as a Baptist minister, in Ohio in the 1920s, led to study with Quaker pacifist Rufus Jones, which Thurman said changed his life. His thinking was honed by a 1935 trip to India with other African Americans to meet Mohandas Gandhi, who completed Thurman's conversion to nonviolent social activism.
Thurman's association with Martin Luther King, Jr., predated BU. Thurman and King's father, an Atlanta minister, were friends when the young King was growing up. "Thurman was at the King home many times," says Vita Paladino (MET'79, SSW'93), former director of the Howard Gotlieb Archival Research Center, which houses King's donated papers. Their BU time overlapped for only a year, and King considered his father and Thurman a different, older generation, Paladino says. Nonetheless, King carried Jesus and the Disinherited, Thurman's most important book, while leading the 1955–56 Montgomery bus boycott.
Published in 1949, the book argues that Jesus taught the oppressed a faith-based unconditional love that would enable them to endure their oppression. Thurman's message moved not only King, but Jesse Jackson, who in 1982 penned an essay for a postmortem tribute to Thurman by BU. Jackson the activist wrote that he'd been drawn to Thurman the academic by his insistence that "if you ever developed a cultivated will with spiritual discipline, the flame of freedom would never perish."
In 1958, after King survived a near-fatal stabbing by a deranged woman in Harlem, Thurman visited him in the hospital. The Gotlieb Center King collection includes a letter King later sent Thurman, recalling that he'd asked the older man, "Where do I go from here?"
"I am following your advice on the question," King writes. He doesn't spell out the advice, but Thurman's reply expresses joy "that plans are afoot in your own thinking for structuring your life in a way that will deepen its channel." He also says he hoped to discuss with King "the fulfillment of the tasks to which our hands are set."
Influencing King and the Civil Rights Movement is "reason alone to justify Thurman to a new generation," says Fluker. Yet dead for almost four decades and gone from BU for more than a half century, Thurman is a ghost to a Thurman Center staff that must make him relevant for 21st-century students. Who knows, for example, how he would have felt about gay rights, only an embryonic issue in his day? Both Fluker and Thurman Center director Katherine Kennedy are unaware of any Thurman commentary on the question, although he counted gay people among his friends.
While recognizing the limits of our Thurman knowledge, Raul Fernandez (COM'00, Wheelock'16), Wheelock College of Education & Human Development associate dean for equity, diversity, and inclusion, says it's liberating to pursue the spirit of the man's words without being shackled by their letter.
"We try not to bind ourselves to that," Fernandez says, "because we understand the different circumstances that we live in today."