Making BU Her Family
That's Shiney James' job, and her passion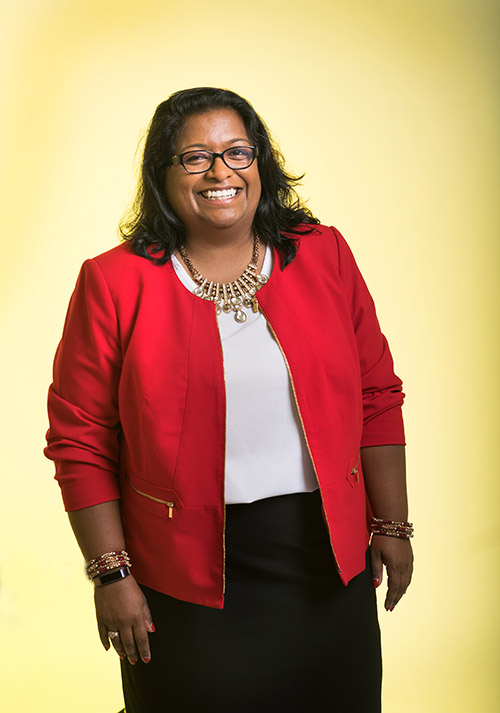 Sarah Jessica Pierce will not soon forget the day her boss and mentor, Shiney James, handed her an envelope.
The 21-year-old had been working on her public speaking skills as part of her training to become a Boston University student program advisor. The handwritten note from James, BU's Orientation director, conveyed praise, as well as advice on how she could improve. Specifically, it suggested, Pierce should lose her habit of "uptalking"—or ending a statement as though it's a question—when she's nervous.
"She said, 'Be mindful of it, because what you're saying is valid and substantial," Pierce (Wheelock'18) recalls. "For her to tell me I'm doing that, it's amazing. She really wants to help me."
Pierce is one of hundreds of student ambassadors who work for James, helping her host key BU events, such as Orientation and October's Family & Friends Weekend. And it is her forthrightness, her penchant for speaking clearly about delicate subjects, as well as on topics from the pros and cons of a student's major to the need for punctuality and humility, that has endeared her to legions of current and former students.
In a survey last year asking BU alums to name one person who had a special impact on their student experience, James (CAS'99) ranked fourth, behind legendary political scientist Howard Zinn (Number 1), charismatic Kenneth Elmore (Wheelock'87), associate provost and dean of students (Number 2), and public relations expert Stephen Quigley, a College of Communication professor (Number 3).
"Some would say she is tough," says Katherine Kennedy, director of the Howard Thurman Center for Common Ground, who speaks at Orientation sessions and often works with James. "I think she has high standards of excellence. If you're not committed to being a part of making a program the best, then she doesn't have any place for you on her team."
James, who turned 40 in October, laughs when asked about being tough. She's about five feet tall and wears shoes decorated with bacon and egg designs because breakfast is her favorite meal.
College, she says, is a place to meet people who aren't like you, form new friendships, and learn professionalism. It's also about learning to advocate for yourself while showing respect to others. She knows that entering college can be a difficult transition, and she wants to smooth it. Not everyone relates to her, she says, describing herself as a "short, dark-skinned" woman, so she does everything in her power to change that.
"If you really think about it," she says, "what a new immigrant feels is really what you feel as a newcomer at BU."
Born in the United States to parents who emigrated from India, James grew up in Somerville surrounded by a large extended family of aunts, uncles, and cousins who came over for elaborate weekend meals. One of those cousins, Iype Geevarghese (ENG'86), encouraged her to attend BU, and she enrolled as a commuter student in the mid-1990s. James threw herself into campus life, volunteering and working with the group Students Off Campus, organizing activities that helped commuter students become more involved in campus life. She quickly became its president.
"I grew up in an environment with tons of family, friends, and VIP visitors coming by or staying at the house, and the expectation set was hospitality and kindness to all, no matter their status," James says, noting that bishops, priests, and nuns visiting from India routinely stayed with them.
She now lives with her aging parents in Burlington and cares for her sick father, who is retired from a job in the computer hardware business. Her mother is a nurse, and at age 73, continues to work a double shift every weekend.
Those who know James say her commitment to family is practically another full-time job. Sara M. Gruppo (CAS'03, GRS'03), who worked for her as an undergrad and is now Princeton University program director for civic engagement, says her former boss is not only always ready to lend an ear, but to help. It's one reason she asked James to be the godmother of her twin daughters.
"She's always been committed to family, and she has a great love for her mom and dad," Gruppo says. "There's never this sense of her feeling like, 'I can't believe I have to do this.' It's, 'Of course I would do this.'"
James has five godchildren, and most of them are the children of people she's worked with at BU.
Panache, a sense of humor, and seeing the big picture
These days James organizes eight separate Orientation events, and the lineup changes every year. This year's included a live performance by the New Repertory Theatre of an excerpt from the edgy play Good, a political drama about Nazism and how good can turn to evil.
James says one of her favorite parts of the job is the opportunity to talk to students, and more important, to listen to them. "I still love chatting with students and hearing about their first trip home, and how their parents don't understand them, how they want to hang out with their friends. And I want to hear about their first bad grade in Chem 101," she says. "I love sitting there and having those conversations."
Craig Mack, a former Orientation director, now Massachusetts College of Pharmacy and Health Sciences dean of students, hired James at the Orientation office, first as a student and then full time when she graduated in 1999, because of her panache, sense of humor, and ability to "see the big picture."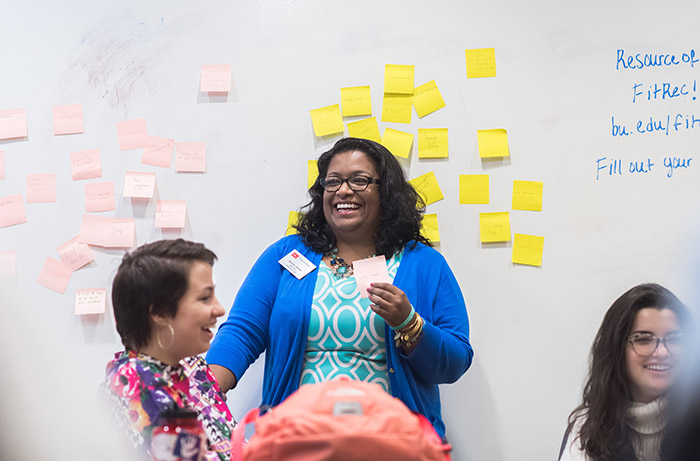 "She can interact with, and understand and appreciate, the different cultures and groups that make up BU," Mack says. "She takes pride in her work, and she did that as an undergraduate."
Nearly two decades later, James runs the office. She's well known for her rigor, but she also inspires extreme loyalty among students, who not only listen to her instructions, advice, and guidance, but often seek it out.
Students who named James in the alumni survey cited her skill in teaching them leadership, as well as how to work as part of a team. Many said they appreciated her model of professionalism as they moved into the world of work.
"She continues to be a mentor to me to this day," wrote one 2012 graduate.
Dean Marchildon (CAS'18), a student advisor James hired to lead newcomers around Boston during Orientation, says the work is intense and the hours can be long (think 6 am to midnight some days). He says James requires student workers to bring their A game—always being on and looking for ways they can help. If that doesn't happen, he says, debriefing after Orientation sessions can be difficult.
Marchildon also recalls James coming up to him after observing one of his practice teaching lessons and telling him he did "a pretty decent job" and might have a knack for mentoring. From another mentor, the less-than-spectacular assessment might have been a tad discouraging, but Marchildon says he was thrilled.
"She doesn't give out compliments," he says, "unless you really do earn them."
Megan Woolhouse can be reached at megwj@bu.edu.