Two BU Faculty Honored with Guggenheim Fellowships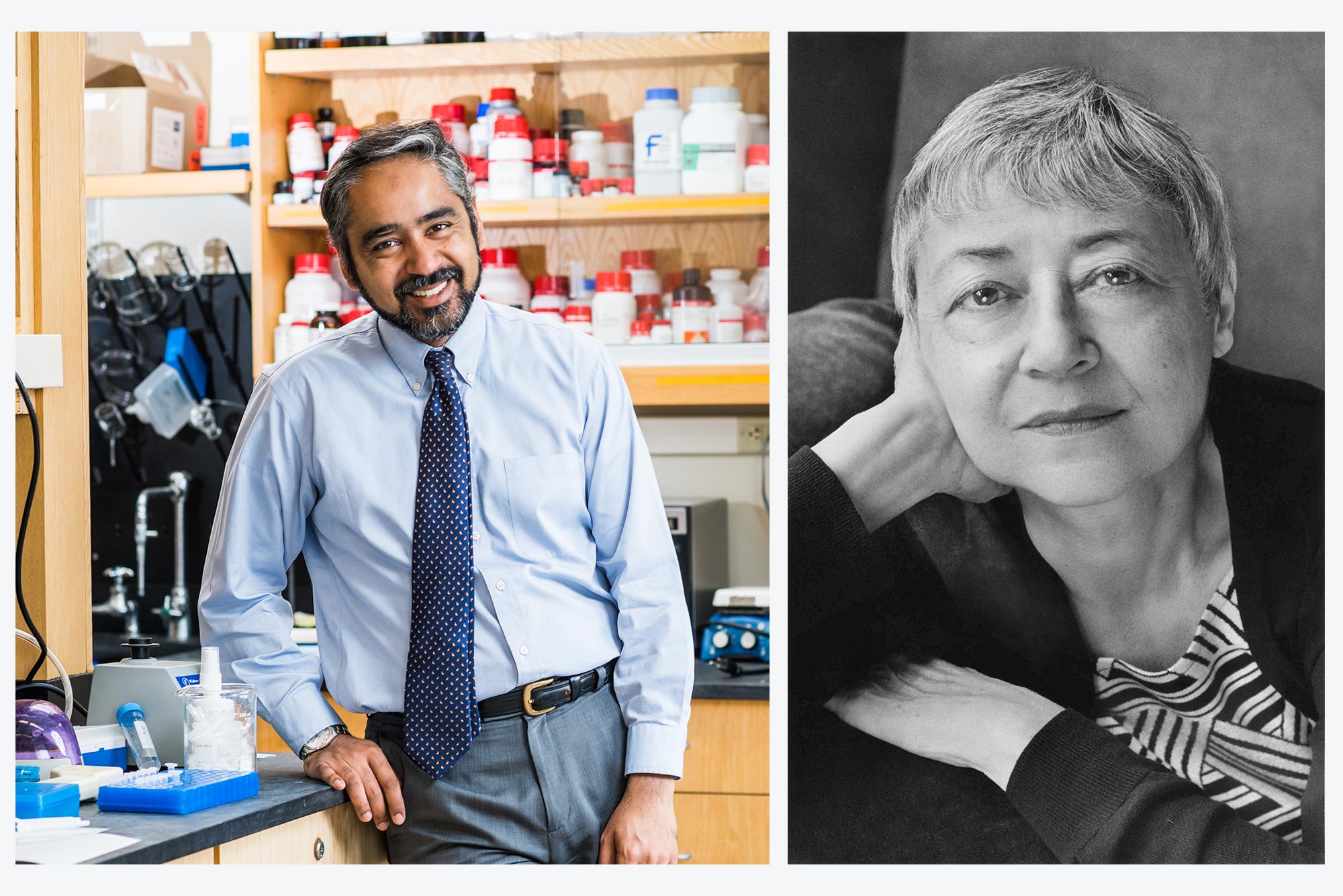 Accolades
Two BU Faculty Honored with Guggenheim Fellowships
Muhammad Zaman, ENG, and Sigrid Nunez, CAS, among this year's 173 recipients
For the past decade, Muhammad Zaman has aimed his considerable biomedical ingenuity at healthcare problems in the developing world. He is the coinventor of PharmaChk, an inexpensive portable rapid screening technology that identifies the kind of substandard drugs that put hundreds of thousands of lives at risk in developing countries. A College of Engineering professor of biomedical engineering and of materials science and engineering, he has designed and taught a course in Humanitarian Engineering and led study and service projects focused on Syrian refugee camps in Lebanon's Bekaa Valley and South Sudanese refugees in Uganda. And he has investigated the harm done by antimicrobial resistance. In 2019, his BU University Lecture focused on the need for, and challenges in, developing ethical solutions for refugee health.
Now, in recognition of those and other achievements, Zaman, a Howard Hughes Medical Institute Professor of Biomedical Engineering and International Health, has been awarded a fellowship from the John Simon Guggenheim Memorial Foundation. Guggenheim Fellowships are awarded to men and women who have "demonstrated exceptional capacity for productive scholarship or exceptional creative ability in the arts," according to the foundation's website. Fellows are appointed on the basis of "prior achievement and exceptional promise."
Kenneth Lutchen, ENG dean, says Zaman is an excellent choice for a Guggenheim Fellowship. "Muhammad's capacity and passion for bringing engineering creativity and mindset to address extraordinarily important health and medical challenges to underresourced populations or neglected peoples, such as refugees, will have a broad impact on all of society," Lutchen says. "Moreover, he brings this passion and approach back to our students and inspires them even more to become societal engineers."

Zaman says he is extremely honored by the award. "I recognize that I am in the company of exceptional scholars, artists, and practitioners," he says. "And that's not only this year's cohort, but those who over the years have transformed my own thinking and work."
He will use the award to develop a richer, multidisciplinary understanding of how antimicrobial resistance impacts refugee settlements. "The problem of antimicrobial resistance is a universal one," he says. "But some communities are far more vulnerable due to lack of resources, poverty, lack of trust with the health authorities, and poor access to accurate information. Now, in the light of COVID-19, there is additional risk of bacterial infections, in addition to the viral infections—and the issue of antibiotic resistance is all the more relevant in these communities."
Zaman's current work examines antibiotic resistance in refugee settlements from several angles, including analysis of policy and access to good quality medicines. He is particularly interested in identifying drivers of resistance that could be more relevant in a refugee camp than in a more developed world hospital. Such seemingly disparate approaches to healthcare problems, including an investigation of the processes behind tumor invasion, have long been part of his portfolio.

"I think there are similarities in the way we do problem-solving and analyze the various drivers that affect the overall outcome," he says. "There are also similarities in the tools, both computational and experimental, that we develop, and every now and then tools that we develop for our cancer work come in handy for our global health work and vice versa."
Zaman's second book, Biography of Resistance: The Epic Battle between People and Pathogens (HarperCollins, 2020), is being published this week. His first book, Bitter Pills (Oxford University Press, 2018), chronicles the global challenge of substandard and counterfeit drugs. He has also published more than 120 peer-reviewed research articles. He cofounded, with Carrie Preston, Kilachand Honors College director, Arvind and Chandan Nandlal Kilachand Professor, and a CAS professor of English and of women's, gender, and sexuality studies, a University-wide initiative on forced displacement in collaboration with academic, public, and private sector partners in Lebanon, Uganda, and Colombia.
Also receiving a 2020 Guggenheim Fellowship is Sigrid Nunez, a CAS lecturer in creative writing. The author of seven novels, Nunez's most recent work, the New York Times best seller The Friend, won the 2018 National Book Award.
A moving meditation on grief and the deep emotional bonds people forge with their pets, The Friend is the story of a middle-aged writer who has lost her best friend, mentor, and former lover to suicide. She inherits his Great Dane, Apollo, which poses a series of logistical problems: for starters, the narrator lives in a 500-square-foot apartment in a building that has a strict no-pets policy. As the novel unfolds, dog and narrator help each other through their mourning.

Nunez told BU Today in 2018 that she saw the novel as "a book about different kinds of loss. There's the loss a person suffers when someone they love dies, the losses that we all have to face as we grow older, and the lost illusions that most people encounter as they go through life. But the book is also about healing from loss."

Known for her versatility (her novel A Feather on the Breath of God was about ballet; her novel Salvation City was set against a deadly plague), Nunez is the recipient of numerous honors, among them a Whiting Award, a Berlin Prize Fellowship, and the Rome Prize in Literature. Her work has been, or is currently being, translated into more than 20 languages. Her next novel, What Are You Going Through (Penguin Random House Riverhead), which explores the need for human connection and the changing nature of relationships, is scheduled for publication in September.

"Sigrid Nunez is a fabulous prose stylist, one of the best writing in English today," says Ha Jin (GRS'94), a CAS professor of creative writing and an award-winning fiction writer. "Her novels are never conventional and always strive to open new territory, exploring new possibilities in the development of fiction. Moreover, she shows a distinct sensibility that is entirely her own."

Zaman and Nunez are among this year's 173 American and Canadian fellowship recipients, selected from almost 3,000 applicants. Since 1925, the foundation has granted more the $375 million in fellowships to over 18,000 individuals, among them scores of Nobel laureates, Fields Medalists, poets laureate, members of the various national academies, winners of the Pulitzer Prize, Bancroft Prize, Turing Award, National Book Award, and other internationally recognized honors.