Seed Grants Awarded for Podcasts, Art Projects, and Energy Harnessing Initiatives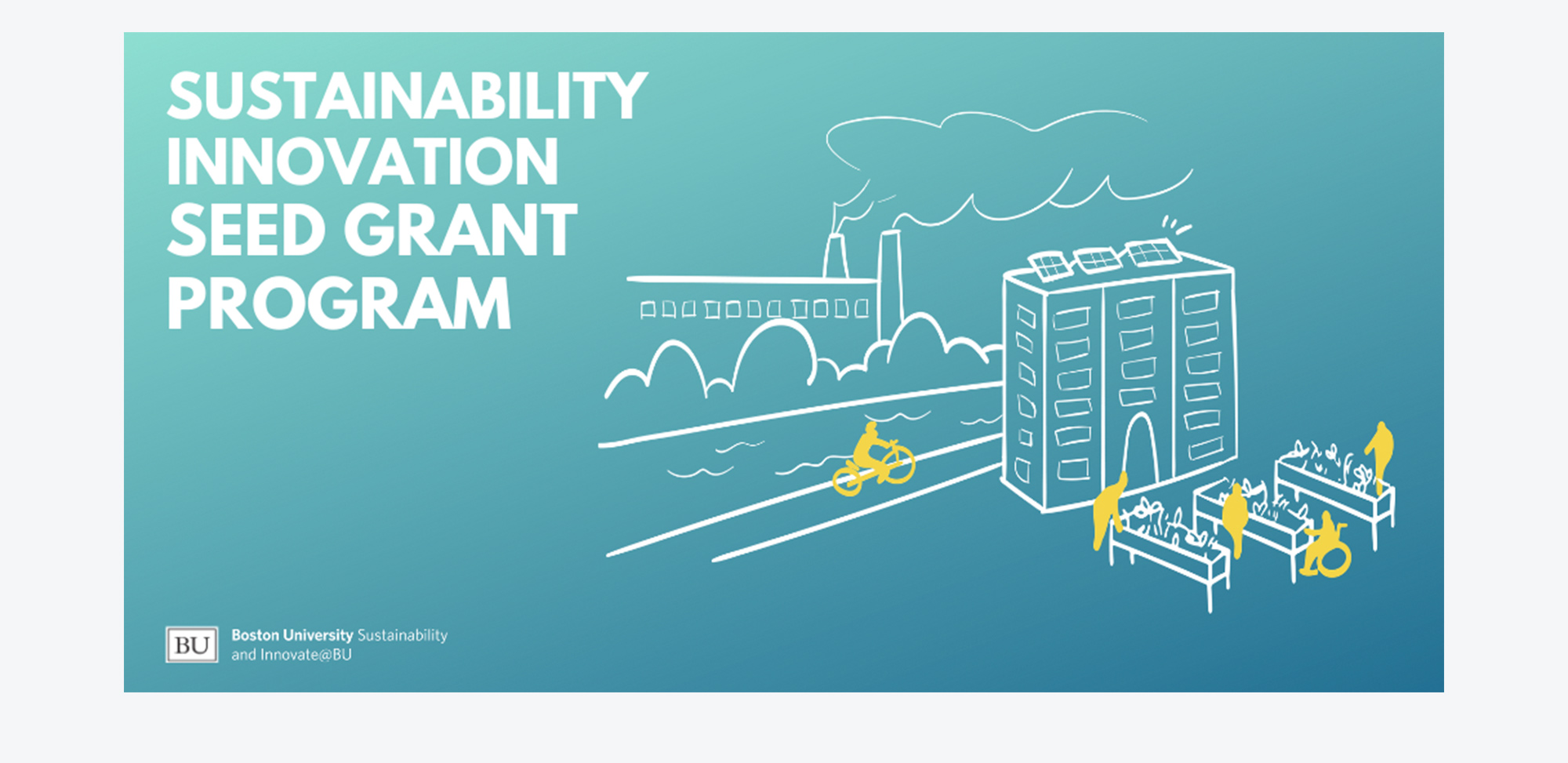 Sustainability & Innovation
Seed Grants Awarded for Podcasts, Art Projects, and Energy Harnessing Initiatives
BU Sustainability and Innovate@BU greenlight student sustainability projects
Sage Holloway has big plans for the spring. She is captaining the Compost Co-op, which will make it easier for college students to compost by spreading 20 compost bins around South Campus. Every two weeks, bike couriers will pick up the compost bins and take them to centers run by Boston's Project Oscar, a 24-hour community compost pilot program.
Compost Co-op received a boost recently when it snagged one of BU's 11 fall 2020 Sustainability Innovation Seed Grants. The grants are awarded by BU Sustainability and Innovate@BU and allow students to pursue projects that promote sustainability outside of their classes. Groups can apply for up to $500 to cover operating costs relating to their projects.
"I decided to do this project on a whim and was honestly surprised to receive the grant," says Holloway (COM'21, CAS'21). "However, since I've gotten connected with other students who are passionate about the topic, I've been able to develop an idea that I'm very excited about and proud of."
To be eligible for a Sustainability Innovation Seed Grant, projects had to fall under one of five categories: climate change resilience, emissions and energy, education and engagement, environmental justice, and zero waste.
Jessica Wright (GRS'22) earned a grant for her toolkit called Ecology of the City. She says her goal is to use social media to break down complex climate science into digestible bites for nonexperts and to provide tips for how people can make more sustainable decisions.
"An example of the usefulness of a social media tool for such issues is highlighted in the fight to save street trees along Melnea Cass Boulevard in Roxbury, Mass.," Wright says. "I was able to simultaneously educate my followers on the importance of street trees, shine light on an environmental justice community, introduce them to a Boston nonprofit, and help gather signatures and support for a petition that ultimately led to the city of Boston reconsidering their plan to remove the street trees."
Three media-focused projects won awards: Sustainabro, an environmental awareness and education podcast aimed at young men; The Sweaty Penguin podcast, a comedy show working to educate people about environmental issues in a nonpartisan way; and The Sustainable Silhouette, a documentary about how fast fashion became the second highest pollutant on the planet and how Gen Z is trying to combat the issue.
Some grant winners will take on pandemic-driven sustainability issues, among them Reducing Dining Hall Waste during the Pandemic and Mask Amelioration Solution Coordination. Projects targeting emissions are Serene Stream Energy, which involves harnessing energy from slow-moving bodies of water, and Moss for CO2 Absorption, which aims to develop moss structures in cities because moss absorbs carbon dioxide at a higher rate than trees.
Grow Your Future, a sustainable art project spearheaded by Arié Haddad (CAS'22), received a grant as well. Its goal is to spruce up the back façade of the College of Arts & Sciences with an art installation made of moss and upcycled materials and at the same time raise awareness for sustainable architecture.
An architecture major, Haddad pointed out in his group's application that buildings use 40 percent of the energy consumed in the United States. The idea for the project comes from a class called Site-Specific Art, taught by Hugh O'Donnell, a College of Fine Arts professor of art and painting. "In some cases, and ours is this case, we will work on [the project] until we graduate, which is two years from now, because we realized that this project has a lot more potential than just being in class," says Haddad, adding that he and his group are working hard to secure independent funding so they can purchase the material needed for the project.
Danielle Jacques (MET'22) and partner Dana Ferrante (MET'22), a BU Today web content producer, started a project called Addressing Environmental and Racial Justice through Urban Foraging. Urban foraging takes many forms, and the duo plan to host an event (once the pandemic has slowed) to promote urban foraging, teaching people how to forage and cook things like mushrooms, edible plants, and herbs. And in addition to the Sustainability Innovation Seed program grant, Jacques and Ferrante earned grants from the Diversity and Inclusion office and the Metropolitan College gastronomy department for their project.
Jacques points to the chaos in recent months, events like civil unrest, uncontrolled wildfires caused by climate change, and a pandemic that has killed hundreds of thousands, especially in Black and indigenous communities, and has ignited xenophobia towards Asian American communities. And while these are considered by many to be separate issues, in reality they are all interconnected, Jacques says, and "they all have to do with our relationship with, and access to, land. So our event will use urban foraging and wild foods as an entry point into the broader issues of racial justice, land rights, food access, and the environment."