BU Students: Zoom vs In-Person Classes? It's Complicated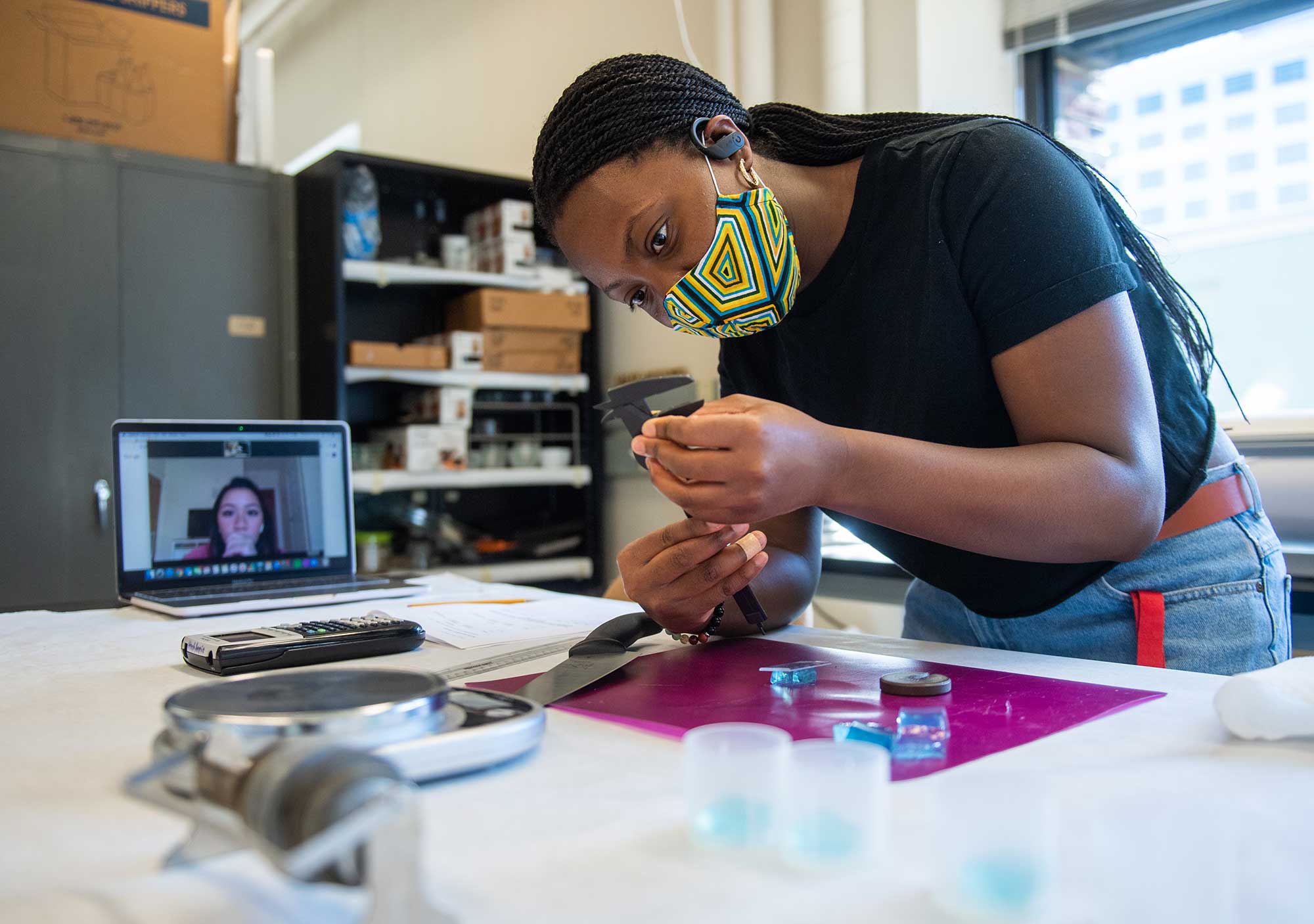 Academics
BU Students: Zoom vs In-Person Classes? It's Complicated
They prefer going to class, but like remote learning, especially for big lectures
Daniel Daly was so desperate to start his first year at Boston University on campus that his parents drove him here—from Los Angeles. He gladly shows up for twice-weekly coronavirus testing, he files his daily symptom screening report, and he flashes his green safety badge on his phone so he can join other masked students in socially distanced classrooms, even if it does feel, in his words, "a little weird and kind of awkward."
"For me personally it's even more awkward over Zoom," says Daly (CAS'24). "I feel like I'm learning more, and engaged more, when I'm in the classroom. When I'm dialing in from my dorm room or the library, it just feels like I'm doing homework. I'm not with the vibe of the room."
Zowie Rico (CAS'23) craves the classroom vibe, too. She felt left out as one of "the Zoom people," as she calls them, in discussions in her hybrid English and classical civilizations class as the semester started. She solved the problem by showing up in person (about half of the 20-student class is remote). Now, she gushes over that class. But Rico, who shares an on-campus apartment, has also come to appreciate Zooming into her 10 am hybrid Roman civilization lecture, with more than 50 other students. There, she doesn't feel left out, and she likes the virtual convenience. "You can take your laptop into the kitchen and get breakfast," she says. "I'm still paying attention."
Just over eight weeks into the semester, BU's Learn from Anywhere plan, which was designed to accommodate the constraints of the pandemic, giving students the option to learn in person, remotely, or both, is turning out to be a lesson in technology, teaching, and learning, filled with highs and lows, not only for students and faculty, but also for the University. The vibrant on-campus residential experience is what defines BU, and that isn't going to change post-pandemic. But higher ed leaders, like BU President Robert A. Brown, acknowledge that the success of the hybrid experiment will force colleges to ask some hard questions about whether some aspects of the technology, such as the ability to Zoom into large lecture classes, could become a permanent part of higher education.
"If you're a backbencher, and you sit and just listen, what you're doing is not differentiable from sitting and watching on Zoom," Brown says of large lectures. "This is part of the educational environment we're going to be challenged in as we go forward. One of the questions that's going to be asked on the other side of this is: what is the world going to look like in terms of the use of the technology after COVID? There are going to be a lot of discussions about this going forward."
Zoom has advantages, but nothing beats the classroom
There have been some inevitable bumps—spotty connectivity, students struggling to hear in some classrooms (while gushing over the "awesome" tech setup, complete with huge screens, TVs, and dangling mikes, in others), complaints about some professors being overly focused on "the Zoom people"—or the reverse, teaching more to those sitting in class.
Hannah Palacios (COM'21), who lives off campus, says she's been so frustrated by her WiFi connectivity that she's started using her phone as a hotspot to get into classes. "Sometimes it helps if I turn off my video, but I think that diminishes the class experience," she says. "It's definitely awkward when I press unmute to add a point in class and then Zoom quits on me."
She's been considering booking space on campus for remote learning, but she's heard from classmates that BU's WiFi is struggling, too. She doesn't blame BU, or her professors, or tech support, and is just trying to make the best of it. "I'm trying to take the highs with the lows and be as flexible as possible because we don't really have another choice," she says.
But with faculty scrambling to master the art of hybrid teaching, and everyone agrees LfA is a lot of extra work for faculty, and a small army of University administrators and IS&T staff continuing to fine-tune the system, students are still getting to be students in the middle of a pandemic.
Stephannie Joseph (COM'23) returned to campus this fall from Maryland. "I just feel so blessed to be here," she says. "When I went back home in the spring, it was just very isolating. It was harder to learn. You can't control your family's noise."
"I wasn't sure coming in how things would work and how I would do with online courses," says Victoria Keefauver (CAS'24), who is taking a mix of in-person and remote classes. "BU has done an amazing job. I love all my classes. The professors are very engaged and they've been very accommodating."
"Do I wish my senior year looked different—that it was 'normal'?" asks Noor Siddiqui (CGS'19, Sargent'21), who returned to campus this fall from Saginaw, Mich. "Obviously. But I feel really lucky to be in a position where I feel this safe and able to be here in person and taking classes." A human physiology major, Siddiqui is thrilled to be in a gross anatomy lab, with actual cadavers—"to be able to see the actual structure of the human body," she says. "BU is the gold standard. I have friends in colleges all over Michigan. They don't have this."
Students like Siddiqui, Keefauver, Joseph, Rico, and Daly say that while they appreciate the flexibility of being able to learn from anywhere, all things considered, they'd rather learn in person.
"I need to be in a learning environment, around other people," says computer engineering major Gabriel Ramos (ENG'21). If it's just him, alone at his computer in his apartment bedroom, he says, it's a losing battle between Zoom and the distractions—incoming email, video games, Netflix, and James Bond. So when one of his classes got moved online at the last minute, Ramos recruited several other students to Zoom in to the class together, from a designated room in the Photonics Center (yes, they all wear masks and sit at separate tables more than six feet apart). "We're all on the same page," he says. "We keep each other accountable."
Meghan Scott (CGS'21) has crammed her schedule with in-person classes. "I get so distracted on Zoom," she says, "I can easily stop watching a lecture if I have an email notification on my phone." In an actual classroom, with her phone stashed in her bag, email notifications are not an option.
Not everyone has adopted a hard line against remote learning, though, as Scott learned interviewing a number of students for an article about LfA for her journalism class. "Some people are, like, why be a minute late for class when you can just roll over in bed and log on," she says. By her own admission there are days when she feels like being one of those people. "But then I see my roommates getting dressed and ready for class, and I decide to get ready, too," she says. "We help motivate each other."
In some unexpected ways, LfA has worked too well—students relying on the ease of Zooming in to classes even after they've moved back to campus. But that's not quite what administrators had in mind: LfA was created to give students flexibility during the pandemic, especially if they didn't feel comfortable going in person or chose to remain home rather than return to Boston or if travel restrictions prevented them from returning, as with many international students. But it wasn't meant to encourage them to return to campus and Zoom into class solely for the convenience. And that doesn't seem to be what students had in mind, either. The overwhelming majority said in surveys before the start of the semester that they wanted to be on campus, going to class in person.
"It's a little bit of a conundrum," says Suzanne Kennedy, associate provost ad interim for undergraduate affairs. "Fewer students are going to class than we had expected. We know they miss the in-person interaction, both with other students and with faculty, and that engagement is such an important part of the residential experience. While we know that not everybody can be in Boston right now, we want to encourage those students who are in the area to come back to classes."
Logistics, not safety, drives students to Zoom
For the most part, according to surveys and anecdotal reports, most students feel safe on campus and their decisions about attending class remotely or in person are not driven by fears about the virus. All of the 15 students on campus randomly interviewed for this story praised BU's COVID safety measures. Only one, Faisal Halabeya (CAS'22), says he is learning remotely, from his on-campus apartment, primarily because of concerns about potential exposure in the classroom.
"Every time someone coughs near me, I get anxious," says Halabeya, whose family is in the United Arab Emirates. "At home [in his apartment], I feel like I can relax and concentrate on learning rather than all the protocols."
As for the communal learning vibe, he says, "it's enough for me just to be on campus."
Some of the drop-in in-person attendance, according to administrators and students, has to do with logistics: with racing between in-person classrooms at one end of campus and back to their dorms and apartments at the other end to log on for the next class, some students have decided it's easier to stay put and take both classes remotely.
Kennedy says she hopes that BU's new student study app, which allows students to reserve space across campus, from 100 Bay State Road to the Mugar and Pardee Center libraries to various smaller areas, so they can avoid the mad scramble between actual classrooms and virtual ones, will encourage more students to attend in-person classes.
"I think the student study app is awesome," says Keefauver.
At Brown's request, the University recently began circulating a new round of LfA student surveys: What's working and what isn't? How can BU make improvements? Why are you choosing to take some classes online and others in person?
"We want to understand students' decision-making process," Kennedy says.
"We may be a victim of our own success," says Stacy Godnick, College of General Studies associate dean for academic student life. "We really promoted this model—that you can learn from anywhere. We wanted to give people flexibility in an uncertain time."
"I love the flexibility!" one CGS student wrote in the school's LfA survey in October.
"There have been a couple of times when I've opted, for my first class of the day, to watch it recorded," says Keefauver. "But for the most part, I'm someone who really likes routine and structure. Having to go to that in-person class gets me out of my room. And it's one of the few approved social activities."
On the other hand, she says, she understands why many of the roughly 175 students in her neuroscience lecture, even those on campus, attend asynchronously. "Honestly there's not much of a difference between watching a lecture online or in person if it's a huge class," she says. "It's just the professor talking the whole time. He doesn't really take questions."
---

I feel like I'm learning more, and engaged more, when I'm in the classroom. When I'm dialing in from my dorm room or the library, it just feels like I'm doing homework. I'm not with the vibe of the room.

---
For some students, watching recorded lectures on their own time is a practical learning decision. "My roommate attends the class asynchronously because the professor is known for talking super fast," Keefauver says. "She likes to be able to pause the lecture."
Brown and other BU administrators and those at other schools are observing this massive higher education experiment with intense interest. To some extent, Brown says, as the technology has been evolving in the past couple of decades, educators could see this transformation coming: if offered the option of online learning, many students would sooner log on from their dorms or apartments than trundle over to a classroom building to listen to a distant professor from the back rows of a multitiered lecture hall. The pandemic accelerated overnight that gradual shift.
"I'm just grateful this whole system was set up," says Daly, whose parents drove him cross country to campus. "My friends back home in California are all online. I have a friend who lives in Japan and she has to wake up in the middle of the night to dial into her classes because they're all live. Her school doesn't have anything like LfA."

Rusty Gorelick (COM'22) and Alexander Puri (COM'21) contributed reporting for this story.