Boston University Students Will Have Choice of In-Person or Remote Classes This Fall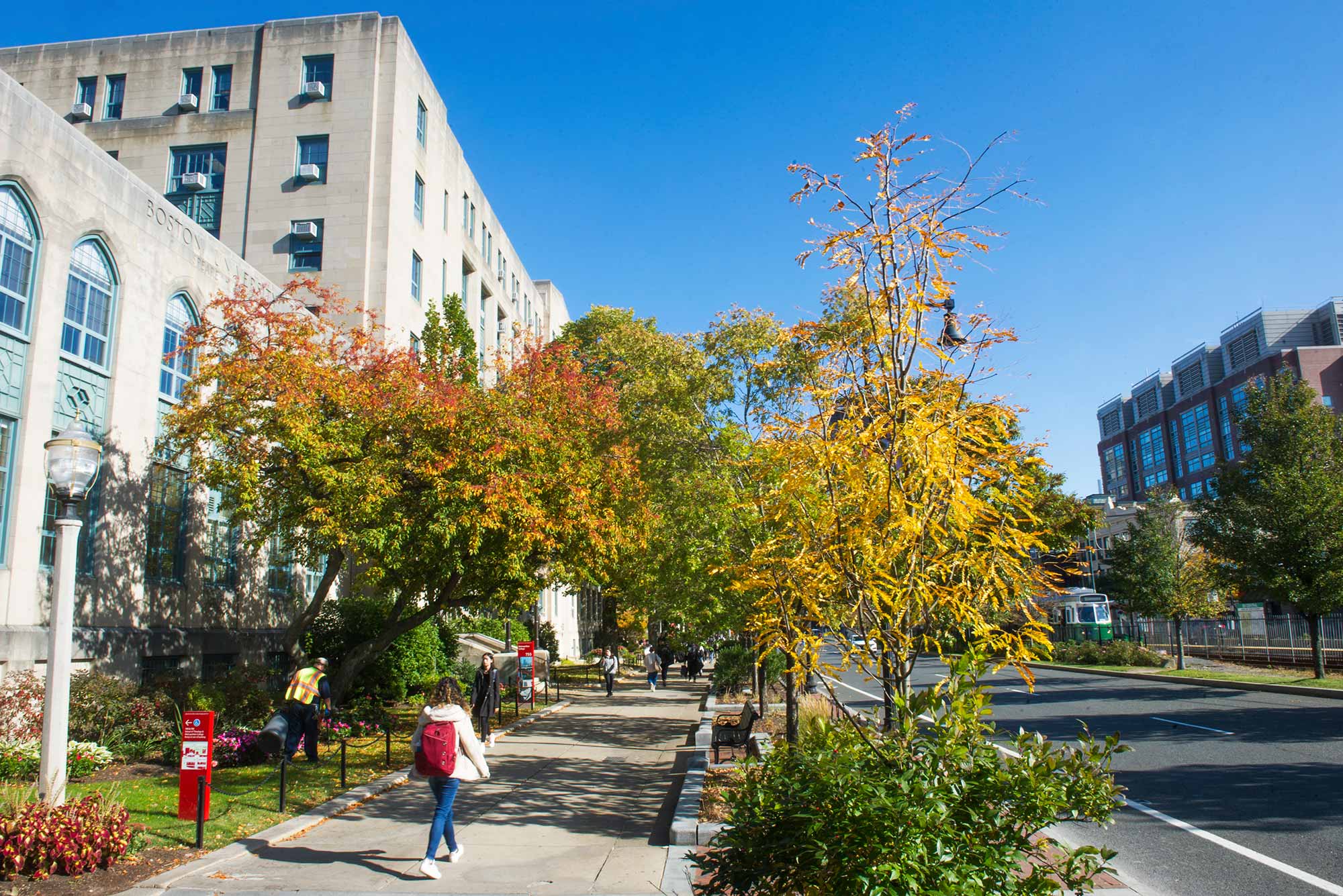 University News
BU Students Will Have Choice of In-Person or Remote Classes This Fall
Other changes after the COVID-19 interruption: a return to normal grading and a strict safety-focused teaching format
This fall, Boston University's arriving freshmen and returning undergraduate students will have a choice of attending in-person classes or taking classes remotely under a new hybrid teaching format the University is calling Learn from Anywhere (LfA).

The flexibility of LfA is designed to accommodate safety requirements that may be imposed by public health authorities to control the spread of COVID-19, as well as by travel and other challenges faced by BU students. The aim is to present the same academic content to all students, whether they are in a classroom, in a BU residence, or in another country, and to allow all students to take part in the same classroom discussions. Learn from Anywhere accommodates those students who may not be able to arrive on campus at the beginning of the fall semester, or who may choose to postpone their return to campus to maintain strict social distancing. But it also enables BU students to return to residential campus life in the fall.
"The LfA format lets students decide how to take classes, based on their needs and their comfort level," says Robert A. Brown, BU president. "BU students now have the option to either be in the classroom in person or to participate remotely from their dorm room or off-campus home, and they can exercise that remote option at any time during the semester. LfA also enables the University to provide the necessary social distancing in classrooms, studios, and laboratory spaces."
The LfA format was recommended after careful study by the University's Undergraduate Programs Working Group, chaired by Sue Kennedy, interim associate provost for undergraduate affairs, and was approved by the University's committee tasked with overseeing the reopening of BU's campuses.
"We chose LfA because it protects the health and safety of everyone, students and faculty, and provides the kind of flexibility that students need in these difficult times," says Kennedy. "It enables the University to meet the needs of all students, and to deliver the same high-quality teaching BU students are accustomed to."

Because safety precautions will limit the number of people in any given space at the same time, Kennedy says, large fall classes could be divided into small groups of students that will rotate with equal time through in-person class sessions. Under one possible scenario, if a class has 50 students, yet density requirements mandate that only 18 can be in the classroom at once, the class would be divided into three smaller groups, called platoons, and each student would attend every third class in person, and attend the other classes remotely.

"Platooning is a fair and safe way to ensure the face-to-face interaction that is so important, both to students and faculty," says Kennedy. "We want to make sure that all students have that opportunity."
She says schools and colleges may elect to offer more and smaller breakout sessions, where a limited number of students can share quality time with instructors or teaching assistants.
If, during the course of the semester, a student begins to feel uncomfortable in an in-person class, the student can elect to attend that class remotely. Similarly, says Kennedy, if a student is unable to arrive on campus in time for the start of the semester, the student could begin the semester taking only remote classes and start in-person classes at a later date. International students who are unable to arrive on campus in September can also start the semester remotely and begin in-person classes when they arrive at BU.

---

We chose LfA because it protects the health and safety of everyone, students and faculty, and provides the kind of flexibility that students need in these difficult times.

---
Kennedy says unlike this past spring semester, when students learning remotely were given a choice of Credit/No Credit grades, fall semester grading will return to normal. She says students who have registered for fall classes do not need to take any action at this time, and all students will be notified if any action is needed at a later date.
"We want to offer students the flexibility that will be necessary this fall so that our new students can be on campus and engaging in person and so that our returning students can continue to make progress towards their degrees," says Jean Morrison, University provost and chief academic officer.
Physical preparations for LfA are well underway. The University has begun installing the additional technology required to bring LfA to hundreds of classrooms across the Charles River, Fenway, and Medical campuses. Plans for the training of classroom assistants who will be on hand to help instructors interact smoothly with students attending remotely are underway.
"In small classes with fewer than 20 students, communication with remote students should happen relatively easily and naturally," Kennedy says. "We've already seen that happen in the second half of the spring semester." In larger classes, faculty may have support from a "LfA classroom moderator," she says, who will alert instructors when remote students have questions and advise remote students when to ask, or respond to, questions. Classes with more than 100 students may have two or more assistants.
LfA may also make adjustment of some course content necessary, and in some cases, courses may have to be restructured. Kennedy says the ease of the transition to the new format will vary from course to course, with the most difficult being those with components like labs, clinical work, and hands-on instruction. The Undergraduate Programs Working Group has asked faculty and department leaders of those courses to explore creative solutions that retain the high quality that students expect. Those solutions will be worked out in the next two months, Kennedy says. Some may switch to virtual labs and some may decide to defer labs to the spring semester, she says. Other solutions could involve supplementary videos or personalized Zoom sessions.
LfA classes for the fall are one part of the University's broad plan to repopulate the residential campus in accordance with strict public health and safety guidelines. BU's four-phase plan for reopening the campus will begin with the gradual reintroduction of research and clinical services; it will welcome medical and dental students back in July; it will create public health and safety protocols that will guarantee a safe return of residential undergraduate students in the fall, including a new, specialized testing lab and program for the virus; and it will establish a stable "new normal" that will sustain University residential life for the long term.
BU's COVID-19 Recovery Plan, announced in April, tasks several working groups with investigating every aspect of BU's return to campus life and determining what actions are needed for the safe return of academic, research, and residential programs. The overall effort is coordinated by the Augmented Budget Committee, led by Brown and Morrison.
"The unprecedented disruption caused by COVID-19 has caused us to rethink almost every aspect of our academic community and the operation of the University," says Brown. "We are now well on our way to creating a campus environment where our students can study and learn with our faculty and staff in as safe an environment as possible."