Need to Find a Place to Study or Attend a Class Remotely While on Campus? It Just Got Easier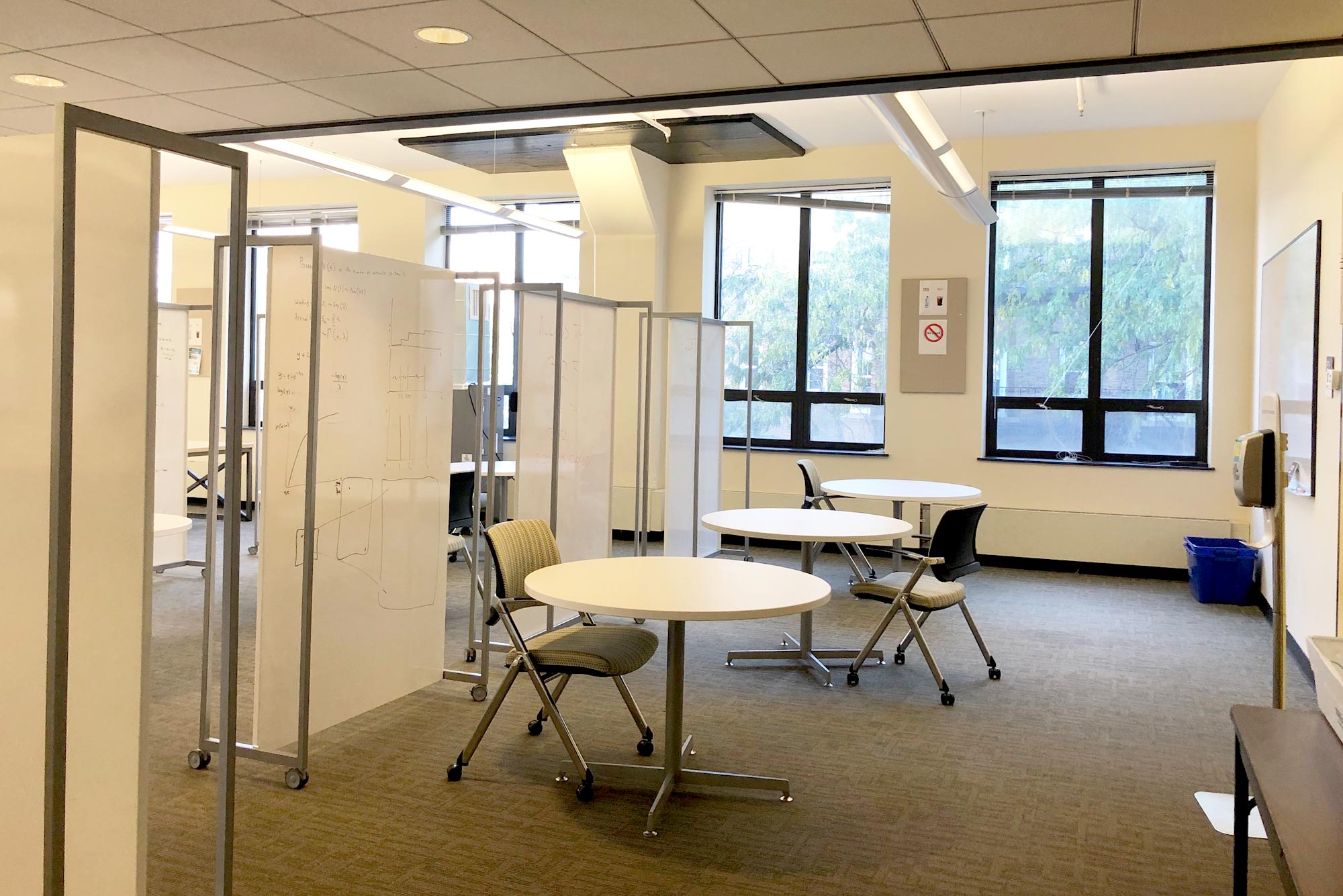 Student Life
Need to Find a Place to Study or Attend a Class Remotely While on Campus? It Just Got Easier
New app allows students to reserve safe study spaces on Charles River Campus
During the summer months, BU Today is revisiting some of the past year's favorite stories. This week, we feature mobile apps created by BU students, alumni, and faculty. 
Students who find themselves with time to spare between in-person classes or in need of an on-campus space to attend class remotely now have some convenient help, in the form of a web-based application that allows them to reserve safe study spaces on the Charles River Campus. Called the Student Study App, it currently offers 156 seats in 62 spaces, in buildings from 100 Bay State Road to the School of Hospitality Administration.
Christine Paal, assistant vice president and University registrar, oversaw the expansion and implementation of the app. She says faculty and staff had heard from students throughout the first month of classes that finding safe study places could be a challenge. "We hope this is responsive to that concern and will allow more students to be on campus to attend class in person and study," Paal says. "It's one of several continuing efforts to provide safe ways for students to be physically on campus."
Each of the available spaces is designated for a specific number of people, from one to 25, with an average of 3 people. About half of the rooms are intended for one student only. Spaces can be booked one week in advance, and students can reserve up to 600 minutes of space time a week. The app, which went live on Tuesday, can be accessed by QR code or at bu.edu/studyspace.
"If students have an in-person class and then a remote class, they may need a place to participate in the remote class," says Paal, who is a member of the University's Undergraduate Recovery Group. "An on-campus study place could save them from traveling back and forth. And if students are coming from an off-campus apartment, or they live on West Campus and their classes are on East Campus, they may need some kind of bridge between classes."
Aimee Mein (COM'22) is one of those students. "Lately, I've mostly been doing work on the BU Beach if I wasn't doing it at home," says Mein. "I have definitely thought about what to do when it gets colder, and what study spaces will be available. I think this app will be super helpful."
The University first considered the need for a range of spaces for student use back in July, Paal says, when several University offices started thinking broadly about the student experience. "We knew that, with Learn from Anywhere, students would be taking classes in a variety of modalities. It just seemed logical that they would need space between classes or at the end of their day before returning to their dorm or apartment or family home."
Paal contacted Christopher Dorney, Medical Campus assistant vice president for research computing, who she knew had developed an app that allowed faculty and students at the School of Public Health to book meeting spaces in the Talbot Building. She then talked with Amy Barrett (CFA'02), assistant provost for academic space planning and an expert on campus spaces.
"The project was a collaborative effort," says Barrett. "IS&T built the app, I worked with academic units to identify the spaces and compliant capacities, and Campus Planning & Operations did all of the furniture moves and installed signage."
She says the normal uses of the available spaces vary. "Some of the rooms are in the Mugar and Pardee libraries," she says. "The list also includes small classrooms that have a reduced capacity that is too small to be useful for classes this semester, consultation rooms in the Educational Resource Center, student lounges at the School of Hospitality Administration. There are also some spaces from the app's original incarnation in the Talbot Building on the Medical Campus. The goal is to provide options that are distributed throughout the campus."
Barrett, who plans to add additional rooms throughout the semester to support the demand for bookable seats, points out that there are already other spaces on campus with a significant number of seats available for open study. A list of these spaces can be found here.
The Student Study App allows students to book seats, not entire rooms. The 62 available rooms hold 156 seats and have 1,161 time slots available for booking each week. The app presents users with lists of available spaces that can be booked and/or canceled if a student's plans change. Students will get reminders to cancel a space if they no longer need it. And if a desired seat is already booked, students can sign on to a wait-list and be notified if the original reservation is canceled.
Suzanne Kennedy, associate provost ad interim for undergraduate affairs, who worked closely with Paal on the project, says the spaces are intended primarily to be where students can take classes remotely, and also where they can study. "We are hoping that providing space to take remote classes outside students' dorm rooms will support more students attending in-person classes when there is little time between classes," she says.
Paal says the Student Study App is one of several solutions that focus on developing or repurposing space to enhance the student experience. She is doubly pleased, because BU had the expertise to create and refine the app entirely in house. "That allows us to have trusted people doing the coding for us," she says. "And we know for sure that it meets all of our needs, and we know that it works. I was delighted that students are able to easily reserve study spaces. This is a great service for students."