Action. Racism. Hope. Students Show Their COVID-19 Lives in Graphic Narratives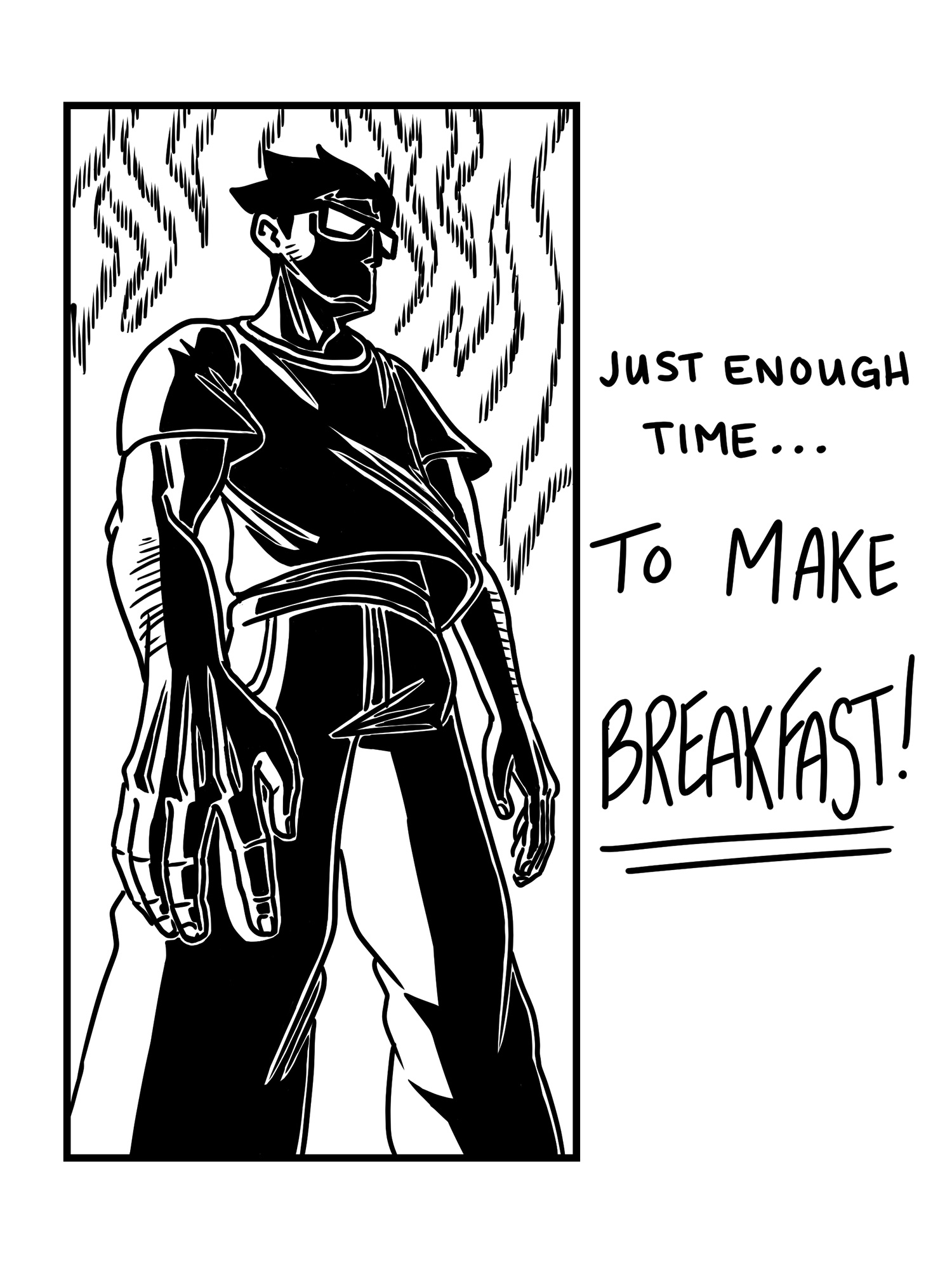 Graphic Novels
Action. Racism. Hope. Students Show Their COVID-19 Lives in Graphic Narratives
The pandemic confines them—but not their creativity
When COVID-19 forced his figure drawing class online, Hugh O'Donnell, a Boston University College of Fine Arts professor of art and painting, turned adversity into opportunity by assigning his students to draw and write graphic narratives about their lives and experiences during the pandemic. The resulting stories range from prejudice and despair to hope.
Morning in a Pandemic

By Ajay Ramnarine

Ajay Ramnarine (ENG'20) is a real-life superhero. He radiates heat like the Human Torch as he ponders whipping up breakfast with just five minutes until class, retrieves bagels from the toaster with the speed of the Flash, and arcs hot tea into a distant cup with the precision of Superman.
OK, it's not leaping tall buildings in a single bound. But infusing ordinary tasks with extraordinary prowess jazzed up a graphic story Ramnarine wrote and illustrated for O'Donnell's figure drawing class. O'Donnell is teaching the class again this fall with the same assignment, he says: "I will ask them to create stories based on their vacation experience of dealing with the pandemic."
"I felt this comic would be less boring if I made myself and my actions much more lively and animated, exaggerating the smallest things," Ramnarine says. "The story I told is the routine I did every morning. I would wake up not too long before my morning class would start, brush my teeth, make breakfast, and then sit down at my laptop to open Zoom. However, because the routine seems pretty boring, I figured I could make some of my actions more entertaining in a comic format. Professor O'Donnell's class reinforced the idea of strong posing playing a major part in telling a story."
---
Just A Day
By Miranda Xie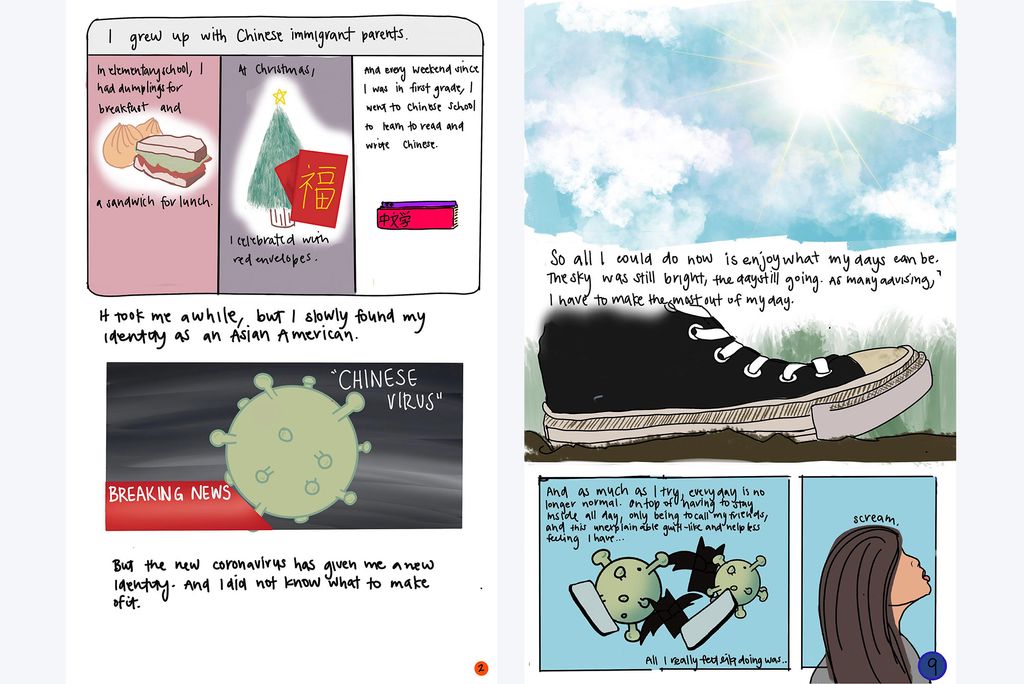 Miranda Xie's experience was anything but humorous. The daughter of Chinese immigrants, her narrative depicts their culture growing up—dumplings with her school lunch, weekend Chinese school to learn the language during first grade. "But the new coronavirus has given me a new identity," her text says. "There was so much blame. People were accusing Chinese people for eating 'weird' foods, for carrying the disease all across the globe." Her final panel ends on a somber note, showing her only recourse to the one-two punch of pandemic and prejudice: a primal scream.
"I don't think I have found relief or comfort yet," Xie (CGS'19, COM'21) says. "These are unprecedented times, and it's hard to tell if everything will actually be okay in the end. While this time at home has given me a lot of time to think, I just keep coming up with questions, and rarely any answers."
---
A Quarantine Morning
By Julianne Wheeler
Julianne Wheeler's story threads between ordinary and extraordinary, despair and hope. Her panels show her everyday routine, from her cat kneading her awake in bed to sharing bacon with her dog. Things turn somber as her drawings re-create news photos of "empty cities everywhere," as her text reads, before adding, "but nature still prevails," reflected in drawings of a bucolic brook, distant hillside in silhouette, and a close-up of a tree branch.
"I wanted to convey how simple and yet so complex life has become during and after quarantine," Wheeler (CAS'20) says. "On one hand, everyone is/was home all day, every day, with their family or pets just doing the same routine, but on the other hand, the effect of constant stress and anxiety resulting from the news and striking images that everyone sees takes a toll on mental health. I wanted to include images that also gave me hope, and because I spent quarantine with my family in Maine, encouraged me to try to leave the house for a walk or hike most days of the week."
Had the virus never struck, she says, "I would have probably done a graphic novel on how busy my life was—between full-time school, part-time internship, and part-time job, there wasn't much breathing room. Also, I have always been interested in the beauty of everyday routines, and they really shape our mentalities and outlook on life."