President Brown Outlines BU's Path Forward through Pandemic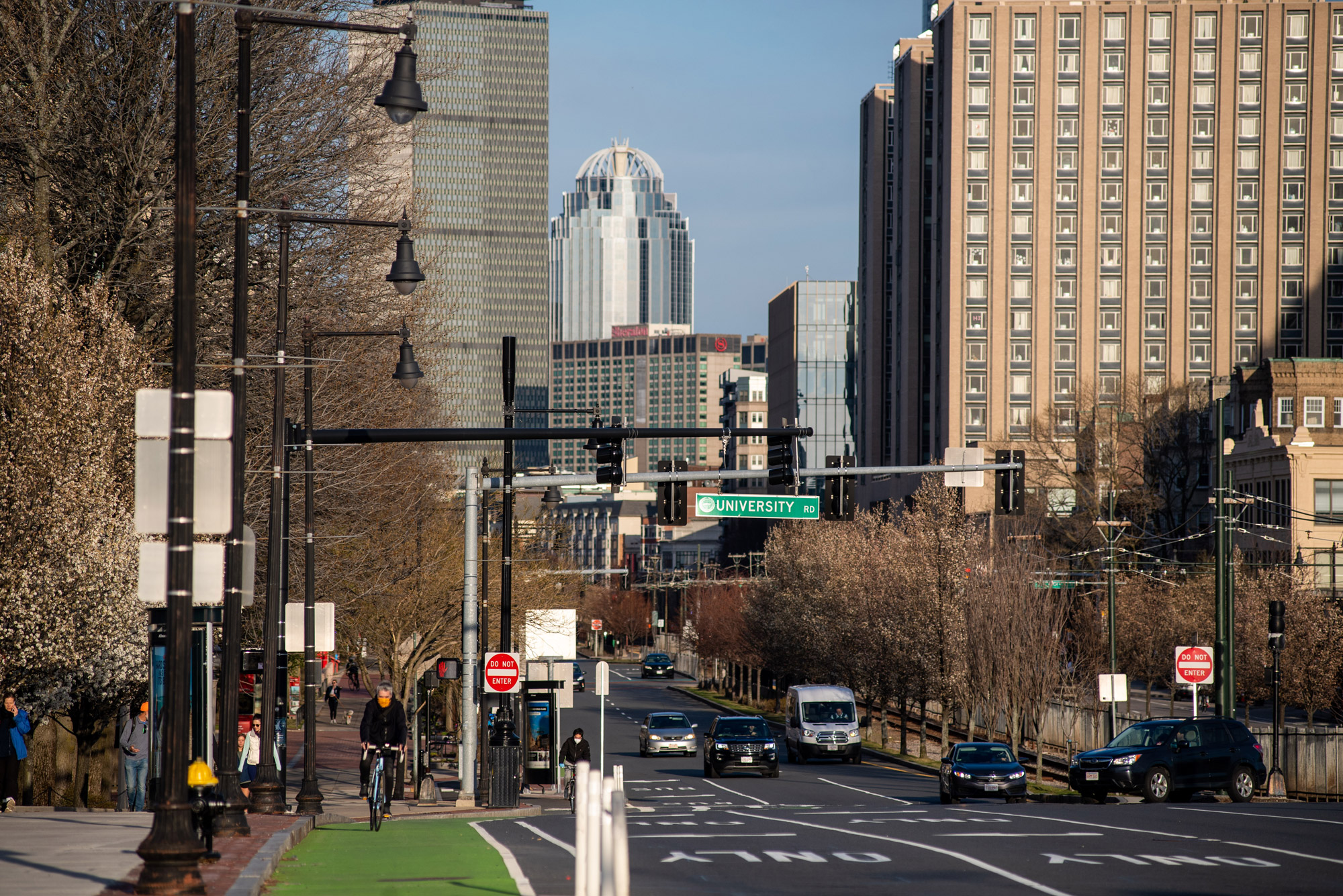 University News
President Brown Outlines BU's Path Forward through Pandemic
"We will bring back the residential environment of BU and it will be as strong as ever. We'll get there."
From the moment he announced on March 11 that Boston University was moving to a remote teaching and learning environment to help contain the fast-spreading coronavirus pandemic, Robert A. Brown, University president, like college leaders around the country, has been forced to confront one difficult decision after another.

What about students living in campus housing? Do they have to leave? What about their possessions? What if international students can't get home? How will grading work? Will there be a 2020 Commencement? What about summer sessions? The list seemed endless, but now, with many of those decisions behind him, the president's attention has turned to one thing: the fall.
In a wide-ranging interview Wednesday with BU Today, Brown talked about the path forward for the University and for its more than 30,000 students and 10,000 plus faculty and staff members. The interview has been condensed and edited for clarity.
---

The hardest decision was when we moved the classes online. It was tearing down the fabric of this in-person residential education.

---
BU Today:
Some big news has come out this week in regard to the summer and fall. Can you explain what went into the decision to cancel in-person activities for the summer?
Brown: It was a big move. No doubt about that. Our whole effort is focused on restoring the residential campus for teaching and research. And to do that while maintaining the safety and health of our students, faculty, and staff was our highest priority. The Summer Session 1 start date was the day after Commencement was scheduled, and it became absolutely clear that was not going to work by any public health standard. The Summer 2 start date was the end of June, and that was premature, given the way the pandemic is working its way through Massachusetts, the United States, and the world. We've had to find a focus for our efforts that was reasonable, realistic, and highly impactful. What we did is say that the focus should be on the fall: galvanize the energy around bringing the fall experience back as a residential campus.

We also wanted to move ourselves to a goal that's really important, and that goal is to define what a residential research university is going to look like in a post-pandemic era. And that's in the fall.

BU Today:
The fall feels so far away, yet it's only about five months. In your mind, what does fall look like? Do you have an image about what possible changes you see?
That's a great question, and you're putting me in the spot of being somewhere between a wizard and a pandemic expert. And I'm a college president. So I'm neither.

I do think we have an image. We want to restore and recover the residential university experience, while being mindful of doing that in a post-pandemic world where this virus still exists and we most likely don't have a vaccine. What we should have is a much better and more rapid testing for the virus. We were really caught off guard. And this tracing of people, and people who contracted the virus, would be much more accepted. We will have government restrictions about how big gatherings are handled. People will behave differently until there is a vaccine for this thing.

We are probably going to bring our student community back differently. It probably won't be one mass move-in. We have to be sensitive to all our workers. And then we have to figure out how we'll offer education. It will be in person to the extent we can do it. But can we put 150 students in a classroom? We won't know. People are being naive if they think fall 2020 will look like the fall of 2019.

BU Today:
We hear a lot these days about the "new normal." Are there certain conditions or restrictions or changes you foresee in that new normal?
When you have a crisis like this and people open their minds and imagination, you're going to try and embed some of those things in our operation.

We have faculty members who would have never dreamed a year ago or a month ago that they would be Zooming their classes. We've learned to use technology in ways we never thought of. Can you keep an organization running, have virtual meetings, give people flexible hours? We basically have the entire staff on flextime right now. We're going to take some of that learning into the organization once the smoke clears. We used to think of snow days as days you slept in. We can change that now. We could take a snow day and say, we're going online. I don't know if that would be the most popular thing I would do, but it could happen.

A couple of years ago we had a winter of horrible blizzards, and students hated it because we had to schedule Saturday classes. There would be no need for that today.

BU Today:
Because of what you've learned?
Because of what we've learned. But we've got to keep that knowledge. That's one of the tricks. You'll forget it if it goes away.
BU Today:
Through the course of this last month or six weeks, is there a guiding principle that's helped steer you as you've had to make some of these big decisions? Is there something that's kept you focused on the bigger picture?
You know, that's a really interesting question. Every university leader is trying to find that North Star. We're a great urban research university, and when you think about the energy on our campus, that North Star is to get it back, to recover that residential community. If we do that, we will be fine.
BU Today:
So far, what's been the toughest decision you've had to make?
Well, the first one. The hardest decision was when we moved the classes online. It was tearing down the fabric of this in-person residential education. But I could see then the steps we were going to have to take over time. But the first one is always the hardest.
BU Today:
Now that the campus has experienced remote learning on a large scale, what have you heard about how it's going, and can you foresee some remote learning continuing for some students?
Mainly I have talked to a lot of the faculty. I would say first, that our faculty, staff, and students have just done an amazing job moving so abruptly in a collaborative way to remote education. Some schools took two or three weeks—we gave them two or three days. There have been bumps. But in a crisis, people come together, and everyone has just afforded everybody goodwill.

Just as one example is this grading issue. When you look at our grading policy compared to what's out there, it's probably the most student-centered grading policy there is. That was where our faculty wanted to go. They wanted to say that the people who have really been disrupted are our students, and we should give them as much flexibility as possible. A lot of students don't want pass-fail. They want grades. So they invented this credit/no credit system and then gave students the option of going credit/no credit or taking a grade. I think the end of that was a really amazing process, led by the provost, Jean Morrison, of being very student-centric. This is the goodwill I am talking about.

But I think everybody understands, more than they ever did, that this remote learning is not the same as residential in-person learning. This class, these students, are going to understand that more deeply than any group of students, because they've had to experience both.

BU Today:
The international student population is a huge part of the fabric of the BU community. Can you talk about how those students play into your decisions about learning and housing and campus life?
It's a really important part of the University. We think of them as a distinctive group that really defines the culture and global aspects of the institution. But they are also among the most vulnerable part of the population. They are farthest from home. In some cases, there are language barriers at home to communicating with the University. We go out of our way to put a lot of our communications out in Mandarin to help overcome that to our Chinese students. For many of them, they could not go home. That's why we never made an announcement that everybody's got to leave campus. We always made an exception, which was really important for our international students. Now we have to look at how that housing exception holds for the summer. If they go home, they may not be able to get back. And so we're working on that problem right now.
BU Today:
With incoming freshmen, do you see a scenario where they will be able to take remote classes or some other changes or new rules?
Well, one of the things under discussion now is what do the remote summer courses mean for incoming freshmen. Could a freshman start early during the summer? We just had a conversation about that. So maybe that's an option.
BU Today:
There are still almost six weeks left in this semester. What's most important to you for that final home stretch?
There's so many things. It's been amazing how everyone has stepped up and kept all these balls in the air, how our faculty and staff maximized getting students set up in this remote learning. That's been our whole focus for this spring, and I think we're in pretty good shape. But there is differentiation, like students who have heavy lab or studio classes, which just don't work as well online. Then we have other things going on simultaneously.

Our medical students graduate next week, moved up for all our fourth-year School of Medicine students. They will go from graduating to almost immediately entering into the healthcare system. They'll be on the frontlines of health care. I am really proud of MED for making that happen, and of our students for jumping in and taking that role.

And then the other thing going on in the midst of all this is that we're recruiting our freshman class. We're having all these virtual events. I was talking to Kelly Walter [dean of admissions and associate vice president for enrollment]. We have had over 5,500 students attend our virtual open houses. It's all going on online.

I was thinking that if this had happened in 1995, or even 2005, I have no idea how any of it could have occurred.

BU Today:
You mentioned the School of Medicine. Can you talk about how closely you're following things at BU's National Emerging Infectious Diseases Laboratories (NEIDL) and the work happening there with COVID-19?
I do follow it. It's something that's important to me. And after many years working to get the NEIDL operational, it's wonderful to see the article that ran in the Globe that talked about us being the only place (in New England) to have the live coronavirus to work with. That shows why we fought for so many years to get the place opened. 

The number of projects going on at the NEIDL, and the number of collaborations with other researchers, really shows what an asset it is to the nation and to Massachusetts. It's just wonderful work by our faculty who are working full-time, 24-7, in that environment.
BU Today:
The Questrom School of Business had recently put in place an online MBA program with edX. Was that helpful to the larger University in this transition to remote learning?
Yes. The interesting thing is that sometimes you are lucky as well as smart. There are a lot of discussions going on now about whether there are other master's or graduate professional programs we should take online. The School of Public Health is putting into place an online MPH.

Now the world is realizing that to be a global university, it doesn't just mean having global programs out there. If you can get the student body to you virtually it might be just as important.

BU Today:
The students particularly impacted by all of this are the seniors. We all can remember our own graduation years later. When you were going through the decision process about not canceling and aiming for an in-person ceremony, what were you thinking about?
I graduated from the University of Texas in 1973. I did not attend my graduation. College seniors in those years didn't normally go. It was the end of the Vietnam War. Remember, Kent State happened in 1970, the last time we did not have a Commencement at BU. There was a lot of unrest on campuses. I was of the generation that was teargassed. It was only later in my life that I understood the importance of the void that left. It's not from my personal experience of doing it—it's from my personal experience of not doing it.

The first commencements I actually attended were as a department head at MIT. That's when it started dawning on me, because in a residential community that's how friends part. Our senior class has been pulled apart in such an abnormal way. So that decision personally looked sort of obvious. There was no need to say never. To make every effort to have a Commencement for them is important to the institution and important to their closure of their college experience, now more than ever, since they didn't have that normal closure. Logistically it will be difficult. But we're going to have one. We just have to figure it out.

BU Today:
As you work remotely like everyone else, what do you miss most about being on campus?
Oh, just the energy. People know I walk all around the place. I miss the energy and excitement. Sticking my head in seminars. Walking down the street. It's a ghost town now, as is all of downtown Boston. I think we're all trying to deal with social distancing, and our own rhythm of life is glued to some silly chair in front of a computer screen.
BU Today:
Before we wrap up, what's the most important thing you'd like students to know right now, and then faculty and staff?
For the students, we will bring back the residential environment of BU and it will be as strong as ever. We'll get there. But now everyone has to just stay safe and be patient. And for faculty and staff, we are financially strong. We're in better shape than the University has ever been. And we're doing everything we can to manage our way through this.