Law Students Often Get Pollyannaish View of Justice's Supposed Color-Blind Fairness. LAW Aims to Change That
Higher Education
Is Justice as Color-blind as the Casebooks Say?
Two-day LAW symposium, drawing scholars from around the country, will examine the education given first-year students
"Ivory tower" is a dig on universities' supposed isolation from the real world. Ivory is white, and that's the color, critics say, of a special form of isolation at law schools: first-year students read casebooks portraying the legal system as impartially color-blind, rather than stacked in favor of whites and against minority groups. What happens when the 1L curriculum fails to incorporate the perspectives of marginalized groups?
That's the topic of a two-day sold-out symposium launching Friday, February 28, at the School of Law titled Racial Bias, Disparities and Oppression in the 1L Curriculum. Bringing 19 scholars from around the country to BU, the conference kicks off the Great Topics Program, a new, ongoing series of conversations among leading thinkers/makers about issues explicitly related to race and/or diversity, hosted by the Office of the Provost.

Featuring legal scholars from Harvard, Stanford, Duke, UCLA, BU (Portia Pedro, a LAW associate professor of law), and more, this weekend's symposium is an effort "to think creatively about what practical steps we can take to deconstruct the culture of marginalization in law schools" in favor of "racial inclusion," says Anna di Robilant, LAW associate dean for equity, justice, and engagement.
The symposium will emphasize the importance of all faculty, not just those of color, being responsible for racial inclusion, says di Robilant, who hopes the conference jump-starts discussion of broadening first-year courses to address the role of legal doctrines in reinforcing power disparities.
The concern is an old one, she says, going back at least to a Reagan-era article about the harm to legal students of color from the notion that first-year law topics can be taught objectively.
"What is understood as objective or neutral is often nothing other than the dominant white and middle-class understanding of a certain topic," she says. "This places a big burden on minority students, who are expected to participate in class discussion and analyze the legal questions proposed to them as though they were not African American or Latino, but colorless legal analysts."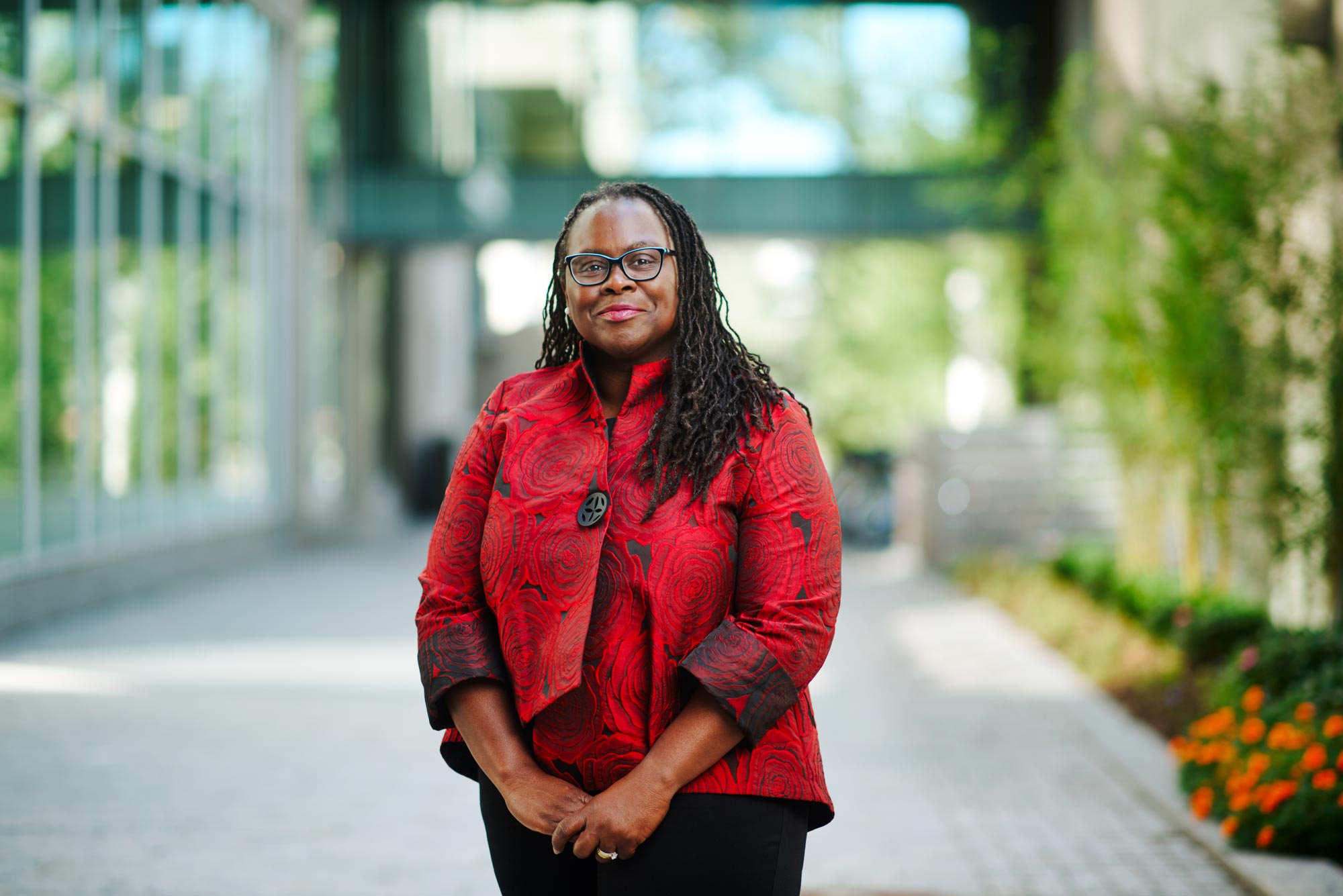 Former Supreme Court Justice Sandra Day O'Connor wrote an opinion noting that law students graduate into a diverse, globalized world, says Angela Onwuachi-Willig, dean of LAW. If they do so "without being exposed to [multiple] ideas, perspectives, and realities, they will not be prepared to represent clients with a diverse array of backgrounds, they will encounter problems in developing and nurturing necessary collaborations, and they will miss ways to connect with those they need to draw in to advance their goals."
LAW also is obliged to make explicit "the false notion that somehow law is purely objective," she says. "Case law and statutes were written by certain people, who wrote those important documents and provisions through an individual lens shaped by their own lives and experiences. Many of them have lived in and operated in segregated worlds.
"Even as they try to be objective, without awareness about other people's realities, they essentially created law that reinforced the status quo and current and past inequities," Onwuachi-Willig says, and failing to address that also alienates students from marginalized backgrounds.
The conference can guide LAW faculty in modifying their teaching, and that will be essential, she says, as "we do not have much room to change the courses that are chosen in the first year; we have to prepare students for the primary courses tested on the bar, and many of the first-year courses fall into that category." But "we are working to encourage faculty to create their own materials, which may not only be more inclusive of a broader range of perspectives, including more conservative perspectives, but also will reduce expenses for our students."

Find information on proposing a Great Topics program to the Office of the Provost here.