Innovate@BU's Summer Accelerator Goes Virtual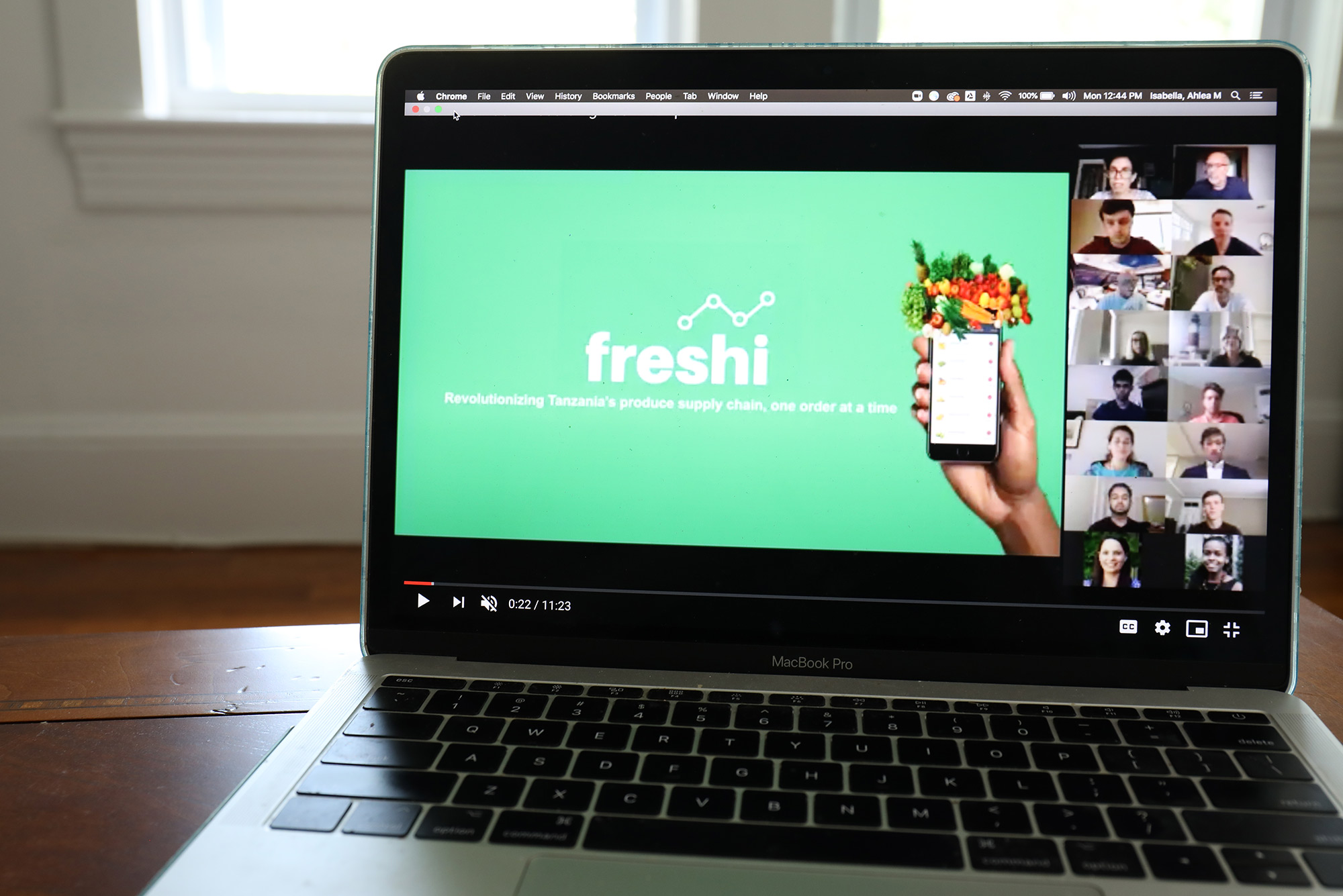 Innovation
Innovate@BU's Summer Accelerator Goes Virtual
Venture program wrapped last week with pitches to investors
In summer 2019, Sayi Makwaia interned at a start-up in Tanzania that focuses on connecting local farmers with middlemen and other bulk buyers. While there, she met Maria, a smallholder farmer who struggled with selling her produce.
BU MBA candidate Makwaia (Questrom'20) was struck by the lack of proper resources and technology available to farmers like Maria, and saw an opportunity to make a difference. She created Freshi, a digital platform aimed at connecting Tanzanian smallholder farmers directly with customers to reduce waste and improve the agricultural supply chain.
A year later, Makwaia took her viable idea to Innovate@BU's Summer Accelerator program, a 10-week intensive incubator that helps BU students and recent alums develop early-stage venture projects. It was the pathway she needed to propel her idea to the next level.
Typically hosted at the BUild Lab, the 10th iteration of the Summer Accelerator was moved online this summer per BU's coronavirus guidelines. Although the program was operated remotely, it maintained all its core components, says Rachel Spekman, Innovate@BU program director of business ventures.
"The goals are for students to make progress on their own start-up (both for-profit and nonprofit) ideas, develop entrepreneurial skills, be a thoughtful community contributor, and for students to be proactive about building their ventures and networks," Spekman says.
Following a rigorous application process, teams are provided with a $10,000 stipend, as well as education and mentorship on innovation and entrepreneurship throughout the summer. Each team is assigned two mentors, and all participants attended virtual weekly office hours and workshops on topics such as public speaking, customer discovery, and more.
There were 14 teams participating this summer, representing seven BU schools and colleges. The program requires that each project team have at least one member from BU—a current student or an alum who graduated within the past year—and some of this year's groups also had students from schools like Harvard and the University of Pennsylvania.
The program started June 1 and culminated in an afternoon of presentations on August 6. Split into three Zoom calls, venture teams were given 10 minutes to pitch their ideas to a panel of investors, business executives, and industry experts, in pursuit of their time. Judges provided feedback to each team, and had the opportunity of offering additional meetings, in 15-minute increments, to teams they wanted to learn more about or provide with further advice. The teams received a combined 885 minutes of time from the 12 judges.
For Makwaia, the presentations evoked a mix of emotions, nerve-wracking and validating at the same time, she says. Freshi received two hours of time from two judges—the most of any team—and a third offered to connect them to an organization doing similar work. Makwaia had not expected the kind of positive response her pitch received.
"It was really a humbling experience, especially after the feedback from the judges," she says. "It just really affirmed to us that we really need to continue this work."
Dave Fachetti (Questrom'94), executive vice president of strategy at BitSight, was one of the judges who committed time to Freshi. With more than 30 years of experience as an executive and advisor to early-stage, high-growth companies, the alum has a keen eye for venture investments and was happy to help out his alma mater.
Although Fachetti does not typically work with companies at such an early stage, he liked what he saw at BU. The pitches were well-executed, he says, and the ideas were thoughtful and creative. "They had all developed some meaningful early efforts in these companies," he says. "I was really impressed."
Fachetti had several reasons for offering time to Freshi: a clear idea, a good market opportunity, and perhaps most important, passion. "I identified with it," he says. "A lot of times when you're approaching an investor, does what you're doing resonate with them?" In Freshi's case, Fachetti's answer was yes.
For Peter Siegel (ENG'22) and Pavel Gromov (ENG'22), both mechanical engineers, the Summer Accelerator program provided a more holistic approach to an idea they had been developing since September 2019: an environment mapping and sensing platform that allows cities and institutions to monitor air quality and capacity, which they named BeagleNet. The Summer Accelerator was the third venture competition the group had entered, and BeagleNet was offered 30 minutes of time from an investor.
"We're pretty good at the product design aspect, solving an engineering problem," says Siegel. "But the Summer Accelerator gave us an opportunity to really become a lot more acquainted with, and a lot better at, the business side of things. Knowing what's the value proposition of this product, what's the target customer segment, is there actually a market for it? And that really did help evolve our idea and ground it a lot more."
After 10 weeks of development and feedback, BeagleNet will be piloting its system at BU this fall semester. In collaboration with BU Information Services & Technology, the start-up will install its systems in various common spaces, dining halls, and classrooms across campus.
Both the commitment from an investor and BU's partnership provided welcomed validation for BeagleNet. "It means that there are definitely venture capitalists, other people out there, that take this idea seriously and that it's a viable product," Gromov says.
During an otherwise challenging time, the Summer Accelerator was a bright spot for Makwaia.
She did not attend Questrom's virtual 2020 graduation ceremony, but when it came time to log on for the Summer Accelerator goodbye gathering and team toast, she was there. That, she says, was like her real graduation.
"This was the highlight of my two years at BU," Makwaia says.