Brain Fog? Free Apps to Help Organize Your Day
Student Life
Brain Fog? Free Apps to Help Organize Your Day
Check out these 10 programs for note-taking, scheduling, tracking workouts, and more
Experiencing a bit of pandemic-induced brain fog? It's normal, though it makes keeping track of assignments, taking notes, and monitoring your health more difficult, especially in the midst of classes, work, and extracurriculars. To make managing these easier, we found some free apps that can help you stay afloat as we head into finals.
Apps for note-taking
Taking notes is a given, but having a dependable place to do it is not. These apps can make it easier to take notes all in one place wherever you are.
OneNote is super easy for Microsoft users (don't worry, iOS users, you can download it on your devices too). In addition to typing your notes, you can write on top of them and annotate them with the ink tool. That means you can circle key phrases or draw over images in addition to the typical highlighting and underlining most apps offer. You can also share your notes with others, insert audio clips, and organize your notes into separate sections and pages.
Devise lists, take notes, and add audio files and images with Evernote. You can save web pages in the app and choose from a variety of free templates to create a planner. Upload digital files and journal with the Daily Reflections option. The basic version of the app is free, but more options are available if you upgrade to a monthly subscription.
Apps for organization
Life gets hectic, and assignments add up. Stay on top of your work and schedule with these helpful planning apps.
Google Keep is like an easy-to-use digital wad of sticky notes. And it's useful for those of us who need reminders of events and assignments, but don't like the calendar apps. To use it, create a note, add a title, and choose a color before adding content. You can add links, checkboxes, and photos, as well as set up reminders and add collaborators. You can pin a note so it's at the top, or archive it once you've completed the task.
For those who want everything in one place, this is the app for you. Calendar by Readdle allows you to connect Google Calendar, iCal, Gmail, and Facebook. You can color-code events, add locations, create multiple calendars, and invite others to events.
As suggested by the title, this app is great for managing homework. Use it to color-code classes, upload instructors' contact info, add checkboxes and events within the calendar, and set up countdowns and reminders.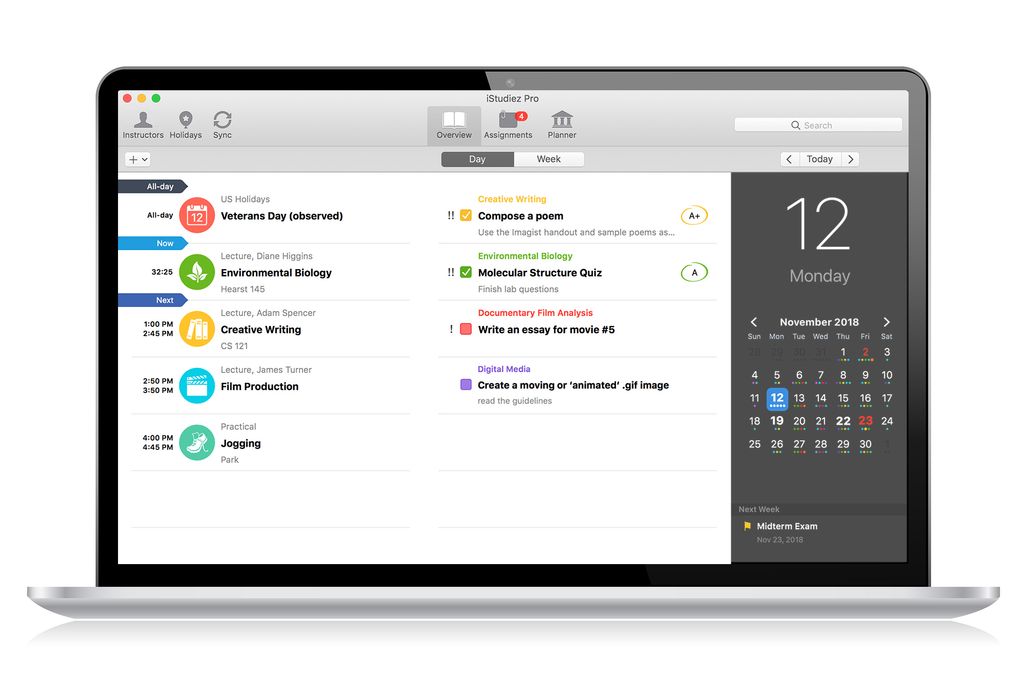 Like the Homework App, iStudiez Pro is also a smart choice for tackling homework. In addition to color-coding classes and events, you can add urgency levels to assignments and use the grade and GPA calculator. You can also sync your calendars and information on any device you use.
Apps for health
Managing your health is as important as staying on schedule for school. Check out these apps that will help keep you balanced and on your feet.
Monitor your mood and thoughts through the Daylio app. It's like a personal journal that helps discern patterns in your activities and mood. It encourages you to pick your daily mood and add the activities you have been doing that day. It takes only a few seconds to use, but it's a good tool to bring awareness to how you're feeling and what you're doing.
Footpath is great for recording and planning runs. You can set routes, tally miles, and view your activity over time. And if you want to explore a new trail, you can turn on the directions and it'll guide you as you run.
For those who aren't a fan of running, Nike Training Club is for you. Nike trainers design the workouts on the app and show you how to perform each move. You can choose from a variety of activities and challenges, including yoga and HIIT home workouts, guided weights routines for the gym, and more.
Ladies, this app is a gem when it comes to tracking your period and birth control usage. Set reminders, find expert advice, and even track your mood and activity all in one place.