Women's Swimming Star Carly Soares Hopes to Add More Records to Already Stellar Résumé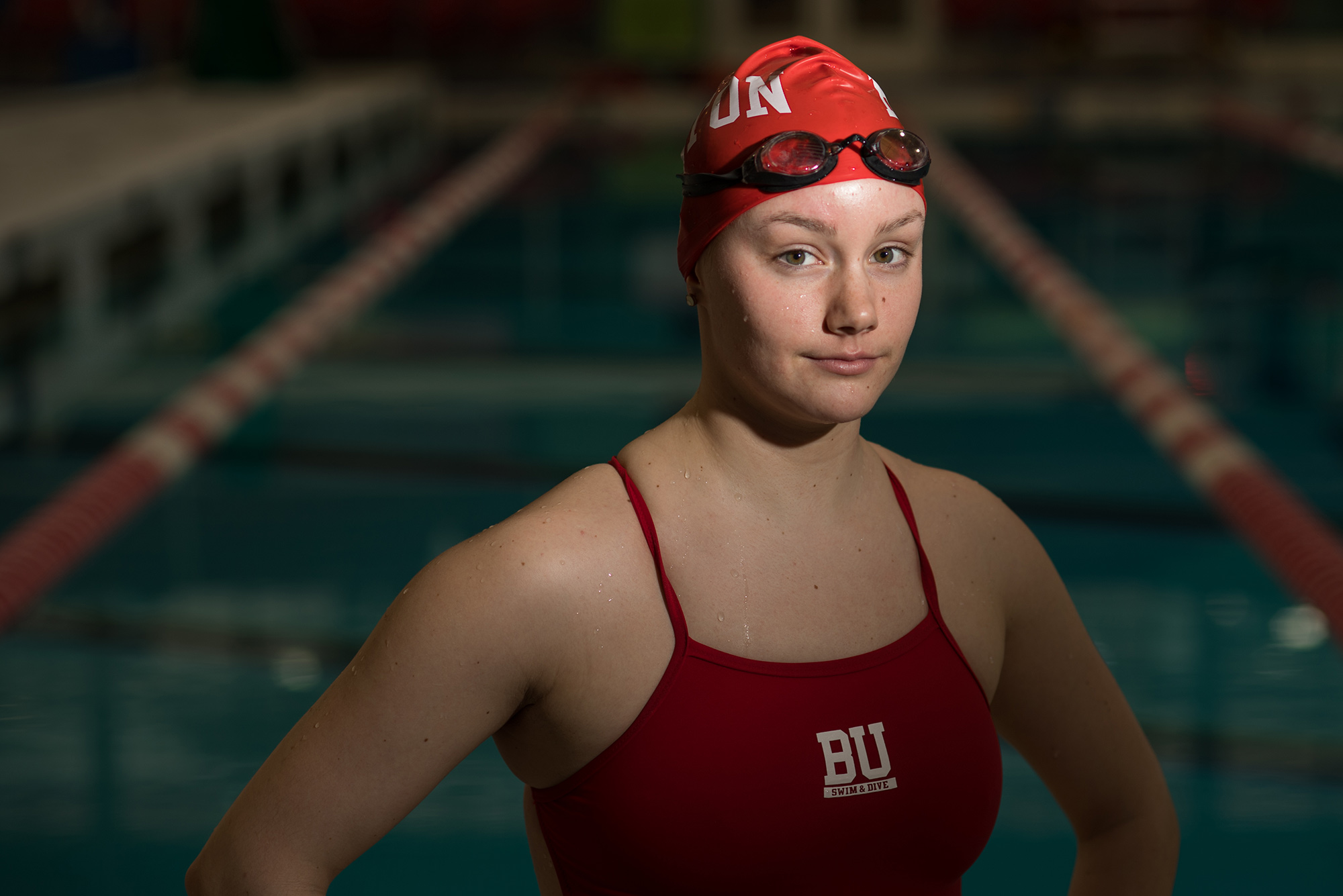 Varsity Sports
Women's Swimming Star Carly Soares Hopes to Add More Records to Already Stellar Résumé
Will close out college career at Patriot League Swimming and Diving Championships this week
If all goes as planned, Boston University's Carly Soares will finish this week as a three-time All-Patriot League First Team women's swimmer.

Currently the most decorated swimmer in the program, Soares (CFA'20) has captured All-Conference nods in each of her college seasons. The Topsfield, Mass., native owns school records in the 200 meter breaststroke and the 400 meter individual medley, and hopes to add to that record when the Terriers head to Annapolis, Md., to compete at the Patriot League Championships, hosted by the US Naval Academy, starting Wednesday.  

"Carly's had an extraordinary career for BU," says Bill Smyth, swimming and diving head coach. "She has always had the training and competitive tenacity that every coach hopes for in their athletes. She takes a very professional mentality towards her swimming career and is fully engaged at every practice. Away from the pool she's studious, funny, and a great teammate; in the pool she's as competitive as they come."

BU Today caught up with Soares as she was preparing for her final collegiate meet.
BU Today:
You've compiled an impressive individual career record at BU: are there one or two races or moments that stand out?
Soares: There's definitely been a couple. Regarding my experiences with racing these last four years in college, I would say the most rewarding thing has been being behind the block right before your race, knowing that you're representing Boston University. Every single time before my final race at Patriot League Championships, even before the race starts, I always get choked up. It's happened all of the four years—I almost start crying. Because I look over at my teammates, I know I'm wearing my BU cap, and I'm so proud to represent everyone.

That's before the race. After the race, at my 400 IM at conference last year, I ended up getting first place in the Patriot League. Immediately, as soon as I saw my time and I saw the number one next to my name, I looked to my teammates, I looked to my coaches. I pointed at my cap because I knew it said Boston University. I was just so proud because I had won that race for BU. That's the one that stands out, not for my own personal accomplishment, but because I was able to do it for my team.

BU Today:
Swimming is both an individual and a team sport. How do you mentally assess your personal success compared to the team success?
Soares: Swimming is a very time-based sport, so obviously you want to get your personal records every time you get into the water to swim. Not only do your best times matter, but the place you get compared to the other teams matters in terms of the overall team effort. Honestly, especially at dual meets, I don't really care what the time is. I want to make sure that I'm getting that win for the team. That's what really separates it from an individual sport. Of course, you have your personal goals and you want to improve every year, but you're not only improving for yourself, you're improving for your team because you want to get those points.
BU Today:
How demanding is your schedule during swimming season? It must be grueling.
Soares: I'm in the College of Fine Arts, and I'm the only student-athlete in CFA. The way I like to describe it to my professors and classmates is that the amount of time I spend in class, that's the exact amount of time I'm spending in the pool. We go up to those 20-hour limits, right up to the last minute. We're diving in at 6 am—it's not like we're showing up at 6 am. It's take your mark, go, at 5:59:59 in the morning. You're definitely up early, and they're long days. You're always physically exhausted, always starving, but it's worth it. Every Saturday, especially in the fall season, we're competing in dual meets. We'll have super long weeks of practices, but as soon as we get on that bus to travel for our dual meet, or we're in warmups ready to go, it's kind of that collective: we got through this tough week of practice together, let's show off what we can do.
BU Today:
Do you have any premeet superstitions?
Soares: I always stay super hydrated. You'll never see me walking around without my water bottle. It's kind of become a superstitious thing, too. If I ever lose my water bottle, I can't just grab a cup of Gatorade from the station. I have to have my water bottle.

There's also this thing that our team does: when we're behind the blocks, we put our hands up in the air and wave them up and down. Everyone puts their arms up and does it in reverse, and we call it an energy transfer. That's something I like to do before my race—get that transfer of energy from my teammates.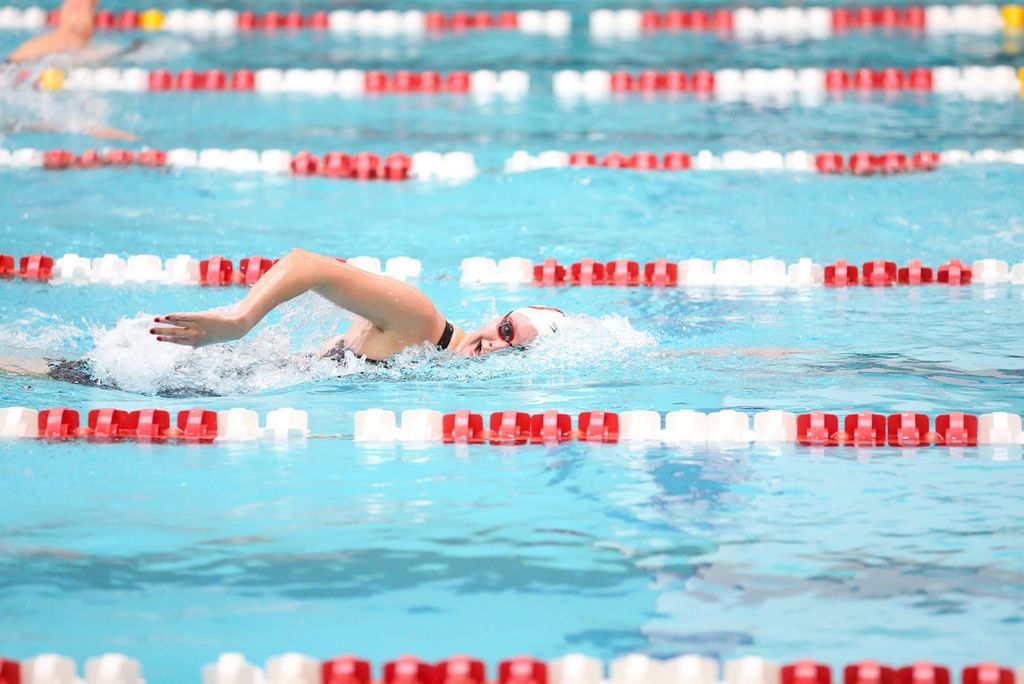 BU Today:
What do you think people overlook about the rigor of Division 1 swimming?
A lot of times people think we only do our practices in the mornings. Not only are we swimming in the morning, but we're also going in the afternoon. In the morning we're not just swimming, we're also lifting. On the days that we're not lifting, we're on dry land. It's a whole mix of being in the water, lifting heavy weights, and also doing a lot of cardio and a lot of dry land. People may think we're just jumping in the water and swimming endlessly. There's a lot more to it.
BU Today:
You're majoring in graphic design. How did you become interested in that field?
When I was looking at schools my senior year of high school, I wasn't sure exactly what I wanted to do for the rest of my life. I feel like most 18-year-olds feel that way. When I was looking at schools, I wanted a large university with a lot of options. I had always taken art classes in high school, but I had never really thought of it. There was an alum on the team at the time who was hosting me when I came to visit BU, and she was a graphic design student. I was able to talk to her about what she did, and that was really inspiring, so I decided to just go for it, apply to the College of Fine Arts and go from there. Luckily, I've been able to pair my graphic design studies with a minor in communications. Getting that well-rounded education at BU while also studying fine arts and graphic design, which is my passion—I've been really fortunate to do that.
BU Today:
Do you have a favorite class you've taken at BU?
Probably my graphic design studio classes. I know that's a simple answer, but since the fall of sophomore year, we've had to take studio graphic design each semester. This semester, we're doing our thesis. Even though it's the same structure each semester for graphic design, improving the level of intensity each time has been an interesting process. Every semester I've had a different professor, so it's been rewarding to get different perspectives on the same thing we're studying.
BU Today:
What do you plan on doing as a career?
That's definitely the million-dollar question. I'm working on it, trying to keep an open mind. Being in the city of Boston was definitely intentional. There are a lot of great companies. Whether it's in advertising or a marketing company, I'd love to be a part of a bigger team. I can't just quit swimming after I graduate and not be part of a team. Looking for something like that is the main goal. I just want to be a part of a creative communications team in a company.
BU Today:
Do you have any interest in remaining in swimming? Coaching?
I'm definitely going to take a break for the first year or two, while I'm trying to establish myself professionally. Once I settle into that, I do see myself getting back into swimming somehow. Whether through a master's program or coaching part-time—I love the sport so much. I don't see myself staying away from it forever, but I do think I need a little breather from the chlorinated tank of the pool. I'm always going to be active. I can't picture myself not being active.
The Boston University women's and men's swimming and diving teams compete at the 2020 Patriot League Swimming & Diving Championships Wednesday, February 19, through Saturday, February 22, at Lejeune Hall at the US Naval Academy in Annapolis, Md. Purchase tickets here. View the meets online on the Patriot League Network.