Public Art Is All Over Boston University. Stop and Appreciate It
Arts on Campus
Public Art Is All Over Boston University. Stop and Appreciate It
Grad student Kimber Chewning's website indexes artworks across BU's three campuses to help people take notice
The flock of doves rising from Marsh Plaza. The giant metal knot on the BU Beach. The bust of a forbidding bearded man at the Medical Campus.

Public art is all around the University, from Comm Ave to the Fenway Campus to East Concord Street, but too often we pass it by without thinking. Kimber Chewning (GRS'17,'24) and the BU Arts Initiative are trying to fix that.

"It allows people of any kind of background to experience an artistic work," Chewning says, "and maybe recalibrate their experience of the University, of the space they're in, and the way they see things."

Chewning researched and built the new Public Art at BU website, which indexes outdoor and easily accessible indoor works of art across the Charles River, Fenway, and Medical campuses. Each work gets a picture, information about the title, artist, and date, and any other information that's available. There are also background pieces on several of the artists.

"Public art was definitely something I would casually notice, especially the more prominent pieces, but I never took the moment to engage with the works," Chewning says. "A lot of these works have been kind of lost to the archival history of BU, and that's one of the motivating forces behind this project—to create a place where we can learn and engage more with the public art on campus."

Public art has a rising profile in the city, with high-profile pieces rotating in and out of the Rose Kennedy Greenway, sometimes bringing controversy, like the untitled Os Gemeos mural on the Greenway in 2012 and 2013. With the support of Mayor Martin J. Walsh, public art is expanding into the neighborhoods, like Underground at the Ink Block, under I-93 in the South End. Just a few miles up Route 1A, the giant murals of Lynn's Beyond Walls project have shown how art can have a transformative effect on a single building or a community.

"Public art enhances our environment by bringing vibrancy, joy, and even whimsy, and generating opportunities for conversation and community-building," says Ty Furman, managing director of the Arts Initiative. "On a university campus, public art also serves as an extension of the intellectual life of the institution, beyond classrooms, studios, and labs."

A few of the works are well-known, such as the Free at Last sculpture on Marsh Plaza by Sergio Castillo, honoring Martin Luther King, Jr. (GRS'55, Hon.'59). The sculpture of a flock of doves rising into the sky, one of three by Castillo on campus, was dedicated in 1975.
Temporary installations are also included, like Domenic Esposito's FDA Spoon, which brought a high-profile piece protesting the corporate role in the opioid crisis to the plaza outside the George Sherman Union last fall.

And public art isn't just outdoors—or always highly visible.

Carson Fox's giant cast-resin work Blue-Green Brainbow has greeted visitors in the lobby of the Kilachand Center for integrated Life Sciences & Engineering since 2017. And have you ever noticed the stone cat peeking over a bush in a small side yard at 871 Comm Ave? Not much more is known about it, but it's there.

For these and many other pieces in the collection, Chewning is seeking the public's help to fill in the blanks, and the website asks those in the know to email artsinbu@bu.edu.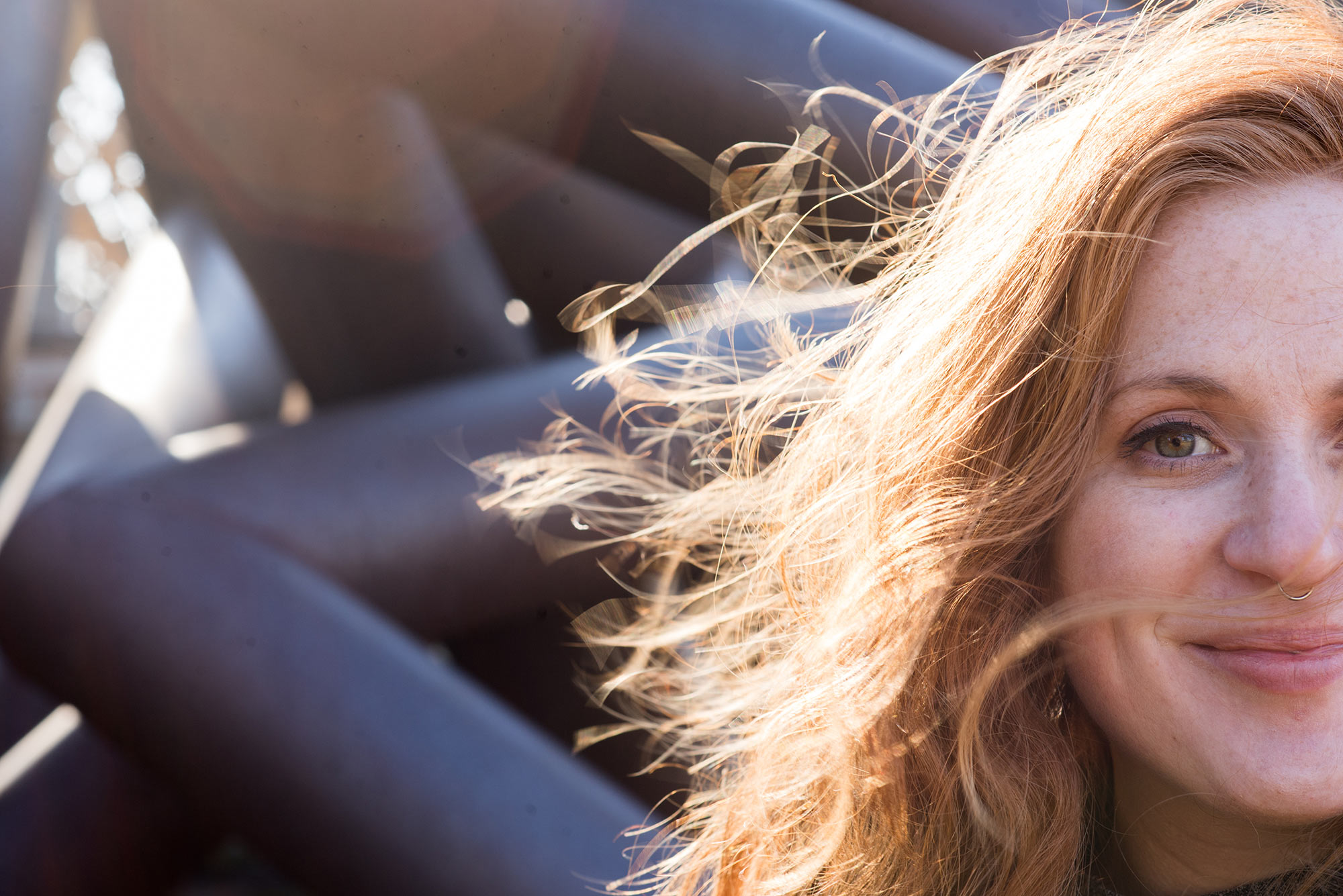 ---

Having art outside the classroom, just in your life, can make you question how you see things or what you believe, and that's a really powerful opportunity.

---
"There is no coherent place within BU that has documented the public art," she says. "So my project was really piecemeal, doing a lot of digging, trying to find out whatever I could from a lot of different places, and that means there are still a lot of holes in the research, where I literally have no idea how to even begin.

"It felt like a scavenger hunt."

A Florida native, Chewning is a third-year history of art and architecture PhD candidate, focusing on contemporary art and the history of photography. She was looking for a project to carry her through summer 2019, and at the same time the Arts Initiative was looking for someone for the public art project.
"We felt it was important to have someone with experience in research and archival work who had the capacity to uncover as much of the story as possible beyond just the facts," Furman says. "Kimber brought all of that and a passion for contemporary art to this project, and we are tremendously grateful."

Chewning has her own favorite works in the catalog, starting with the large, abstract, knotlike Untitled by Frank Smullin, installed on the Albert Mall behind Marsh Chapel in 1979. "I found researching him to be really fascinating. He was obsessed with the knot as a form," she says. "He felt it was like this beautiful representation of connectivity. He even developed a computer program to help him perfect this knot."

She's also fond of what is known as the Froebel Frieze, artist and provenance unknown, over a doorway at 132 Riverway on the Fenway Campus. It depicts Friedrich Froebel, a German educator and inventor of the concept of kindergarten, surrounded by adoring students. Chewning found a photo of Lucy Wheelock—founder of the education-focused Wheelock College—posing below the frieze.

She won't name her least favorite among the works, but Chewning thinks the strangest is the untitled, uncredited bust of a hairy, anonymous, and rather forbidding man atop a stone plinth at 72 East Concord Street on the Medical Campus, a centennial gift of Nathan J. Fineberg, M.D. (MED'30. "I don't know what its intentions were, but I found it totally bizarre," she says.

It seems there was little public art on BU's campus before a boom in the 1970s, presumably because of liberal social trends of the time and a changing campus. The '80s and '90s were a slower period, but there's been an uptick lately, and Chewning hopes the website will nurture that interest on campus.

"On college campuses, it's a very specific age group all in one place, and people are discovering the person they want to be," she says. "It's one of the times where you're most open in your life to thinking about things, to trying new things and figuring out what you want and who you are.

"Having art outside the classroom, just in your life, can make you question how you see things or what you believe," she says, "and that's a really powerful opportunity."