Poet Mark Halliday Headlines Lowell Poetry Reading Thursday
Known for colloquial poems, self-deprecating humor, he'll share podium with alum Heather Green
Mark Halliday published his first collection of poems, Little Star, in 1987 at the relatively late age of 38. He had begun writing poetry as an undergrad at Brown, but it was nearly two decades before he found his mature poetic voice.
"During my freshman year, my friend Richard published some poems that I thought were shockingly cool," says Halliday. "I sensed that I had to either compete in that realm or feel disappointed and frustrated forever."
He then spent much of his early 20s writing "naive and imitative and shallow gestures of poems," including "half-baked imitations or semiparodies" of the kind of neosurrealist or deep image poems then in vogue by poets like W. S. Merwin and Robert Bly.
That all changed after he began working on a PhD in literature at Brandeis University and took a class with poet and teacher Frank Bidart, a 2018 Pulitzer Prize winner, who became a mentor. "Bidart's guidance was tremendously enabling for me," Halliday says. "He taught me many things about diction and tone and structure and movement. Underneath all that, the crucial thing he asked, always, was, 'Is this really true?' It's not a question about autobiographical detail; it's a question about how deeply the poem has engaged with the complexity of experience."
Halliday began writing more ambitious poems that revealed "the presence of a complicated, real person thinking under emotional pressure." Now the prize-winning author of seven collections of poems (the most recent, Losers Dream On, published in 2018), he will read from his work at this semester's Robert Lowell Memorial Poetry Reading on Thursday, April 11, at Mugar Memorial Library. The event includes a Q&A and a book signing and is free and open to the public.
Known for their plain-spoken, colloquial style, Halliday's poems often have a wry wit. The New Yorker describes him as "a Whitman in a supermarket, a confessional poet who does not take himself very seriously."
"I was very relieved when I came to believe that a serious poem could be funny and a funny poem could be serious," he says. "In real life, we often use humor as a way of coping with all sorts of frightening and terrible experiences. So it can work in poems. My humor is often self-deprecating, as a way of resisting my self-importance, and in the hope of charming a reader who might feel resistant to the inherent self-importance of a poet."
Still, many of Halliday's poems are meditations on loss, like the dissolution of a marriage ("Legs," "Divorced Fathers and Pizza Crusts") and the death of a parent ("Chicken Salad"). Others are inspired by his years in the classroom—he taught high school for four years and has been a professor of creative writing at Ohio State University for more than two decades.
He notes that while there's been "a continuity in my books of emphasis on voice, believability of the speaker's voice," the subjects he writes about have evolved as he's gotten older.
"It's mainly the inevitable change: from brash and hyper-busy and noisy poems in my 30s toward poems more conscious of responsibility, in relation to family and in relation to society, and poems more conscious of time and loss."
And with age has come the realization that time is finite, which brings with it a certain amount of clarity and urgency. "Poets in their 20s and 30s tend to feel they can write every poem in the world if they want to," he says. "But it turns out that in your life, you only write certain poems. Hundreds maybe, but not thousands, not millions; so, eventually, you need to try to write the ones you yourself can most deeply care about."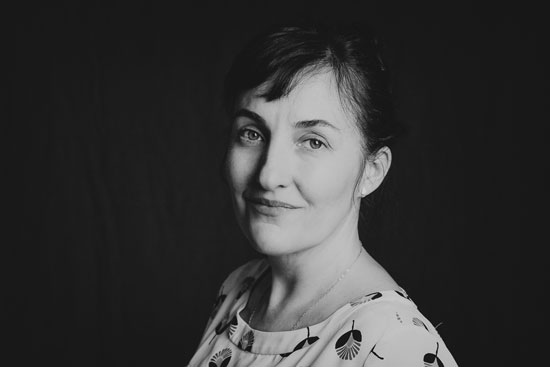 Joining Halliday at the reading is Creative Writing Program alum Heather Green (GRS'09), whose poems have appeared in the New Yorker and many other publications. Like Halliday, Green came to poetry fairly late. "As a kid, I was a voracious reader and loved writing and reading poetry," she says. "Still, it took me until I was almost 30 to seriously consider being the kind of writer who publishes poems. I was working in a corporate job after college, and I was not very happy with it." She mustered the courage to leave that job, earning a master's in literature at the University of Nebraska before coming to BU for an MFA, a decision she calls transformative.
"Working with Robert Pinsky and Louise Glück, who was teaching at BU at the time, gave me a much deeper perspective on poetry and poetry writing than I'd had before," Green says. "Both of them utterly disregard fads, schools, and fashions, and encouraged me to do the same. Maggie Dietz [GRS'97] was my other teacher at BU, and she was a brilliant reader and editor. I learned so much from her about how to focus on the words on the page when reading a poem."
A translation seminar taught by Anna Zielinska-Elliott, a College of Arts & Sciences master lecturer in world languages and literatures, proved life-changing as well. "I'd never done literary translation before, and it had never occurred to me, even after seven years of studying French, that I could try it," Green says. She's gone on to translate two collections of work by the Romanian-French poet Tristan Tzara, focusing on poems he wrote during the Spanish Civil War.
"I hadn't spoken French in many years when I started working on these translations," she says. "The first challenge was to find a way to rekindle my connection to the language, which I've done by reading more poetry in French, listening to French podcasts, to get the sound in my ears."
Green, an assistant professor of English at George Mason University, says her work as a translator informs her poems. "I've learned a lot about how English works from doing and thinking about translation, and I hope that understanding has improved my own writing."
She plans to read some new poems at the poetry reading, including one inspired by poet David Ferry's recent translation of The Aeneid, and one of Tzara's poems.
Pinsky, a William Fairfield Warren Distinguished Professor and a CAS professor of English, will introduce both poets Thursday night. The former three-time US poet laureate says the evening promises to be entertaining.
"Mark Halliday's funny, untamed, lucid, and searching poems have become an irreverent model for young American poets," Pinsky says. "Heather Green, in her own poems and in her matchless translations of the surrealist Tristan Tzara, has mastered another tradition, also irreverent and searching. Those similarities and differences make this reading a specially exciting event."
The Robert Lowell Memorial Poetry Reading, with Mark Halliday and Heather Green (GRS'09), is tomorrow, Thursday, April 11, at 7:30 pm in the Mugar Memorial Library Richards-Roosevelt Room, 771 Commonwealth Ave. The event, presented by BU's Creative Writing Program, is free and open to the public.
The Robert Lowell Poetry Reading series is funded by Nancy Livingston (COM'69) and her husband, Fred M. Levin, through the Shenson Foundation, in memory of Ben and A. Jess Shenson.