Men's Ice Hockey Terriers Meet Northeastern in Hockey East Semifinal Friday
2018 league champions look to defend their title
For a team that began the season ranked eighth in the nation, 2018-2019 turned out to be disappointing for the men's hockey Terriers. They finished the regular season with a 14-16-4 record. That said, the team ended the season on something of a winning streak, taking four of the last six games. The turnaround came just in time.
After clinching a series against No. 18 UMass Lowell last weekend, BU will face crosstown rival Northeastern in the semifinal round of the 2019 Hockey East Tournament Friday night at TD Garden.
"It's a new season," head coach Albie O'Connell (CAS'99) says. "It's totally different. We're gonna have to be ready to play a smart game and come to compete."
"Our backs were against the wall on Sunday, so it was good to see how well we played in that type of situation," says junior goaltender Jake Oettinger (CGS, COM). "Now it's just one game at a time, and I don't think we should be scared of anyone."
"The regular season wasn't the way we wanted it to go," junior forward Patrick Curry (CGS, SHA) says. "But we feel like right now we're hot, and we can make something of this season if we win two more games."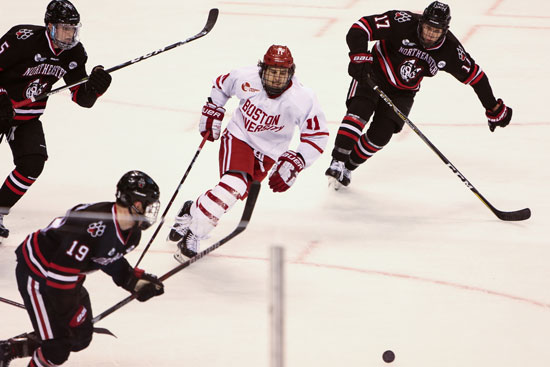 This season, BU and No. 6/8 Northeastern have a 1-1-1 record against each other. The Terriers claimed a convincing 4-1 win after tying their first matchup, 5-5, but in their most recent encounter—in the first round of the Beanpot tournament—the Huskies finished on top.
While the rankings favor Northeastern going into Friday's game, the Terriers remain confident, O'Connell says. "It doesn't matter who you play at this time of the year," he says. "You're not going to get a bad opponent."
"We know them, and they know us," Curry says. "It's just gonna be 60 minutes and who can compete harder."
Topping the team in scoring this season are freshman forward Joel Farabee (CGS) and junior defenseman Dante Fabbro (CGS, COM). After leading the team with 36 points, Farabee was named to the Hockey East All-Rookie Team on March 20. Dual-captain Fabbro, the only player in Division I college hockey with at least 30 points and 70 blocked shots, was named a conference Second Team All-Star.
Curry says that as a team, the Terriers will rely on their speed and physicality against the Huskies. "That was a key to beating UMass Lowell," he says. "We felt like we were playing quickly in transitions. And physicality is a huge piece because we've been beating guys off the walls."
BU's late-season winning streak mirrors last season, when the Terriers experienced a remarkable turnaround after the new year and went on to win the 2018 Hockey East championship.
"There's definitely something to defend," Oettinger says. "It definitely helps us with our swagger. We're the defending champs until we lose, so obviously, we're planning on going in there and winning another Hockey East championship. I think every guy in our locker room believes we can do that."
"We were capable of doing it last year," Curry says. "We think we have everything we need to win again."
BU faces Northeastern in the first Hockey East Tournament semifinal matchup Friday, March 22, at 4 pm. The second semifinal game, between Boston College and UMass Amherst, follows at 7:30 pm. The winners of the semifinal games meet in the Hockey East championship game Saturday, March 23, at 7 pm; all games are at TD Garden, 100 Legends Way, Boston. Purchase tickets here. All games will be televised on NESNplus.
Senior Jonathan Chang (COM) can be reached at jchang19@bu.edu; follow him on Twitter @jonathanychang.