Making the Moon Beast
How CFA Alum's 3-D printed monster helped save stop-motion animation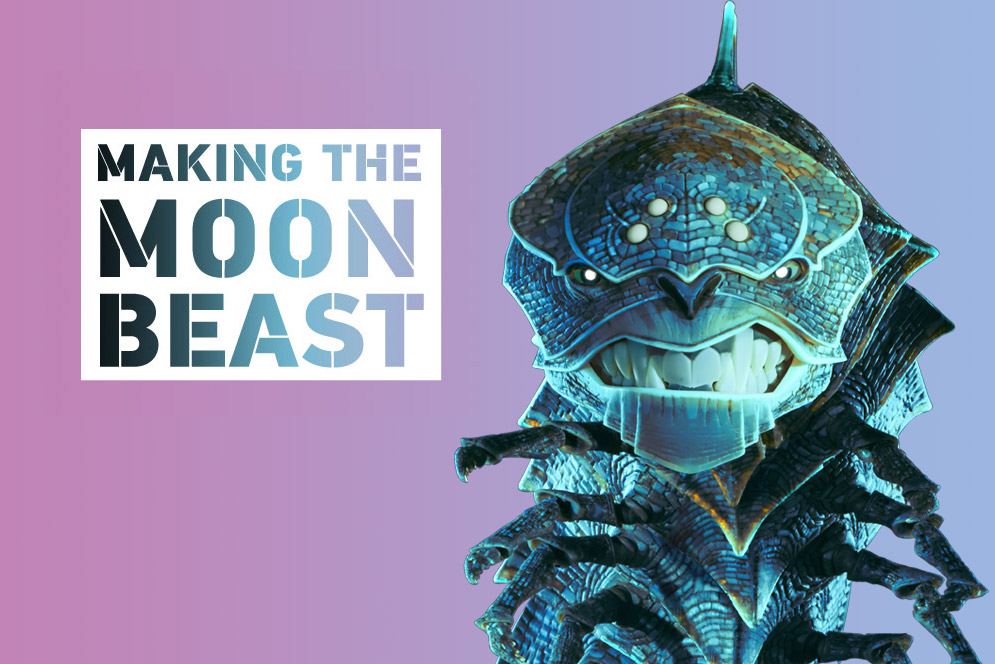 How CFA alum's 3-D printed monster helped save stop-motion animation
The fanged serpent erupts into the sky, lashing its skeletal tail as it spirals toward the moon. It twists back on itself with a roar and streams toward the camera, writhing like an eel above the night-soaked street. Its eyes gleaming, the Moon Beast strikes.
Although the beast moves with seemingly effortless agility, it's powered by painstaking visual effects. Stop motion—a form of animation pioneered in 1898, in which animators manipulate physical models by hand between frames—gave cult classics like Rudolph the Red-Nosed Reindeer (1964) and the Wallace and Gromit films a distinctive charm. The process is so laborious, however, that stop motion faded with the advent of computer-generated imagery (CGI) in the 1990s, and all but died out.
Laika Entertainment is bringing it back.
The studio's 2016 film Kubo and the Two Strings follows young Kubo's quest to defeat his evil grandfather, the Moon King Raiden, who transforms into the Moon Beast for their final showdown. To create the awe-inspiring monster, the Oregon-based studio merges tried-and-true stop-motion techniques with 3-D printing and CGI. The studio's rapid prototyping—3-D printing—department, headed by Brian McLean (CFA'99), is leading the stop-motion revolution.
McLean has been with Laika since its inaugural project, Coraline (2009), the first film to use 3-D printing in stop-motion animation, an achievement that garnered an Academy Award nomination for Best Animated Feature Film. McLean has since helmed the rapid prototyping for 2012's Oscar-nominated ParaNorman and 2014's The Boxtrolls, also short-listed for an Academy Award. In 2016, McLean was recognized for pioneering the use of 3-D printers in stop-motion film with a Scientific and Engineering Oscar plaque.
McLean is no stranger to unusual materials and techniques. Prior to Laika, he was an environmental sculptor for Disney theme parks ("Most of the world—whether it's Vegas or theme parks—is sculpted out of foam," he says. "It's sickening how much foam!"). He also worked with Warner Bros. to produce a holiday window display featuring foam sculptures of Harry Potter and Hagrid in the Chicago department store Marshall Field's.
McLean considers 3-D printers yet another tool in his sculptural arsenal, like a rasp or a chisel, he says. "It's amazing what people can do creatively when you combine traditional techniques with emerging technology." The Moon Beast, in particular, is a triumph of engineering: while it dominates the screen for fewer than 10 minutes, it took 80 artists more than 6 months just to build the model (not counting the time involved in animating it).
"The Moon Beast looks different, it looks creepy and scary, and you can't quite put your finger on how it was created. It feels like a great homage to the old masters of stop motion who created these crazy creatures," says McLean, who shares with BU Today how his rapid prototyping team brought the beast to life.
Physical to digital and back again
Before Coraline, animating a character's face was reliant on manually adjusting the movements and expressions of models composed of either clay or silicone stretched over metal frames. Both methods produced "jittery, jerky" films, McLean says. "They're beautiful, but you're constantly reminded of the craft; you're seeing the process and seeing the animator's hand. Our idea was to try to find a way to make it as perfect as we can, so you don't get drawn out of the story."
Laika's method, 3-D printing replacement animation, harnesses the power of traditional methods and new technologies. The animators use 3-D printing to design and print limitless versions of a character's facial features, which they swap out with different iterations between each frame to achieve subtle expressions. The effects team uses CGI to erase the evidence of manual manipulation, like the seams connecting removable sections of the model's face. Kubo alone had 23,187 faces with 48 million potential expressions.
Laika uses 3-D printing "not because it makes it faster or cheaper, or takes fewer people, or it's easier to do by any stretch," McLean says. "The reason we do it is because it allows our actors, which are these little nine-inch puppets, to perform in really realistic ways."
To establish the Moon Beast's realism, they started with character sketches and a physical model inspired by the Dunkleosteus, a serpentlike prehistoric fish with plates of bony armor. They scanned the preliminary monster into a digital program that allowed them "to control not only the external surface of a sculpt, but the inside of the object," McLean says. "You can create something in a 3-D printer that would be impossible to manufacture any other way."
The team developed the beast's textured glow by digitally infusing sections of the Moon Beast with a recipe of lighting effects. Then the animators needed to transfer the effects to a physical puppet.
That's where they hit a snag: McLean's vision of giving the Moon Beast a "cyan-like glow and salmon-colored shimmer" was beyond the scope of even the new 3-D printer, which could only print in one color. That's how the title character in Coraline was printed; every iteration of her face was hand-painted, a process so time-consuming that it limited the scope of her expressions. (She had only 6,333 faces and 207,000 expressions, compared to Kubo's 23,187 and 48 million.)
"You couldn't have too many faces, or too much detail because that detail had to be repeated thousands and thousands of times," McLean says. "And if it wasn't repeated exactly on each face, it would come across as chatter. It limited how that character could look."
For the Moon Beast, the team was determined to break down those barriers, imbuing the monster with unrestrained agility and an unearthly inner light. They created Laika's first fully 3-D printed puppet.
A beast is born
Laika's reputation for innovation "gave us a lot of clout within the 3-D printing industry. We were responsible for pioneering a whole new use of the technology," says McLean, who asked the company that provided the printer for Coraline for a machine that could print more colors. That's how he secured exclusive access to a printer still in development.
Other 3-D printers print in compressed powder, which produces fragile pieces in a single color. The new printer employs durable plastic and prints in three colors simultaneously, a combination that produces detailed pieces that are also strong enough to withstand the wear and tear of production.
McLean's team used the new printer to produce the 881 individual parts that comprise the Moon Beast's segmented exoskeleton. They backed the pieces with gold Mylar to give the creature its distinctive translucence and achieved its shifting, shimmering glow with ultraviolet paints illuminated by different lighting combinations.
They printed for 147 days to deliver 1,417 different faces that could be swapped between frames to achieve the monster's expressions and rigged the puppet onto a flexible frame so animators could manipulate it against a green screen.
Every 50 hours of work resulted in approximately 4 seconds of footage.
The effort paid off, McLean says. "By photographing a real object bathed in real light, we're giving it a wonderful sense of depth and texture and vitality. CGI animators spent literally decades trying to find a way to render something that feels real. We have the benefit of photographing something real that feels like it has a personality and a life breathed into it. That's what drew me to sculpting to begin with.
"I grew up with effects done practically, like Star Wars, Indiana Jones, and ET. Nowadays, kids come out of the theater and think, 'That was done on the computer; it was easy.' They forget that artists and technicians brought those things to life.
"What I love about being involved in Laika is that it brings back the magic we grew up with, leaving the theater thinking, 'How did they do that?'"
Additional reporting by Angelica Frey.
Brian McLean received a 2017 CFA Distinguished Alumni Award.
Lara Ehrlich can be reached at lehrlich@bu.edu.