BU Late at Night, Captured in Photos
From 10 pm to 2 am the campus hums, with plenty of playing, eating, studying, and sweating
For most of the world, 10 pm is not an unreasonable bedtime. And 2 am: for deep sleep only. But on a college campus, especially one smack in the middle of a major city, 10 pm is just another hour when life moves fast. And 2 am? Still plenty of reasons to be awake. Why sleep when you can play? Or work? Or eat? Or study? Or sweat? We asked BU Today photographer Cydney Scott to show us what happens around the BU campus between 10 and 2—when the rest of us are fading fast or have already called it a night.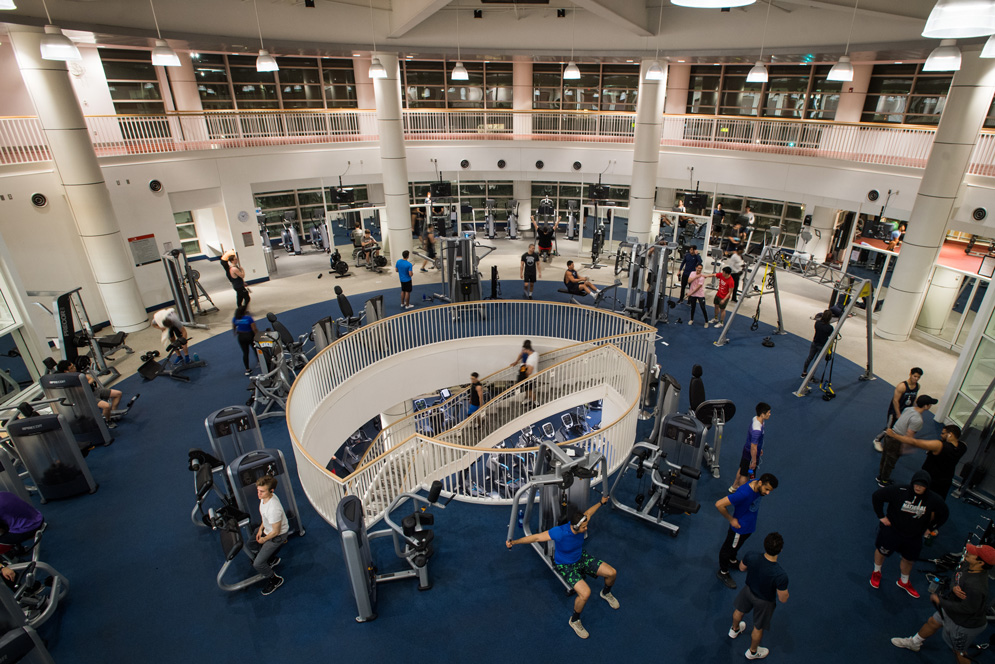 With an hour to go before closing time, FitRec is packed with students working out and playing ball with their club teams in the gyms.
Senior Jeremy Ohringer (CFA) (right) directs a rehearsal for Horizon Line, a radical retelling of Homer's The Odyssey, running at the College of Fine Arts Studio ONE May 2 through 5.
Junior Madison Pacaro (CAS) works on her Undergraduate Research Opportunities Program project: recording the nighttime parenting behaviors of clownfish in the Buston Lab at 5 Cummington Mall. "There has been a lot of research done on how clownfish care for their eggs during the day, with males doing most of the work, but barely any information about what they do at night," says Pacaro, who will download the video to a laptop, watch it, and document the behaviors while the next camera is recording.
In the StuVi 2 second floor laundry room, sophomore Joey Connor (CAS) puts in three loads, which usually takes about 90 minutes to complete, he says, but "it depends on how long I leave it before I come back."
Open until 3 am, Insomnia Cookies in Kenmore Square draws lots of hungry late-night students, drawn to mouth-watering cookies like double chocolate chunk, snickerdoodle, and oatmeal raisin.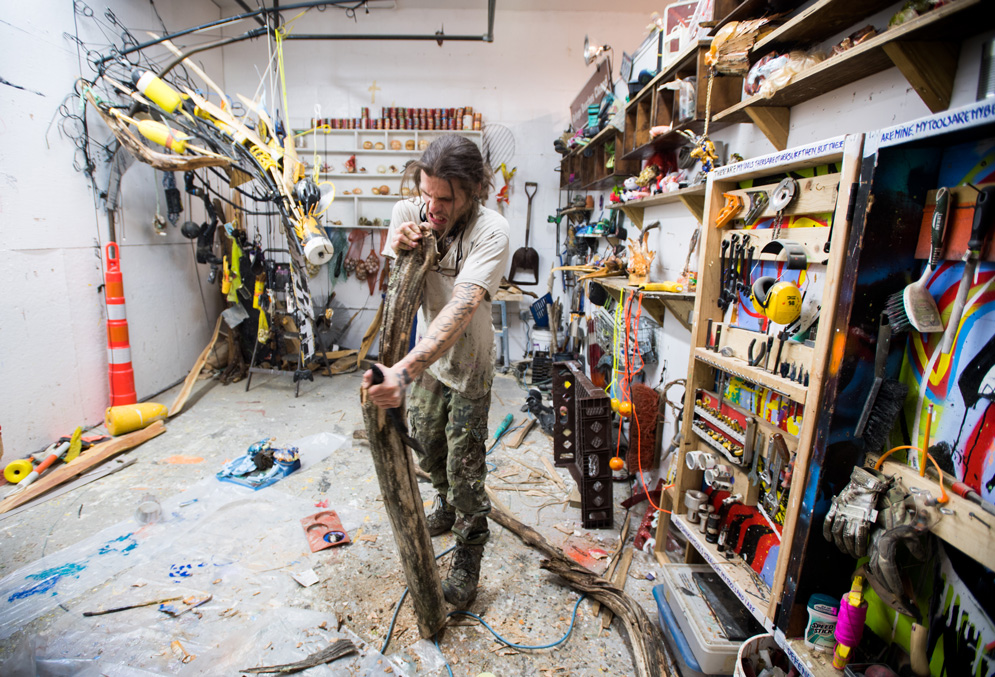 Senior Max Bard (CFA) takes apart a limb from an oak tree he found in some local woods to add to his work-in-progress at his 808 Comm Ave studio. "I was never very good at painting, so I just found a way to broaden my painting in a dimensional sense," says the painting major. Much of his work incorporates items found in nature.
Freshman Luke Taylor (CAS) (from left), sophomore Matthew Segalla (COM), and freshmen Irene Alexakos (CGS), Emily Cobb (CAS), and Jacob Miner (CAS) play a round of Cards Against Humanity in a Warren Towers dorm room. They say they regularly gather in Miner and Taylor's room.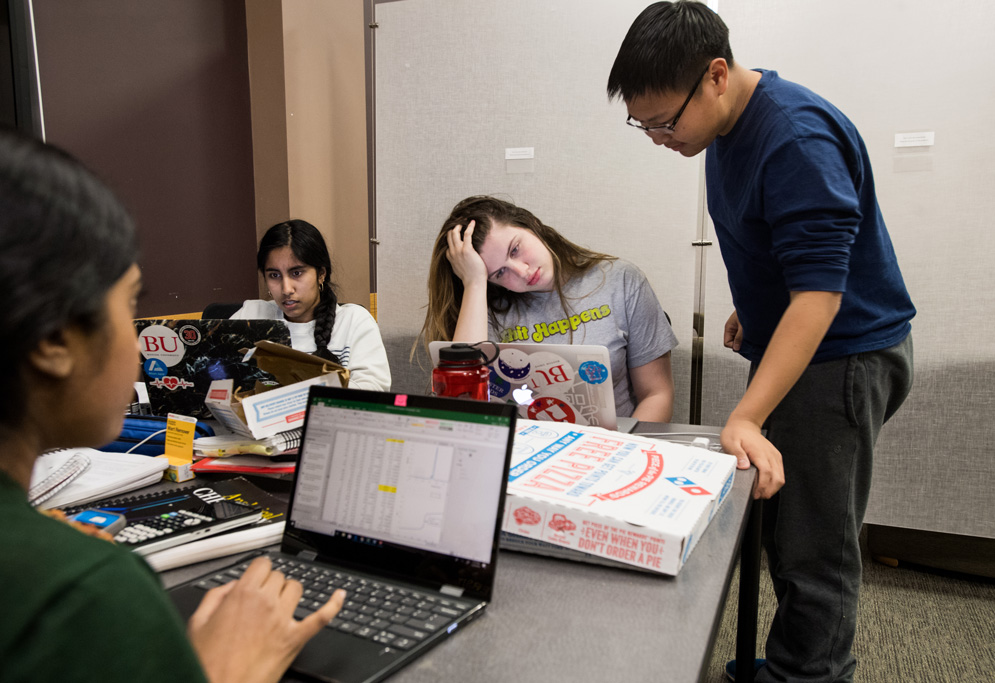 Freshmen Prasida Unni (CAS) (from left), Nishita Sunkara (CAS), Sarah Goldstein (CAS), and David Hou (CAS) study for an upcoming chem lab in a Warren Towers first floor study lounge.
Custodian Maria Sousa wipes down every surface in the Samuel M. Fineman Law Library, which she says can takes her up to two hours each night. "Cleaning's my favorite work," Sousa says. "When I'm done I feel proud to see everything nice and clean."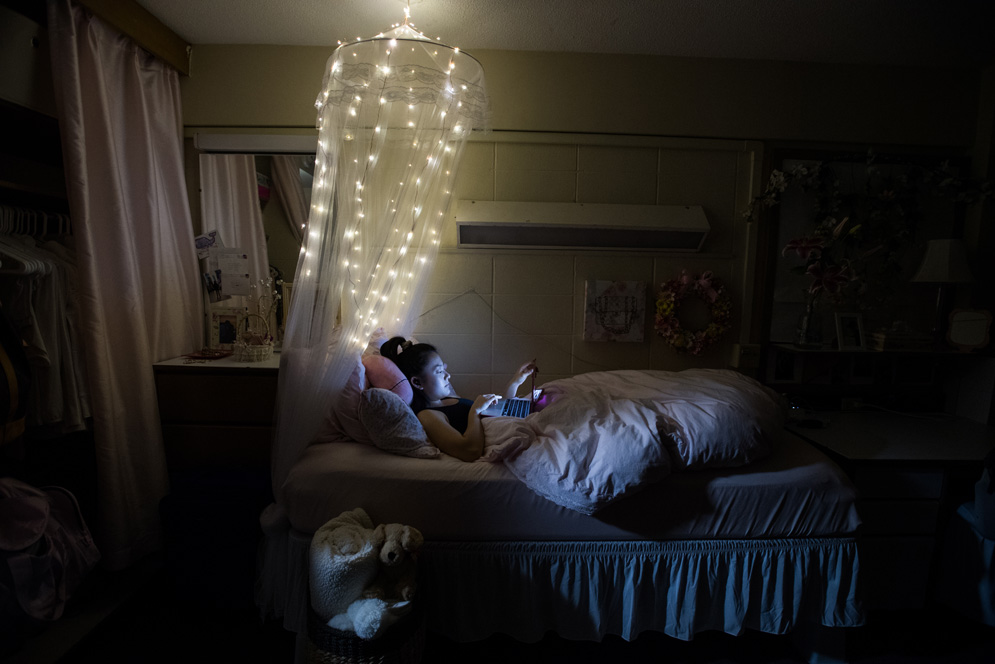 Multitasking: In her Warren Towers dorm room, freshman Hannah Mochida (CAS) watches Grey's Anatomy on her phone while shopping on her laptop for apartment decor. She'll be sharing a Beacon Street apartment with friends next year.
View from Warren Towers: an MBTA Green Line B trolley and the BUS (BU Shuttle) passing on Commonwealth Ave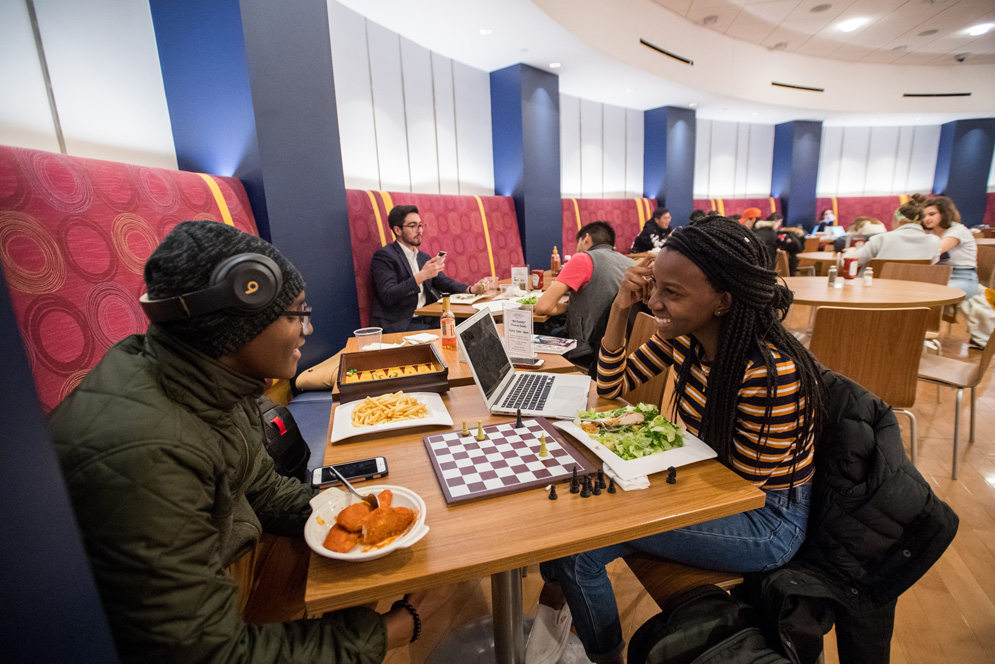 Freshmen Kenise Neao (CAS) (left) and his girlfriend Kettie Kasera (CAS), who often play virtual chess using an app on their phones, play on a real chessboard while grabbing a bite at Bay State Underground at 100 Bay State Rd.
Members of BU Stage Troupe, BU's oldest extracurricular performing arts group, leave the Space, a warehouse off Babcock Street, where they store props and sets, after striking the set for their latest show, a production of Stephen Sondheim's Company.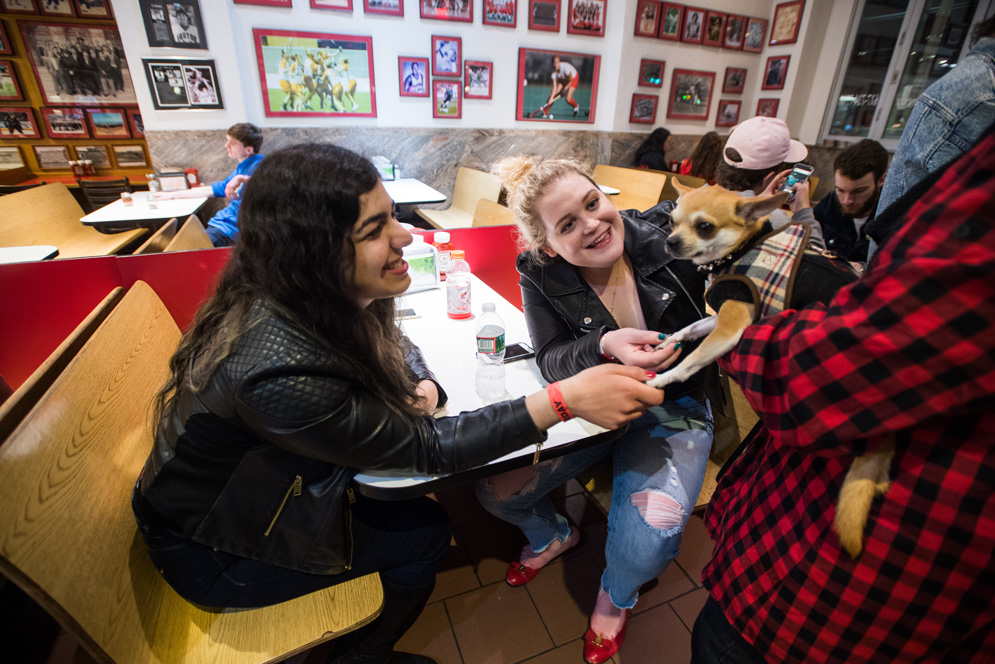 Senior Jess Oshanami (COM) (left) and sophomore Bailey Rymes (CAS) visit with late-nighter Little Bean at busy T. Anthony's, which is open till 2 am on weekends.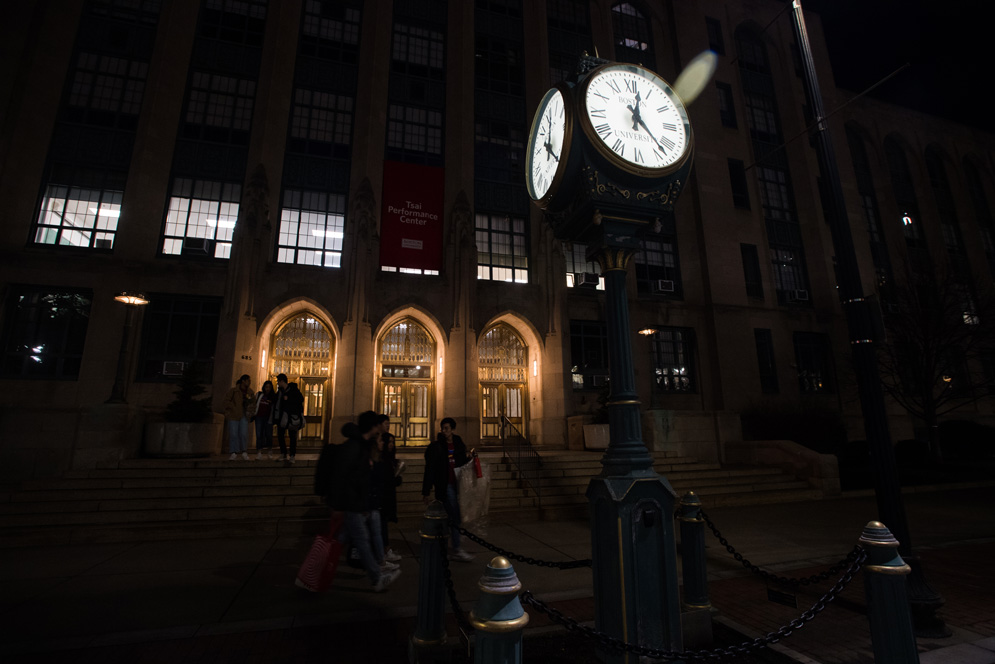 There's never any doubt what time it is when leaving the Tsai Performance Center.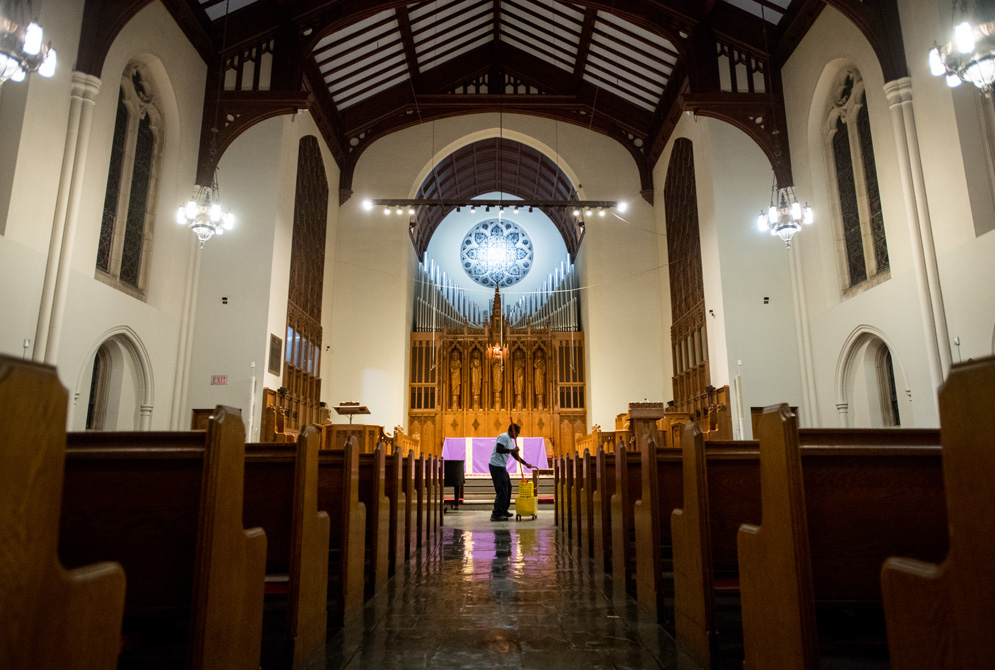 Custodian Augustine Asante at work on one of his nightly tasks, mopping the Marsh Chapel sanctuary floor.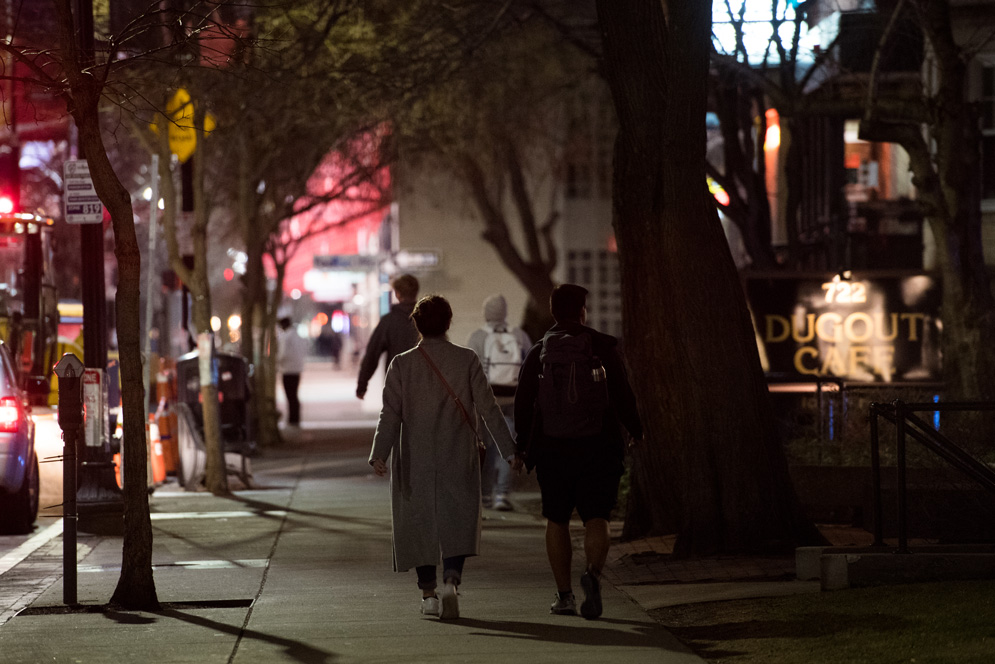 An early morning stroll down Commonwealth Avenue.
BUPD Officer Nancy O'Loughlin talks with BU students after they called the poice department about a missing friend, who was later found unharmed.