Former LAW Dean Maureen O'Rourke Named Associate Provost for Faculty Affairs
New Appointment
Former LAW Dean Maureen O'Rourke Named Associate Provost for Faculty Affairs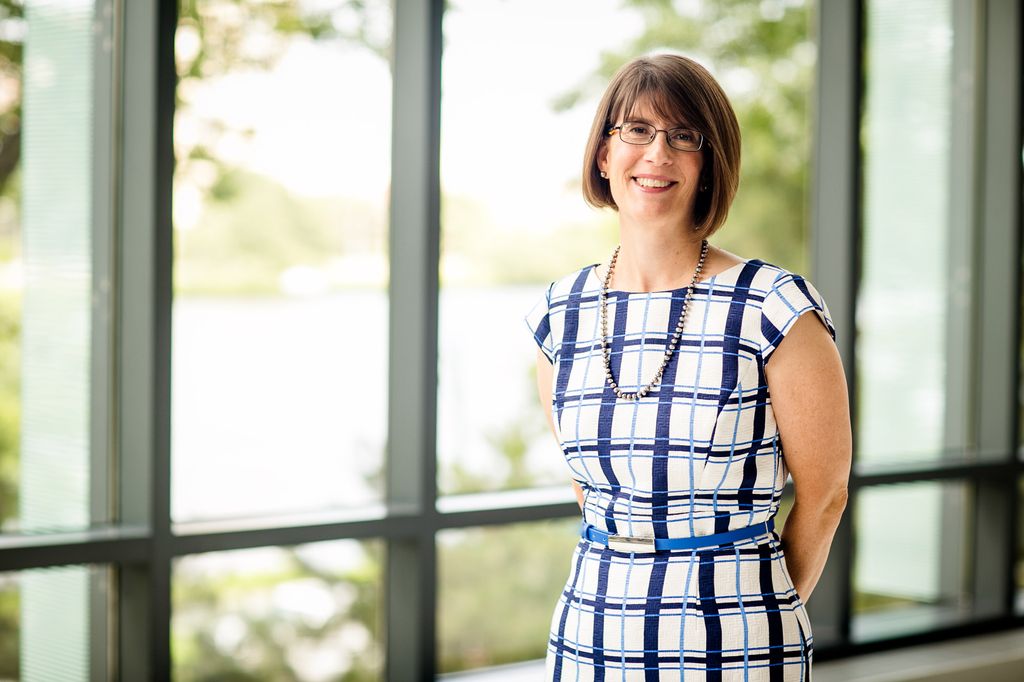 School of Law Dean Emerita Maureen O'Rourke has been named associate provost for faculty affairs, responsible for the recruitment and appointment of faculty on the Charles River Campus.
O'Rourke, a professor at LAW, will assume her new position on Monday. She was appointed by Jean Morrison, University provost and chief academic officer, to succeed Julie Sandell, who left to become provost and a senior vice president at Suffolk University. O'Rourke will oversee recruitment, appointments, and compensation and promotions and tenure-granting for faculty on the Charles River Campus. In addition, she will serve in Morrison's Cabinet, working on such matters as faculty diversity, development, work-life balance, and the University's equal opportunity and Title IX commitments. She stepped down last year as dean of LAW after 14 years in the post and has spent the past academic year on sabbatical, which, she says, left her ready to resume a leadership role at the University.
"I was able to work with my coauthors to complete a new edition of our copyright casebook, Copyright in a Global Information Economy, and I look forward to still teaching occasionally, even in my new role. The associate provost job is attractive because I know from my time as dean what a terrific office Dr. Morrison leads…I look forward to working closely with her and her team. The job also gives me an opportunity to learn more about—and hopefully be of assistance to—the University beyond the law school, and I find that prospect exciting."
"Professor O'Rourke is among our most distinguished faculty leaders and one of the nation's top scholars in intellectual property law," Morrison says. "Through extensive conversations, it was quickly clear that [her] strong track record of energetic, strategic leadership, her gift for communication, building rapport, and achieving consensus, and her passion for the continued development of a world-class faculty make her exceptionally well-suited for the role of associate provost."
O'Rourke's prediction when asked about the in-basket she faces as she starts her post: "Whatever it is, it won't be dull." She plans to visit BU deans to understand how they work with her office, she adds, and how she can support their efforts.
Under O'Rourke's tenure as LAW dean, the school developed a new curriculum focused on legal specialties, with growing employment, overseas and dual-degree study programs, and a first-in-the-nation clinic representing victims of human trafficking. She also presided over the construction of the Sumner M. Redstone Building, which replaced the cramped and antiquated classrooms in the LAW tower.
The year before she stepped down, Princeton Review rated the school's faculty the nation's best among law schools.
O'Rourke, who won a Metcalf Award for Excellence in Teaching in 2000, one of BU's highest teaching honors, came to the University in 1993 from IBM, where she'd been an in-house attorney. Promoted to full professor in 1998, associate dean for administration in 2001, and associate dean for academic affairs in 2003, she became LAW interim dean in 2004 and segued into the permanent deanship two years later.
She graduated summa cum laude from Marist College and earned a JD from Yale.
The new associate provost is nothing if not fearless. Asked if she had anything she wished to say about her new job or herself, she offered two fighting words in this city: "Go Yankees!"