Conservative Commentator Ben Shapiro to Talk at BU
University News
Conservative Commentator Ben Shapiro to Talk at BU
Speech on November 13 the target of recent protest over LGBTQ, Afghanistan comments
Conservative firebrand and pundit Ben Shapiro is expected to speak at BU on Wednesday, November 13, an event that sparked student protests and petitions on campus even before it was confirmed last week.
A lawyer, editor-in-chief of the right-leaning Daily Wire news website, and host of The Ben Shapiro Show podcast, with 10 million monthly downloads, 35-year-old Shapiro will give a speech at BU's Track & Tennis Center.

The conservative student political group BU Young Americans for Freedom (YAF) is sponsoring the visit. Meanwhile, nine campus student groups, including BU Students for Reproductive Freedom, and BU College Democrats, have amassed nearly 1,600 signatures on a Change.org petition opposing Shapiro's talk.

Kenneth Elmore (Wheelock'87), associate provost and dean of students, says he gets why this particular event has sparked so much debate. "I certainly understand that there is a view that this guy denigrates people," he says. "But I also hope what we can do is to let the program happen, and to let people who are against it challenge these ideas, and to have good and real conversation about this. That's what a good university is about. It's a noisy place. It's noisy and complicated and messy. How wonderful that we can still have these kind of conversations."

The Shapiro event comes at a time when BU is in the midst of crafting a University-wide free speech policy.

Earlier this year, Robert A. Brown, BU president, created a pair of committees to craft a University statement on free speech and to review and update university policies that deal with free speech on the ground. Jean Morrison, University provost, cochair of one of the committees, says the Shapiro event brings to light many of the questions the free speech committees have been considering over the last year.

"Free and unfettered speech is at the core of our mission as a university, and it must be central to who we are as a campus community," Morrison says. "This means allowing all voices to be heard and for robust and critical debate of the ideas expressed."

But, she adds, "this principle must be accompanied by efforts to ensure that we remain a welcoming environment for all students, faculty, and staff."

BU's free speech initiative was started shortly after national student surveys and events at other schools highlighted the dissension around the meaning and extent of free speech on campus. A 2017 survey found that almost one-fifth of US undergraduates support violence to silence a theoretical speaker "known for making offensive and hurtful statements."

BU's committees will submit proposals for approval to the University Council, a group of faculty and administrators who recommend action on academic matters, and to the Administrative Council, which considers administrative policies.

In the weeks leading up to Shapiro's event being confirmed, those who opposed him coming to BU argue that his words go beyond ordinary political rhetoric. One student's sign at a protest on October 16 outside the GSU said: "Hate Speech Is Not Free Speech."

It was a reference to Shapiro's own words.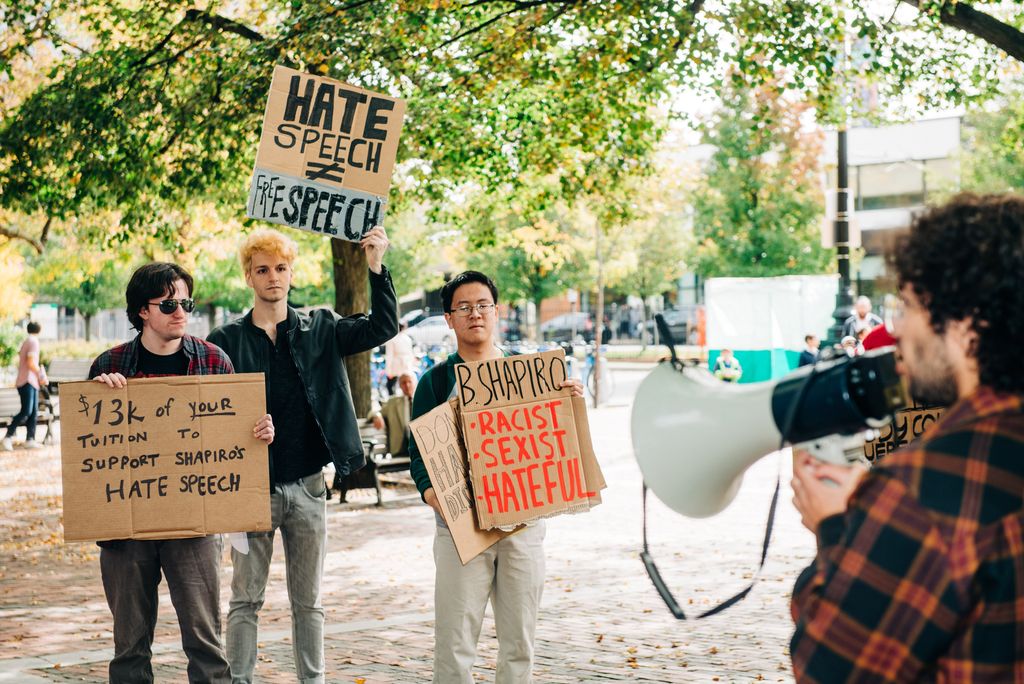 "Transgenderism is a mental disorder," he once tweeted. Another time, he said: "Israelis like to build. Arabs like to bomb crap and live in open sewage." (He later apologized for that.) Of President Obama, he said: "Jews who vote for Obama are, by and large, Jews In Name Only (JINOs). They eat bagels and lox; they watch Schindler's List; they visit temple on Yom Kippur—sometimes. But they do not care about Israel."

But YAF chair Diana Soriano (CAS'20) says her hope is that even those who vehemently oppose positions that Shapiro has espoused will attend his talk.

"We want to expose students who feel confused and unrepresented by the leftist agenda on campus to an alternative view," she says. "We want to have a dialogue with both liberal and leftist students who have sheltered themselves from conservative ideas in hopes that we can find some common ground and understand each other more.… We would be delighted if people who disagree with Shapiro just came to the lecture and asked questions during the Q&A session."

Harishan Ganesan (Sargent'22), who helped organize the anti-Shapiro rally earlier this month on campus, says the signatures on the Change.org petition show how strongly some students feel. "We think that it is important to emphasize that what he says is hate speech," Ganesan says.

Some of Shapiro's appearances at other colleges have been greeted with similar reaction by students.

In response, Soriano refers people to Shapiro's own online list of "All the Dumb Stuff I've Ever Done," where he attempts to clarify, explain, or apologize for things he's said over the years, starting when he was 17. (With regard to the specific issue of LGBTQ rights, Soriano says, Shapiro "has personal religious beliefs, and people have forgotten that the First Amendment protects people's right to freedom of religious exercise. Allowing consenting adults to make their own choices does not mean the government should compel speech to celebrate them.")
But in the Change.org petition opposing his speech, with its almost 1,600 signatures as of October 23, the organizers said Shapiro's words are more hurtful than helpful. "This is not simply 'Shapiro exercising a right to free speech,' but constitutes discriminatory hate-speech against whole sections of the population."
Event Details
Ben Shapiro's talk
This event is free and open to the public. Terriers should bring their student IDs, Soriano says. An Eventbrite ticketing site will be open to BU affiliates first, before being opened to the public.
BU Track & Tennis Center, 100 Ashford St.