What's New at BU Dining Services? Plenty, It Turns Out
Dining Services
BU Dining Services Launches New Initiatives with Emphasis on Customization
Say hello to a new pizza place, expansion of gluten-free and dairy alternative products, and more
Terriers love to eat, and BU Dining Services has recently rolled out a number of new initiatives designed to make eating on campus better than ever. The overall goal: diversifying dining options and an emphasis on customization, including an expansion of dairy alternatives and gluten-free products, the introduction of a spice bar, where students can create their own flavor profiles, more nutritious and sustainable pasta options, and more.

"There are some ideas we are pushing the envelope on about flavor profiles to allow individual students to flavor the food the way they want to," says Paul Riel, associate vice president for auxiliary services. "That's where the business is. People want to have their own ways of treating their food."

---

We are trying to pay attention to where the market is, what the student demand and taste and flavor profiles are.

---
The spice bar is one example: it has chef-created sauces, spices, and oils, allowing students, not just chefs, to decide what flavors to use to enhance a dish. Available at West, Warren, and Marciano Commons, it acknowledges a greater interest in personalization, particularly given the increasing number of people with food allergies and specific dietary needs. To increase menu options, this summer Dining Services hosted Brad Barnes from the Culinary Institute of America (CIA), one of just 67 certified master chefs in the country, and his CIA student assistant, Mumbai, India, native Nimisha Chouhan, who taught BU chefs how to prepare authentic Indian cuisine. Those dishes have recently started showing up in the dining halls, along with the expanded gluten-free options in Marciano Commons and West Campus. The new dishes offer more choices for dessert and breakfast.
Other changes:
New retail stores and places to spend dining points
Two new retail dining establishments, Mama Deluca's and Healthy Blends, recently opened at Warren Towers. Healthy Blends, modeled after the one at FitRec, replaces what had been Jamba Juice. It serves up smoothies and a range of grab-n-go products.
"Jamba Juice did not seem to be attracting the kind of student profile we thought it needed to," Riel says. "It felt like it may have just run its course in terms of popularity. FitRec's Healthy Blends has been doing really well because it has a broader menu variety, so it made sense to move a second Healthy Blends into the Jamba Juice location."

Mama DeLuca's, which shares an existing footprint with Subway (it's owned by the chain) offers take-n-bake pasta dishes, wings, breadsticks, and pizza, ready in just two minutes and deliverable through Grubhub. Mama DeLuca's uses fresh ingredients to create flavorful menu items.
Both new spots accept dining points, which can now be used at all three City Convenience stores, the Starbucks at Warren Towers and in Kenmore Square, and Basho Express at Warren Towers, giving students more options than ever for their meal plan.
Stubborn Soda machines
Dining Services has added Stubborn Soda machines to the West and Warren dining halls. A brand of PepsiCo, which provides beverages campus-wide, the Stubborn Soda drinks feature sophisticated flavors like agave vanilla cream soda, lemon berry acai, and black cherry tarragon and except for the diet cola, have no artificial colors or sweeteners.

"We are trying to pay attention to where the market is, what the student demand and taste and flavor profiles are," says Riel, noting that the fountain beverages earned a strong positive response from students during product tasting last spring. "I think the results are that the students really like it."

"Customer preference trends for customizable flavors of beverages, coupled with product attributes such as no high-fructose corn syrup and fair-trade certified raw cane sugar were factors in the decision to bring the product to campus," says James Boushka, director of marketing for Dining Services.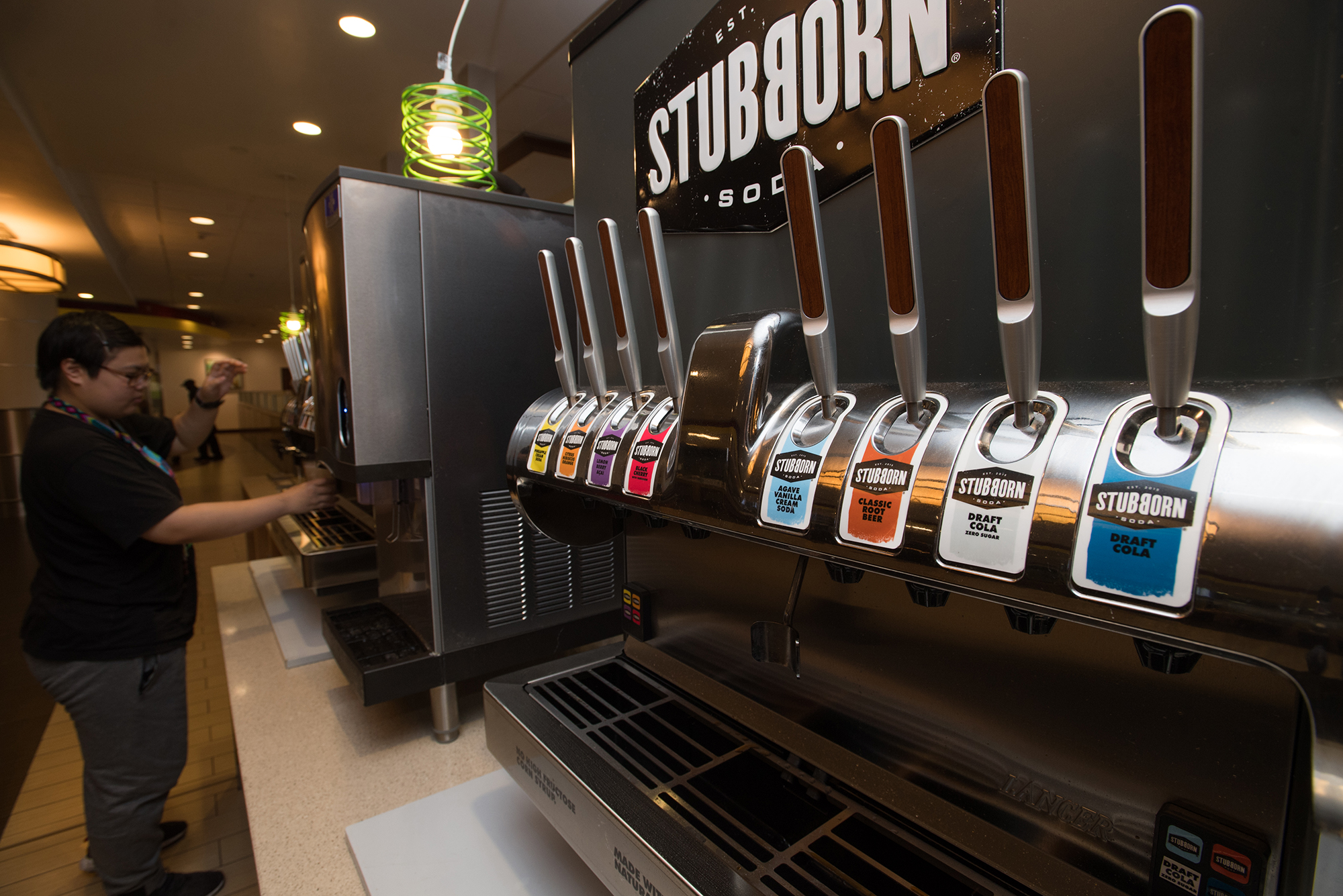 Nondairy milk dispensers and sustainable coffee
Another new feature this fall is the introduction of nondairy milk dispensers in campus dining halls. In past years, students who wanted almond or soy milk with their cereal would have to go to a refrigerator with different containers. Now they can access oat, almond, and rice milk or lactaid from an easy-to-use dispenser. 

Students also may have also noticed a new coffee provider, Pierce Bros. The coffee, locally roasted in Greenfield, Mass., is not only USDA-certified organic, but KVH Kosher–certified and fair trade–certified as well. And according to the company website, you won't find a coffee darker than their Fogbuster dark roast.

"It's a local brand and that's a big part of our strategic plan—sustainability and buying local," Riel says. "That's a product that we've looked at for a while, and we were finally able to make a deal with them that worked for both of us."
Expanded gluten-free options
An estimated 4 percent of BU students need a gluten-free diet and Dining Services has responded by expanding the number of gluten-free dishes. Diners can now enjoy more gluten-free breakfasts and dessert options at West and Marciano Commons and gluten-free burgers and pizza at all three dining facilities.
Late Nite Café, West Campus
In a nod to students' desire for more after-hours dining options, Dining Services has added an outpost of its popular Late Nite Café, which started in Warren Towers, to the West Campus dining hall. The change comes after Rhett's West was closed to make room for a new study lounge, making another late night option necessary. The menu is the same as Rhett's.
Riel cites the access to the West Campus dining hall from both Sleeper Hall and Claflin Hall as another reason for the change: students don't need to don coats in cold weather to grab a late night meal or snack.
Dining Services has also expanded its menu at another late night dining place, O-Mori Ramen Bar in Bay State Underground, in the Yawkey Center lower level, offering more ramen bowls, rice bowls, and Asian-inspired burritos.

"Part of the work we're doing is to always pay attention to the market and what needs to go on out there," Riel says. "If something's not performing well, we ask ourselves why, and try to bring value to the food program on campus. It's our job to make sure we're staying current with what students want."

Find more information about BU Dining Services here.