BU Bookstore Moving to West Campus Next Week
Big sale going on at Kenmore Square location through Wednesday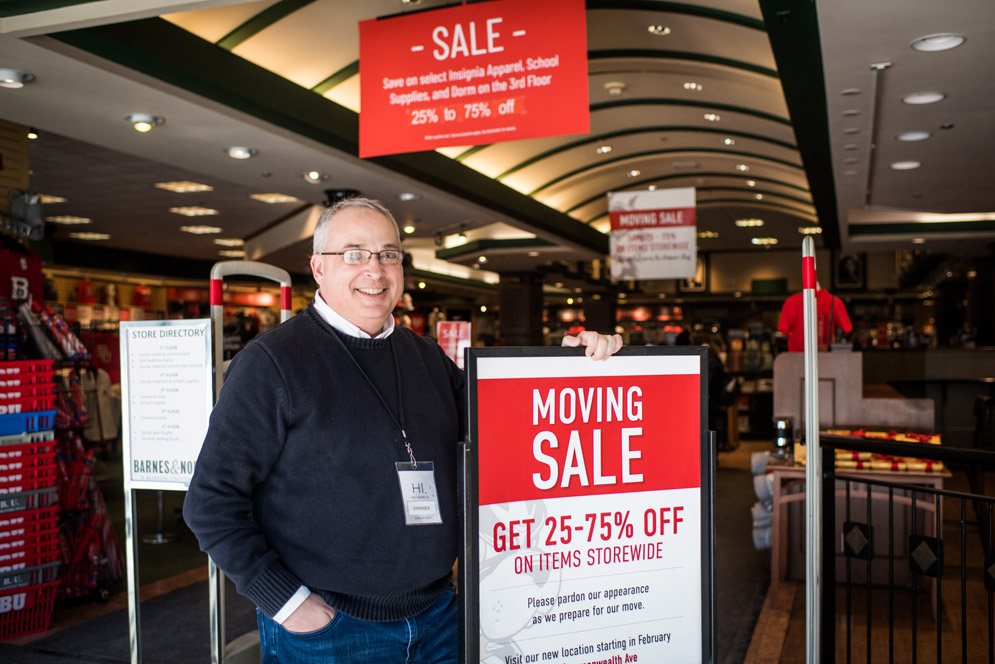 TAKEAWAYS:
Barnes & Noble at BU is moving from Kenmore Square to West Campus
The Kenmore store closes at 5 pm Wednesday
The campus bookstore reopens at 910 Comm Ave on Monday
---
Barnes & Noble @ BU will move from its longtime home in Kenmore Square to newly renovated space at 910 Comm Ave in West Campus next week to make way for a long-planned Kenmore Square redevelopment project.
The bookstore, which carries items from textbooks and bestsellers to computers and school supplies to Rhett sweatshirts and barware decorated with the BU seal, is holding a major moving sale at its current location at 660 Beacon St., with items up to 75 percent off through Wednesday, February 20, including $1 books and dorm decor.
After the doors close at 5 pm that day, a moving company will truck the remaining stock about a mile up Comm Ave, where the store will reopen next to Sunset Cantina on Monday, February 25, at 9 am.
"At our core, we are going to be a pretty neat bookstore," says Stephen Turco, Barnes & Noble @ BU general manager. "It's energizing."
The bookstore has occupied its current five-story location, crowned by a famous Boston landmark—the Citgo sign—for 25 years. The sign will remain on the building when the redevelopment, part of a major 2016 deal that included the University's sale of 310,000 square feet of commercial space on the north side of the square to developer Related Beal, is complete.
Barnes & Noble @ BU will occupy the first two floors of 910 Comm Ave. With approximately 20,000 square feet, the new store will be about half the size of the current location, but all of the popular inventory will still be available, Turco promises. "We're going to bring every great item that has a BU logo on it from the current store," he says. "Every book and all course material is going to go with us. And we'll have a robust trade and general reading department."
A Barnes & Noble employee, Turco has managed the BU store since 2005, and he says the move also offers store staff a chance to reevaluate its offerings in light of market trends. "We've accumulated a lot of stuff over 25 years," he says. "It's a great opportunity to refresh our inventory"—for instance, among the categories that no longer attract much business are dorm supplies such as sheets.
"Our role on campus isn't going to be affected one bit," he says. "We're still going to deliver the services the students expect from us."
The prospect of an all-new facility with all-new fixtures and equipment is exciting, he says, and the new spot is expected to draw customers from Agganis Arena, the Joan & Edgar Booth Theatre, and WBUR's new CitySpace event venue in search of BU swag. One notable change: there won't be a café in the new location, but a Starbucks and a Blue State Coffee shop are close by.
The bookstore handles more than 250,000 transactions a year, and customers are not only students, but prospective students, parents, alumni, and tourists. The approximately 75 year-round employees will all be moving up to Comm Ave, Turco says.
You might think moving an entire five-floor bookstore would be daunting. "Surprisingly," says Turco, "it's not very hard. It's been quite an experience. You've got to look at everything and touch everything and make decisions about everything. We're moving thousands and thousands of units, but the movers the University selected for us have been fabulous. All the components I see have really worked very well."
It helps that a portion of the work was accomplished over intersession, he says, and that the move was timed to create a minimal amount of disruption for students.
"We're excited about a new location, excited about a new physical plant, excited to reimagine what that bookstore should look and feel like," Turco says.
BU's partnership with Barnes & Noble in the store's operation began in 1995 and currently runs through 2026, says Peter Smokowski, vice president for auxiliary services.