Ben Shapiro's Visit to BU: 20 Questions and Answers You Need to Know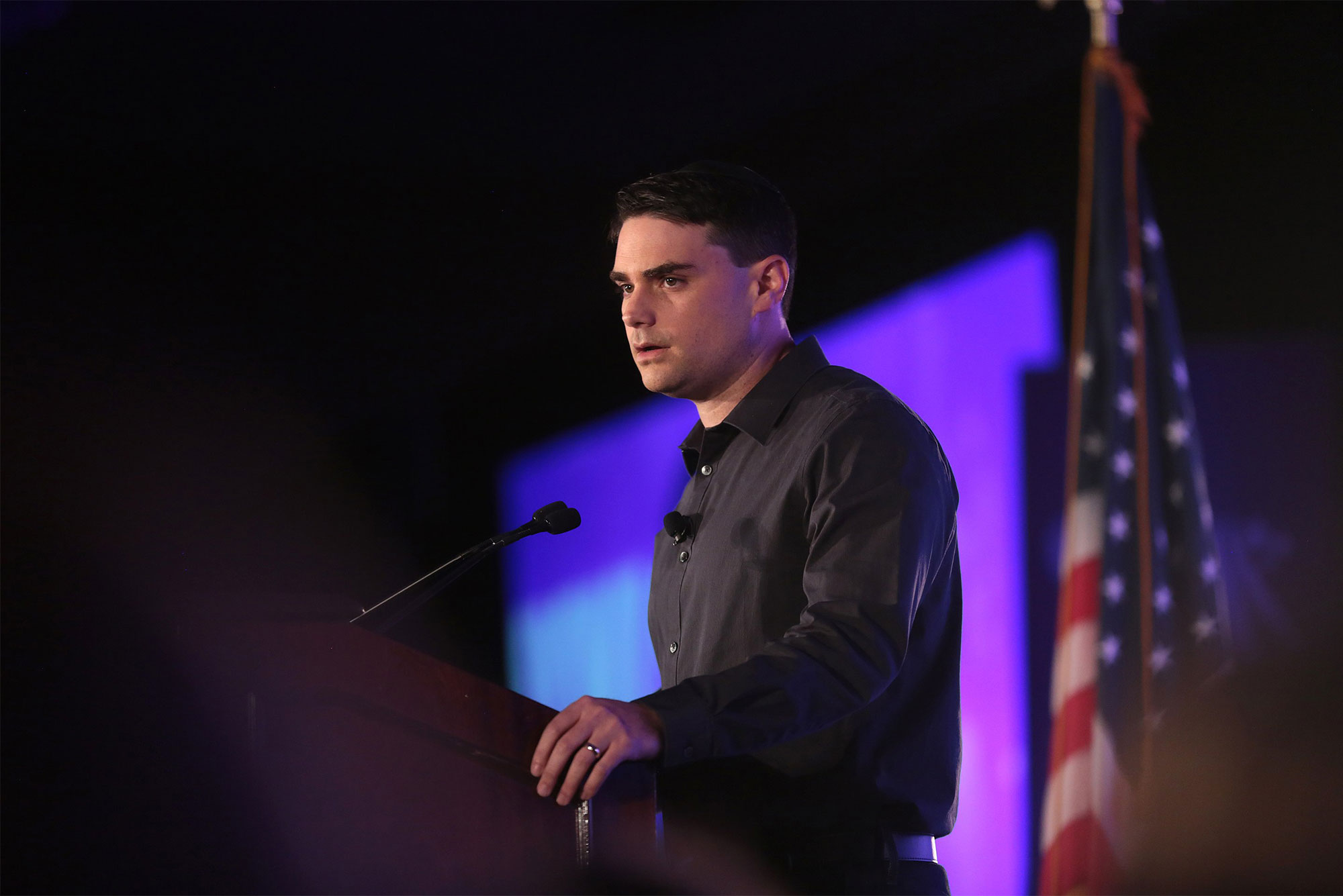 Security
Ben Shapiro's Visit to BU: 20 Questions and Answers You Need to Know
Information on tickets, security, protests, and more for the November 13 event at the Track & Tennis Center
On Wednesday, November 13, conservative commentator, blogger, and podcaster Ben Shapiro is scheduled to speak at Boston University. The event has triggered protests around his appearance because of past statements he's made that critics say go far beyond ordinary political rhetoric and cross the line into hate speech.
In advance of the event, here are 20 questions and answers you need to know. If you have more questions, leave them in the Comment section below and we'll try to get answers.

1. Who invited Ben Shapiro to speak?
He was invited by the BU chapter of the conservative youth activism organization Young Americans for Freedom (YAF). According to the BU chapter's website, the title for Shapiro's event is America Wasn't Built On Slavery, It Was Built On Freedom. Student organizations, faculty, and departments have always been free to invite speakers to campus without the need for University approval.
2. Will someone be moderating the event?
BU YAF chair Diana Soriano (CAS'20) is expected to introduce Shapiro. And YAF's Mia Cathell (COM'21) will moderate the Q&A at the end, which is expected to run approximately 40 minutes.
3. Why does there seem to be heightened security for this particular speaker, as well as for the campus overall?
"The FBI did investigate a credible threat [in another city] to his life," says Kelly Nee, chief of the BU police department. "Based upon similar events across the country, we thought it was prudent to increase security." Kenneth Elmore (Wheelock'87), associate provost and dean of students, says the increased safety is not just for this speaker, but for everyone going about their ordinary daily lives on campus. Shapiro's speeches at other schools have sometimes been met with protests and outcries. With 2.4 million followers on Twitter and a hugely popular podcast produced by The Daily Wire (where he is editor-in-chief), 35-year old lawyer, author, and commentator Shapiro has built a sizable audience. His supporters say he is a welcome and much-needed young conservative voice in an increasingly polarized political climate, whose positions have been unfairly described as radically conservative. Critics contend that past statements he's made about transgender people, same-sex couples, Arabs, and other groups resemble hate speech. In a blog post he writes and updates regularly, titled "So, Here's A Giant List Of All The Dumb Stuff I've Ever Done," he says this: "I'm a proud conservative. I believe in limited government and God-given rights and traditional values."
4. Where and when is the event?
The event is scheduled to be held from 6 to 7:15 pm at the BU Track & Tennis Center, 100 Ashford St., behind New Balance Field (the closest MBTA Green Line stop is Babcock Street).
5. Can I get in without a ticket?
The event is sold out, with all 1,500 tickets already distributed. A standby queue will be available at the corner of Babcock and Ashford streets prior to the event in case tickets become available.
6. Is the event open only to members of the BU community?
No; 1,000 tickets have been distributed to BU students, faculty, and staff. The remaining 500 were handed out to the general public on a first-come-first-served basis.
7. What time do I have to be in my seat?
Organizers ask that people be in their seats by 5:45 pm. If there are empty seats at that time, tickets will be given to people in the standby line on a first-come basis.
8. Will there be road closures and checkpoints leading to the Track & Tennis Center?
Yes. Nee says Ashford Street from Malvern to Babcock will be closed. Malvern Street, Alcorn Street, and Babcock Street will have pedestrian and vehicle restrictions heading toward Ashford.
9. Where can I go if I want to protest or demonstrate in front of the Track & Tennis Center?
For those not entering the center wishing to protest or demonstrate, there will be visible space available on Ashford Street across from the center, with access from Gardner to Alcorn.
10. Are there other places away from the Track & Tennis Center where I can talk with other people about this, or protest?
Yes. The Student Government Executive Board is hosting a gathering to discuss the event on November 13, from 4 to 5 pm, at the Howard Thurman Center for Common Ground in the GSU basement. Those attending will then march up to the Track & Tennis Center.
11. If I am protesting or demonstrating on the street, what am I allowed to bring to the protest?
No backpacks, no signs on poles or sticks, Nee says. Handheld signs will be allowed.
12. Will there be additional security on hand as well as the BUPD?
Boston Police officers will be on site.
13. Where do I go to get into the center if I have a ticket?
There will be a line forming outside the Track & Tennis Center on Ashford Street.
14. What am I permitted to bring into the event?
Less is best. Handheld signs will be allowed, but not much else. No poles, sticks, bags, backpacks, food, water bottles, or noisemakers will be allowed into the venue.
15. What kind of security will be at the door?
It will be just like any major sporting event. Screening of attendees will be done inside the Track & Tennis Center lobby, Nee says. All attendees will be required to remove their coats, empty their pockets, pass through detectors, retrieve their belongings, and enter the venue.
16. What type of protests or demonstrations will be allowed inside the center while Shapiro is speaking?
Nothing that disrupts the event or prevents others in attendance from seeing or hearing the speaker will be allowed. For example, a banner that unfolds and blocks the view of others will be taken or the holder asked to go to the back of the space to display it. Also, any prolonged shouting that interrupts the speaker will not be permitted.
17. Who will enforce those guidelines?
Representatives from the University will remind attendees that disruptions to the event are not allowed.
18. What happens if someone decides to ignore the guidelines, causes a disruption, and makes it difficult or impossible for the speaker to continue?
They will be removed from the venue by BUPD officers to allow the event to continue as planned.
19. Do I run the risk of getting arrested or having disciplinary action taken against me?
Not if you follow the guidelines as outlined in the answer to question 16. Arrest is the absolute last resort, says Nee, but it is a possibility if there is no other option. Violence of any sort will not be tolerated and will be dealt with swiftly and decisively. Students may face University disciplinary action for disrupting the program, Elmore says.
20. Will there be a police presence in and around the Track & Tennis Center or any other place people decide to demonstrate?
Yes. Nee says there will be a significant police presence in and around the center. "Our goal is to ensure the safety of all who come to the area to attend, protest, or demonstrate at this event," she says.