SPH Holds Community Forum on Gun Violence
Seminar ends with phone calls from audience to legislators
David Jones was dining with a friend recently in a Mississippi restaurant, when he mentioned that the last time he ate there, two men had robbed a store around the corner and shot a policeman. As he prepared to walk home, the friend offered his protection.
"Do you want me to walk with you?" he asked. "I'm packing."
Jones declined the offer—"Under what situation do you think that would go well?" he asked. He then took the opportunity to open a discussion with his friend so he could better understand the gun culture that's so pervasive in parts of the United States. "There's this idea that the solution to bad people with guns is to have more good people with guns," said Jones. "I don't think the research plays that out."
Jones, a School of Public Health assistant professor of health law, policy, and management, offered the story yesterday afternoon as part of the SPH Dean's Seminar #ENOUGH: Community Forum on Gun Violence. On a day that saw nationwide school walkouts calling for legislative action on gun control—including one at the Medical Campus that attracted hundreds—the seminar drew experts from different fields of public health to discuss the causes of, and solutions to, gun violence in America. The day marked the one-month anniversary of the shootings at Marjory Stoneman Douglas High School in Parkland, Fla., where a former student is charged with killing 17 people, a tragedy noted at the top of the seminar.
"We are here today because 17 people were killed in Florida," said Harold Cox, an SPH associate professor of community health sciences and associate dean of public health practice, who introduced the panel and moderated the discussion. "We are here today because 49 people were killed in Orlando. We are here today because 58 people were killed in Las Vegas. What does it mean for us to have this kind of violence on a regular and routine basis in our country, and what can we do about it?"
On the panel with Jones were Michael Siegel, an SPH professor of community health sciences, Michael Ulrich, an SPH assistant professor of health law, policy, and management, Ziming Xuan, an SPH associate professor of community health sciences, and Valentina Vega (SPH'19). The experts, answering audience questions, triggered a wide-ranging discussion, which touched on state policies, constitutional law, gun culture, institutional racism, and the dearth of funding for research on gun violence.
One of the most provocative moments came when Cox asked the panel if gun control would actually result in fewer guns. The question was met with silence from the panel, then sympathetic laughter from the audience.
Ulrich, for one, seemed to think it might. He noted that some legal experts have compared restrictions on guns to restrictions on abortion—if policies make it burdensome enough to get an abortion, fewer people will get one. "Maybe that would work for guns," he suggested. Legal restrictions, like longer waiting periods and more required training, "might increase the burden enough to lower rates of gun ownership."
Siegel noted that 35 percent of adults in the United States own guns. And while that number has been decreasing, he said, the number of guns each person owns has been rising. Siegel, who has a long history of investigating the cigarette industry, started researching guns after the 2012 shooting at Connecticut's Sandy Hook Elementary School. He said his research shows that states with higher gun ownership have higher rates of gun homicides and an even higher relationship with suicide. "If you want to predict the youth suicide rate in a state," he said, "the best single predictor is the rate of gun ownership."
The problem is not just how many guns are out there, he said, but who owns them. In 36 states, being convicted of a violent assault does not prevent a person from buying or owning a gun, he noted. This is not the case in Massachusetts, and he suggested that other states should follow suit.
Siegel also offered encouragement from history, saying that one day the NRA might be as defanged as the cigarette industry. "Just keep fighting and don't give up," he said. "That's the biggest thing."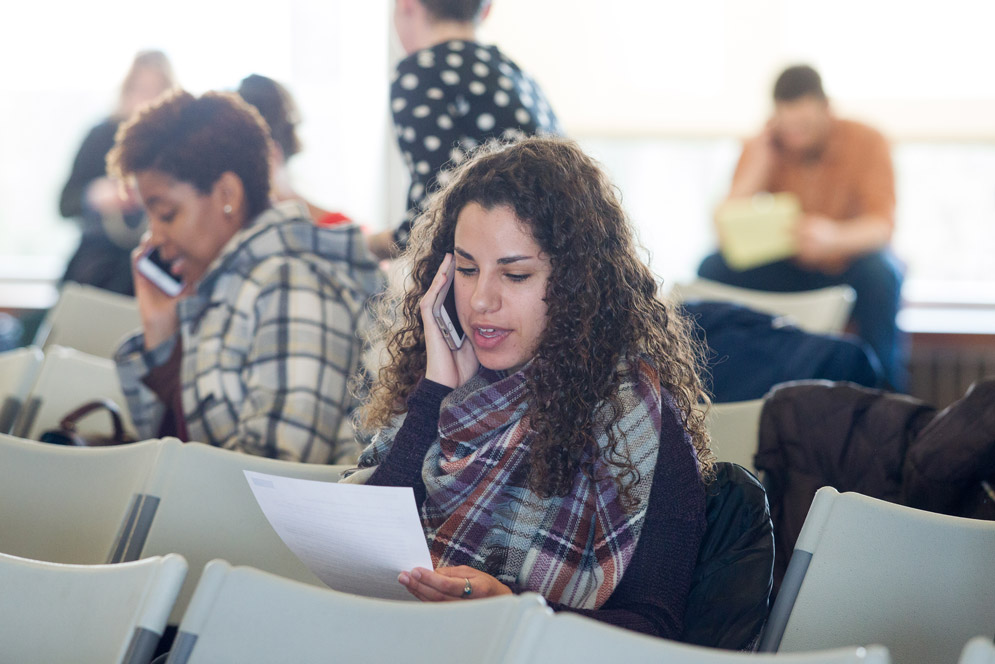 The forum ended with a novel exercise—a "phone banking" session, where audience members were encouraged to call legislators. They were given a script and a list of policy positions to discuss, like universal background checks or a ban on large capacity ammunition magazines. Those in the audience who called legislators were asked to leave a slip of paper noting whether they spoke to a person or left a message. Members of the SPH Activist Lab collected and will analyze the data.
The phone-calling exercise was the brainchild of master's student Jess Sáenz (SPH'18). "As public health professionals, we often have these conversations, and we're left with all this energy and nowhere to put it," said Sáenz, as audience members were busy dialing their phones. "I thought this was a good opportunity to harness some of that energy.
"I'm a big believer in doing something, anything," Sáenz added.