No Obstacle Too Steep for BU's First Mitchell Scholar
Award will send ENG student to study public policy in Ireland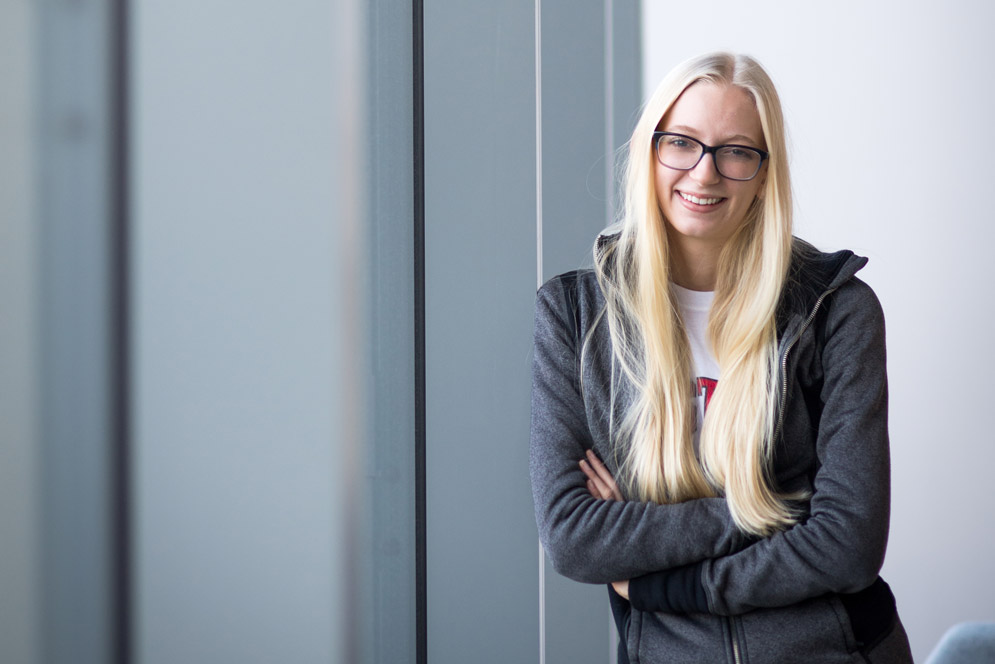 Biomedical engineering may be one of the most demanding majors at BU, but that hasn't slowed down Rachel E. Petherbridge.
While keeping a near-perfect GPA, the senior from North Carolina is a staff writer for BU's International Relations Review, where she's written about Zika virus and climate change. She organizes BU's Model United Nations conferences and manages to make time to encourage minority high school students to pursue careers in science.
That drive recently earned Petherbridge (ENG'19) a top distinction: a George J. Mitchell Scholarship, given to 12 postgraduate students a year for outstanding erudition, leadership, and commitment to public service. Winners were selected from a field of 370 applicants, and Petherbridge is the first BU student to win the award.
Akin to the highly competitive Rhodes and Marshall postgraduate awards to study in the UK, the Mitchell scholarship will send Petherbridge and the other winners to Ireland for a year of graduate studies sponsored by the US-Ireland Alliance.
Petherbridge says it's an exciting opportunity to meld her twin passions for science and public policy, as she manages the personal challenges related to the rare genetic disorder oculocutaneous albinism she was diagnosed with at birth.
The albinism has left her with poor eyesight, as well as daily eye-spasms that can make reading, and even walking to and from class, sometimes difficult. "Persistence is literally the definition of my life," she says matter-of-factly about the challenges. "And being too stubborn to quit."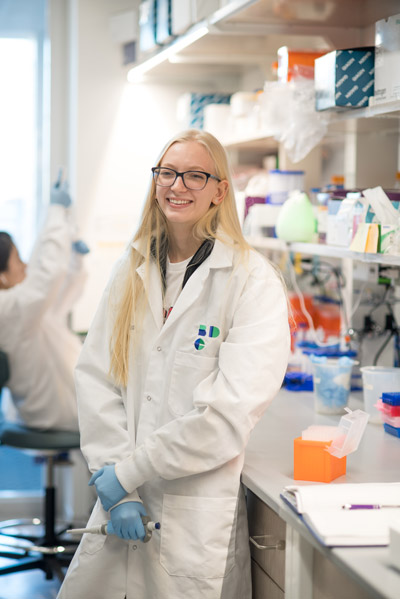 At 5-foot-10-inches, with long blonde hair and snowy-white skin, Petherbridges uses a monocular in the classroom to see her professors' presentations at a distance. For her, a career in either science or international relations wasn't always a given.
She didn't even like science until she entered eighth grade. Her science teacher that year required all his students to enter the school science fair. Her project analyzing data sets for solar flares won and then took second place in a regional competition.
Stoking the budding scientist was an early fondness for mathematics. Petherbridge says she had difficulty learning to read in elementary school because of her eye problems, but found she enjoyed solving math problems.
"I just thought long division was the coolest thing in the entire world," she says of her 10-year-old self. "I would do it all the time."
Because of her unique look, her mother, an associate vice provost at North Carolina State University, helped her get her first freelance modeling gig, and she later signed on with Modelogic, posing for high-end brands like Need Supply Company and others. But it was just a hobby that paid well.
It was the genetic origins of her albinism that helped fuel her interest in genetics and molecular biology in high school. Petherbridge was raised in a religious Protestant household, she says, and when she questioned and later rejected organized religion and its moral framework as a high-schooler, it left a void in her life.
"I filled it with science," she says. "And I said, I'm going to make it my goal to make people's lives better."
She was accepted into BU's RISE Internship/Practicum, a six-week summer session for high school students passionate about the sciences. That led to a scholarship to BU and allowed her to continue to work in the lab of Ahmad "Mo" Khalil, as she had done through the RISE program, doing research under Khalil, an ENG assistant professor of biomedical engineering.
Once she enrolled at BU, other accolades followed. Sophomore year, she received a Goldwater Scholarship, the top national STEM honor for college sophomores and juniors. The next year, she was named an Amgen Scholar, which enabled her to spend the summer studying human and mouse genomes at Harvard.
The Mitchell award is her latest distinction, and a first for a BU student, says Jeffrey Berg (Wheelock'08), director of national and international scholarships at BU. The award was created in 2000 to honor the legacy of former US Senator George Mitchell (D-Maine), who famously helped broker the Good Friday Agreement, the 1998 peace accord that brought 30 years of sectarian conflict in Northern Ireland to an end.
"Rachel is a very interesting and memorable candidate because of her diverse interests," Berg says. "She's incredibly accomplished in her field and has the awards and accolades to support that. But she has also pursued this other deep passion for policy and international affairs that she's pursued with equal enthusiasm."
Petherbridge will join other fellows with diverse backgrounds, from universities such as Harvard, Yale, and Stanford, among them a recent intern for Nikki Haley, outgoing US ambassador to the United Nations, a graduate student creating a Netflix documentary on the 14th amendment, and a researcher on the gut microbiome.
She will study international relations and public policy for a year at University College in Cork. And she plans to continue her studies in bioengineering and synthetic biology by pursuing a PhD. Where that will lead her she's not sure. She's carving out a path as she goes, she says.
"I definitely want to be a problem-solver," Petherbridge says. "If I could pick a dream job, it would be starting or joining a think tank or a policy body that would say to me, 'We have a problem, and we don't know science. Can you help?'"
Megan Woolhouse can be reached at megwj@bu.edu.