Lyric Poets Headline Lowell Memorial Poetry Reading
Featured tonight: award winner Jane Hirshfield and Natasha Hakimi (GRS'12)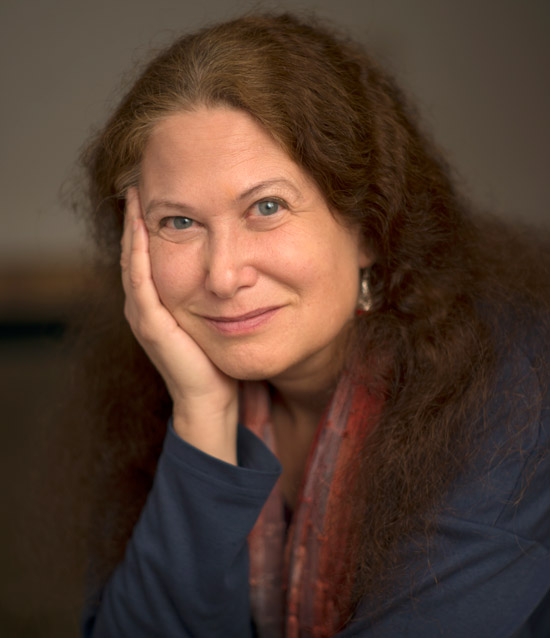 Jane Hirshfield was eight years old when she took a sheet of brown paper and wrote, "I want to be a writer when I grow up." She has no memory of how she arrived at that decision, but she does recall that as a child, she would write poems and hide them under her mattress. She was far more interested in writing poems than in having people read them.
"Despite my second-grade declaration, I'm made uneasy by the thought of being a poet," says Hirshfield. "What I wanted, what I still want, is to write. The verb is what matters, and every part of what happens inside that verb, not the noun."
She made good on that childhood ambition. Today, she is the author of eight collections of poetry, as well as two of essays. She was still an undergraduate at Princeton when her first poem was published, in The Nation. Since the her first collection appeared 30 years ago, critics have hailed her singular voice and the way her poems address desire, loss, impermanence, and the beauty of the natural world. Writer and poet David Baker writes in American Poets Magazine that she is "one of our finest, most memorable contemporary poets."
Tonight, Hirshfield will read from her latest collection, The Beauty (Knopf, 2015), as well as some newer poems at this semester's Robert Lowell Memorial Poetry Reading at Mugar Memorial Library. The reading, which is free and open to the public, will be followed by a Q&A and a book signing.
Prior to writing as a full-time occupation, Hirshfield spent several years living at a Zen Buddhist monastery in Muir, Calif. That experience is reflected in her work, in her attention to detail, and in her poems' insistence that everything changes and that everything and everyone is in some way connected. Her work is infused with a deep-seated empathy and compassion. But she bristles at attempts to label her a Buddhist or a Zen poet.
"I'm not a Zen poet, I'm a human poet, that's all," she says. "A sense of the large is part of being human, and so is it part of a good poem." The lyric poet's work varies greatly from poem to poem, not only in subject matter, but in texture, shape, and sound. Her poems frequently examine issues of social justice, like the current refugee crisis and her growing concern for the environment. Long interested in science, she was one of the speakers at last year's March for Science on the Washington Mall, reading from her poem "On the Fifth Day," which protests the removal of scientific information from federal agency websites last January.
Central to her work is the ability to listen. She prizes silence. "Occasionally, a poem is as unavoidable as a mountain range; there's no moving forward except by crossing its ground," she says. But more often, it is the act of staying silent and listening closely that makes it possible for a poem to take shape.
"Poems come because I open a gate for them—the same way that if I were to leave my garden's gate open, deer would arrive in the night," she says. "The ears and tongue and eyes, the mind and heart and breath are all part of this listening. The moments, objects, conversations of a day are part of this listening….Inspiration is everywhere at hand. You look outward, you look inward: something presents itself as flammable to the imagination, heart, mind. The trick is becoming the match."
Hirshfield is also an accomplished translator. She worked with Markio Aratani on her book The Ink Dark Moon, a translation of Japanese tanka written by women a thousand years ago. She found the experience transforming, shaping her own work in unexpected ways. "Translating made me both more experimental and more fearless in working with my own poems," she says. "Revision became charged with the sense of the possible, and began to carry the same joy that first-draft writing can. And to take a poem that is unalive and discover what change might invite salmon to leap upstream inside it—that is as exuberant a thing for me now as writing something new is."
Having taught poetry at several colleges, UC Berkeley, the University of San Francisco, and the University of Cincinnati among them, Hirshfield is often asked for advice by aspiring poets. She urges them to "open the window a few inches wider than you find comfortable." She also cautions them to resist the urge to publish too quickly.
"Time is a tremendously gifted editor, and publication inevitably awakens issues of ego. Writing the poem is the central thing. Get that right, and the rest will follow."
Joining Hirshfield at tonight's reading is Natasha Hakimi (GRS'12), a graduate of BU's Creative Writing Program. Although the two poets are more than three decades apart, they share a number of striking similarities. Like Hirshfield, Hakimi is a lyric poet, an essayist, and a translator.
The two share a similar philosophy about the importance of revision. Revision "is usually where the heart of the poems are revealed to me," Hakimi says. "It could be that a poem started out as a sonnet and ended up as free verse, or vice versa. Or that for days, I'll try to find a better way to tell a certain story and then remember a Greek myth that will help me revise the poem."
And like Hirshfield, who says that the greatest joy in writing poetry is "to find something not quite said before," Hakimi "tries to find the space where the mundane and the unusual overlap to reveal something, hopefully, moving about living," she says.
An associate editor at the online news site Truthdig, Hakimi has won two Los Angeles Press Club Awards, the first in 2016 for a book review of the poetry collection I Am the Beggar of the World, featuring work by Afghani women writers, and the second last year for her piece "Free To Be a Fool: Behind the Scenes at the British Parliament's Debate on Banning Trump," published by Truthdig.
Her translations of My Husband's Woman, by Alicia Borinsky, a College of Arts & Sciences professor of Spanish, and Liliana Lukin's Theater of Operations were published in 2016 by Literal Publishing.
Robert Pinsky, a William Fairfield Warren Distinguished Professor and former three-time US poet laureate, says tonight's lineup offers two poets with "the power of imagination to be fresher, more various, and more intimate than nearly all the products of show business: Jane Hirshfield a still-surprising master and Natasha Hakimi, a new poet full of informed discovery. Both poets embody a stereotype-busting, syncretic mix of cultures: East, West, North, South, an American richness of improvised layers and imports."
The Robert Lowell Memorial Poetry Reading, with Jane Hirshfield and Natasha Hakimi (GRS'12), is tonight, Tuesday, April 17, in the Mugar Memorial Library Richards-Roosevelt Room, 771 Commonwealth Ave., at 7:30 pm. The event, presented by BU's Creative Writing Program, is free and open to the public. A book-signing and reception follow.
The Robert Lowell Memorial Poetry Reading series is funded by Nancy Livingston (COM'69) and her husband, Fred M. Levin, through the Shenson Foundation, in memory of Ben and A. Jess Shenson.