Terrier Rowers to Compete in IRA National Championship Regatta
Men's team, women's lightweight team close out season this weekend
Finishing out a successful season, the BU men's rowing team and women's lightweight rowing team are hoping for one more win as they compete this weekend in the 2018 Intercollegiate Rowing Association (IRA) National Championship Regatta, the biggest event in collegiate rowing
After traveling to California for last year's national championship, the Terriers return to Mercer Lake in West Windsor, N.J., the regatta's host from 2014 to 2016. Competition begins today, with the grand final races scheduled for Sunday.
Women's lightweight rowing team
The Terrier women, who won a silver and two bronze medals and finished second in team points at last years' IRA National Championship Regatta, were ranked number one in the US Rowing Collegiate Coaches' women's lightweight poll last month. Although short-lived (they're currently second nationwide), the feat marked the first time in program history the BU rowers topped the list.
They enter this year's regatta with the same mind-set they've had all season: be better than the day before.
"We don't have to make big, sweeping changes," says women's lightweight head coach Malcolm Doldron. "We don't have to be 1,000 percent better every day, but we just have to be little bit better, a little bit smarter about how we train, how we recover, our nutritional habits, our hydration level."
"If we're better than we've been, we'll be in good shape," Doldron says.
The women's lightweight team comes into the weekend hot off a winning streak that includes gold medals in the Dad Vail Regatta and the Eastern Sprints as well as this year's Lightweight Beanpot title.
Given their success in the last three IRA Regattas—a bronze medal in 2015 and runner-up status the past two years—the Terriers are aiming for a gold medal finish on Sunday. And they know their biggest threat is the lone team that stands atop them in the rankings: archrival Stanford, which has captured the last three IRA National Championship Regatta women's varsity lightweight overall team trophies.
"I think Stanford never really leaves our mind," says Taylor Alix (CAS'19). Stanford's sweep of all three women's lightweight events in last year's championship was a real push for the Terriers this year, Alix says: "Coming off the championship race last year when we were behind Stanford again, I think that set a fire for us to really train hard."
That motivation has paid off: the Terriers defeated Stanford in a dual race on April 7, and they are confident they can beat the California team this weekend.
Asked if this year's championship regatta will be different from previous years, Alix says with no hesitation: "Yeah, I think that this year will definitely be the year."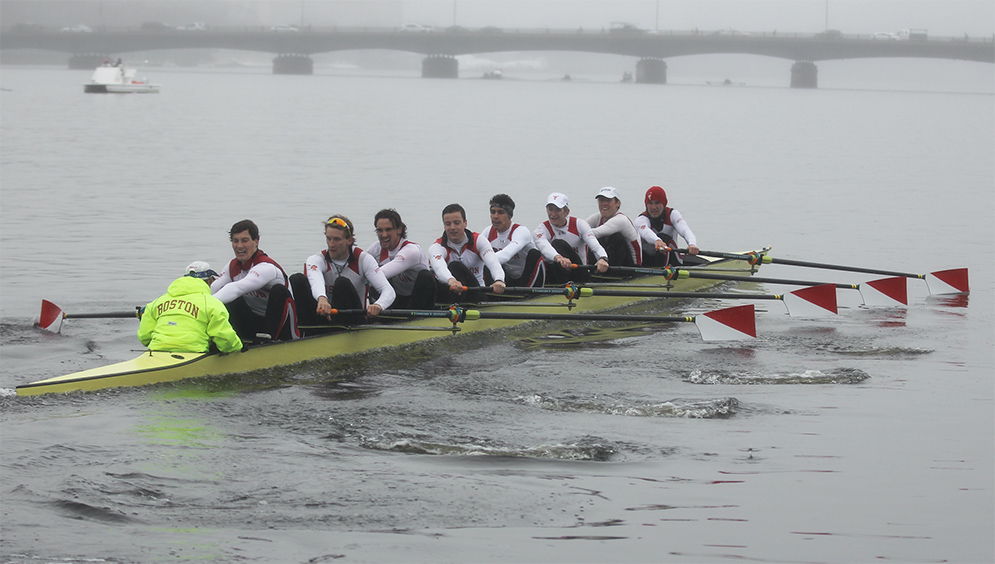 Men's rowing team
On the men's side, the season has been one of resilience and steady improvement. Tied currently for seventh place nationally, the team began the season slowly, losing three straight dual races, against Brown, Northeastern, and Dartmouth.
"It was different, though, in the sense that although we lost some early races, we always felt like they were pretty good races for us," says men's head coach Thomas Bohrer. "When we lost some of our earlier races, it wasn't like the wheels were coming off. The team stayed focused."
Bohrer, who is a two-time Olympic medalist, says he's been impressed by his rowers' ability to push to improve their performance. As a result, the Terriers turned things around in the remaining dual races, defeating Syracuse, Columbia, and Wisconsin. In the Eastern Sprints on May 13, BU impressed with a sixth-place finish.
Bohrer credits his rowers with believing they could flip the switch. "That made it easier to get back to work and to get back at it each week," he says.
Although the Terriers haven't competed since the Eastern Sprints, Max Ponsen (CGS'16, Questrom'18) says he feels confident that the team has gotten noticeably faster, and while the rowers' goal isn't necessarily to win it all, they are determined to make it to the grand finals.
Regardless of the finish, however, Bohrer says this has been one of his best seasons in his 10 years as coach. "It's probably been the most fun group that I've had," he says. "In many ways, it's been the most enjoyable for me this year."
The 2018 IRA National Championship Regatta begins today, Friday, June 1, and concludes with the grand finals on Sunday, June 3. All races are being held on Lake Mercer in Mercer County, N.J. Find more information about the 116th IRA National Championship Regatta here.
Jonathan Chang can be reached at jchang19@bu.edu.