CFA Students' After-School Music Program Strikes the Right Notes
Fledgling musicians share their enthusiasm with K-5 pupils in Roxbury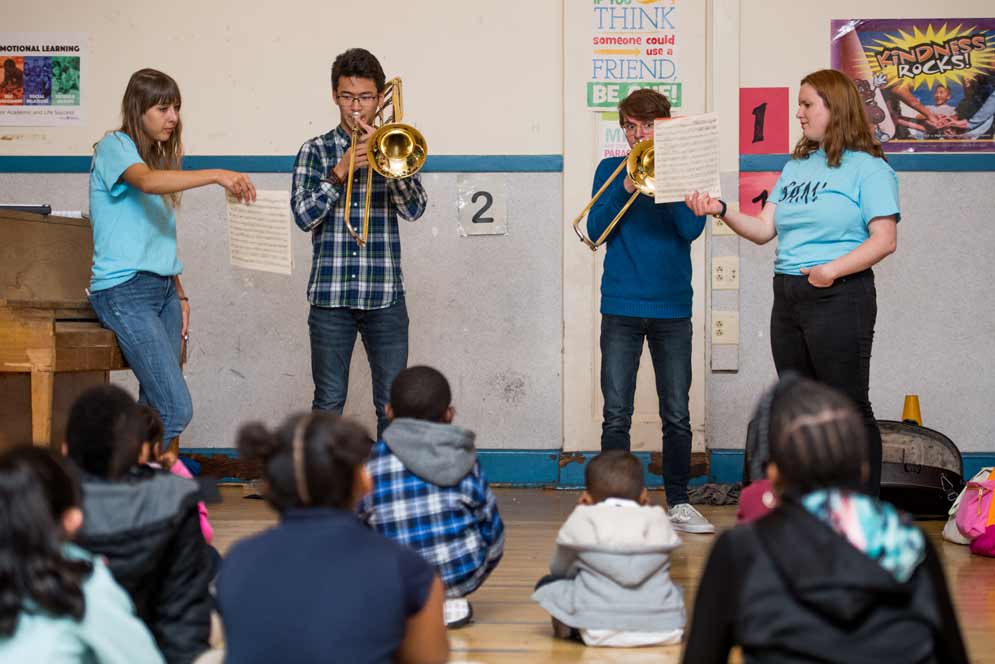 On a rainy November afternoon two School of Music trombonists begin to play an Oskar Blume duet in a school auditorium in Roxbury. The reactions of the 20 or so children sitting on the floor in front of them range from wide-eyed wonder to the kindergartner who clamps his hands over his ears and stage-whispers, "It's too loud!"
This is Boston After-School Music (BAM), a K-5 program recently created by three College of Fine Arts students to share their love of rhythm and melody with children who might not otherwise be exposed to music education.
"We want to make a difference," says BAM cofounder Emma Chrisman (CFA'20,'21).
The program is held every Monday at the Higginson-Lewis K-8 School, under the auspices of Dorchester's Bird Street Community Center. The school is one of several locations where Bird Street seeks to bridge the gap between school and home for children of working parents by providing before- and after-school activities. This is a low-income neighborhood, and the kids are all students of color, some with special needs.
Like many urban public schools, Higginson-Lewis no longer has an instrumental music program. The school is named for Boston Symphony Orchestra founder Henry L. Higginson (and 19th-century Roxbury politician George A. Lewis), an irony that is not lost on Chrisman and her BAM cofounders Hannah Hooven (CFA'21) and Isaac Boll (CFA'21).
Music education major Hooven says her high school outside Chicago had an amazing music program, and she was among students who traveled to perform at other schools that weren't so fortunate.
"I really believe in public schools and strengthening them," she says, "I think it's a really interesting and viable way to support our democratic system and kids who need to find a voice. And teaching music is a great way to do that."
Hooven first visited Higginson-Lewis in fall 2017, when she played her viola for the third grade class of a teacher she knew—and then enlisted other student musicians to visit the class too, including violinist Chrisman and vocal student Boll, who also plays guitar. Hooven and Chrisman hatched the after-school plan last spring, later pulling in music education major Boll. Chrisman is earning a BA in violin performance and a master's in music education.
Although the elementary school is just three miles from CFA as the crow flies, getting there can take 90 minutes by public transportation. "One of the things we've been shocked by is that the physical act of getting there definitely emphasizes the socioeconomic barriers in this city," says Chrisman, who is from Seattle. Occasionally, depending on the instruments involved, they've used Uber to get there, paying for the trip out of their own pockets.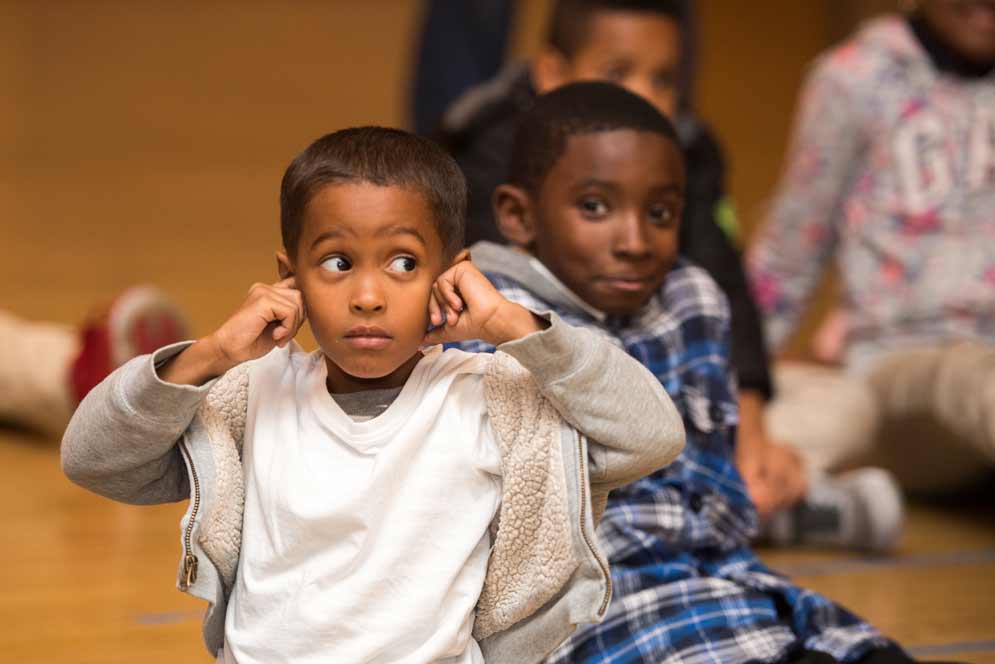 They say the time commitment is worth it because of the reaction of the youngsters. They started with only about 10 students, but as word has spread about the program, as many as two dozen children now turn up each Monday at 5 pm. "They're all bright and excited and there's a lot of energy," Chrisman says.
The BU musicians draw the children in with games and other group activities focused on rhythm and participation, using simple percussion instruments like shakers and Home Depot buckets for drums, as well as the upright piano in the school's auditorium. They add a lot of movement to the activities to take advantage of the children's restless energy. Arms in, arms out, clap your hands, and spin around. They found that breaking up into smaller groups made some kids self-conscious about singing, so the CFA students tend to keep them together, despite the age range. Most weeks there is a guest performer or a sing-along with Boll on guitar.
"It's wonderful," says Miss McDuffie, the Bird Street site coordinator, whose five-year-old son, Onyx, attends the program. "It's the first time they get to see real instruments. It's teaching them a lot. They're not only hearing it, they're stomping their feet and clapping on their body parts and singing because it sounds good."
"We go in and they're all excited to see us and excited to learn," Chrisman says. "You can see the growth that happens in an hour and half. We see progress, and that's really rewarding and makes it feel worth it despite the long commute and all the other challenges."
A win-win for everyone
"I'm inspired by their commitment and the level of seriousness with which they proceed," says Jeannette Guillemin (MET'00, Wheelock'07), CFA director of arts leadership and innovation. Guillemin oversees community engagement and social impact initiatives and informally advises the trio. "The way they're going about it is great. They're taking on leadership roles while also being mindful of the resources that are available to them."
Guillemin says part of her role is to help students to imagine what they could do if they had a few hundred dollars to launch an idea. "But sometimes it's really hard for even well-meaning students to get involved in this way" because of their busy schedules, she says. "What is so exciting about Hannah and Emma and Isaac and the work they're doing is that they're coming to this having already decided that this is a commitment they are willing to make. They're seeing it through."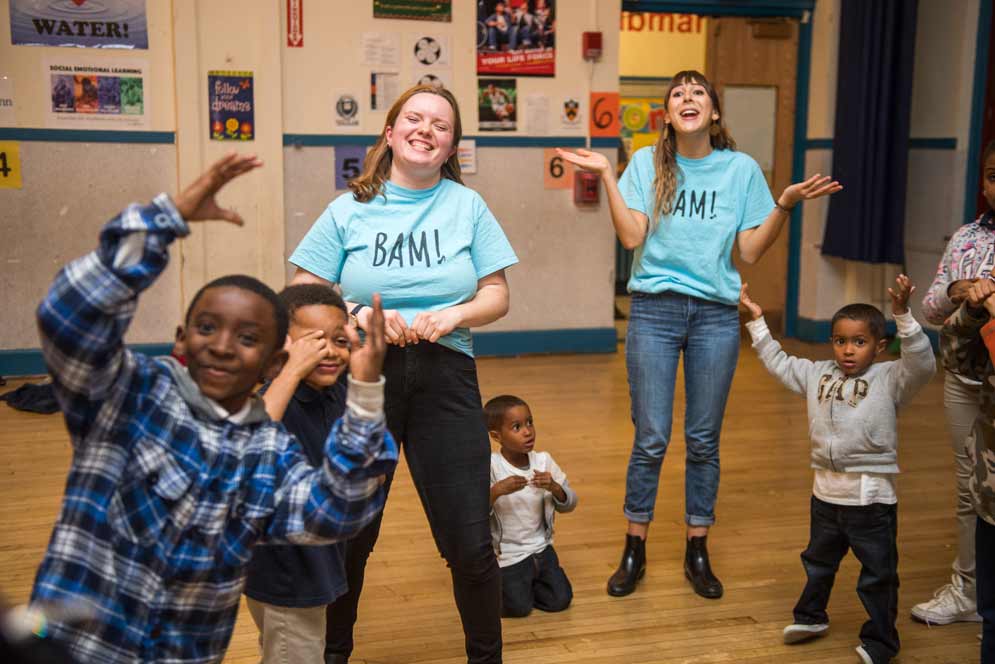 BU has gotten behind the program, with a $1,000 grant from the BU Arts Initiative and a $500 CFA Seed Grant from a pilot program administered by Guillemin's office and Innovate@BU. Guillemin is also working with the BAM coordinators to get permission to use a BU Community Service Center van next semester to ease those travel woes and encourage more guest participation.
The program is a win-win for everyone, she says. The children get exposure to music and the BU students are learning how to run an arts education program, how to raise funds, how to pitch an idea, and how to change course when needed, all skills that will serve them well whether their careers are spent in a classroom or a concert hall.
"We have these incredible artists coming out of CFA," Guillemin says. "What I love about what Hannah and Emma and Isaac are doing is that they're taking that excellence and finding ways they might use their talents to have a greater impact in the world."
"We are very thankful and grateful to have music being offered to our students this year," says Donna-Marie Woodson, Bird Street program director and case manager. "We do not have the opportunity for our children to learn music in the schools, so having it in an after-school program is beneficial because it provides them with creativity and positivity, it helps them to learn in all aspects of their lives."
Guest trombonists Eusung Choe (CFA'21, CAS'21) and William Sheahan (CFA'22) don't often get questions like, "What's the highest note you can play?" as they did during their recent performance at Higginson-Lewis. The kids ranged from enraptured to squirmy while the trombonists played, but the two know they've won over their audience when afterwards one second-grader said that the music "sounds like spring."
Choe says he's glad to help bring arts education to kids at a time when more emphasis is being placed on STEM (science, technology, engineering, and mathematics) fields in many schools. And Sheahan finds it "really rewarding to play for kids, especially when it might be their first experience hearing the trombone. It's so fun seeing their first reactions to the instrument and the sounds it can make."
Given the program's success at Higginson-Lewis, Bird Street administrators have asked the BAM founders to expand the program next semester to two of its other after-school locations in the city. Chrisman, Hooven, and Boll are actively recruiting more volunteers and have scheduled a meeting today for interested students. And they've used some of their grant money to create a simple recording setup at the Bird Street Community Center aimed at middle school and high school students who are too old for the after-school program. The three are hoping to add individual instrumental lessons next fall.
"Sometimes it's the best part of my week," Chrisman says. "It's tied into what I'm learning here and what I want to be doing down the line, but it's also a way to get out of the BU bubble. It feels like a completely different world."
If you're a CFA School of Music student interested in volunteering with BAM next semester or in appearing as a guest performer, come to a recruitment meeting today, Wednesday, November 28, at 5 pm, in CFA Room 165, 855 Comm Ave, or you can email hhooven@bu.edu. Other BU students with a strong musical background may also be considered. A training will be held in December.