BU's Condom Fairy Turns Five
Users credit Student Health Services program with making it easier to practice safe sex
Valentine's Day is a day for love, romance, and often, sex. In honor of the holiday, we've put together a video that promotes a public health service available to all BU students, but that many don't know about. Called Condom Fairy, it provides free condoms and other safe sex supplies.
The program, run by Student Health Services Wellness & Prevention, launched five years ago in response to mounting concerns about the number of college students who said they were having unprotected sex. Studies have shown that sexually active college students report using a condom less than half the time and that one in two sexually active young people contracts a sexually transmitted disease (STD) by the time they're 25. Using condoms or oral dams can prevent STDs, but they are often expensive or hard to access. Students say that buying them can be both inconvenient and embarrassing.
And that's where Condom Fairy comes in.
The service is designed to make access to safe sex supplies simple and alleviate concerns about privacy. Students simply fill out an online request form with their order: their supplies arrive in their mailbox in a discreet package five to seven business days later.
"We had a number of students who had approached us and talked about how it was really inconvenient to have to walk all the way to Student Health Services to access condoms and that it could be embarrassing, because they were in fish bowls in the waiting area," says Wellness & Prevention director Katharine Mooney (SPH'12), who helped create the program. "We were addressing those concerns, but we also knew condoms weren't available in other parts of campus, so it was a way to get supplies to students directly in a way that was more convenient for them."
Users can choose from a variety of products, including three brands of male condoms and two kinds of personal lubricants. But the service also offers harder-to-access products like female, or "internal," condoms and oral dams. You can also opt to receive the student-designed Condom Fairy Magazine, which has information on topics like how to ask for consent and how to use a condom. First-time subscribers also receive information about off-campus locations where they can be tested for STDs. And the program runs occasional promotions, like this month's Valentine's Day special.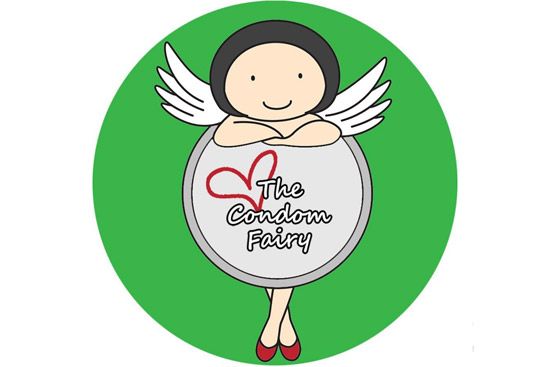 The Condom Fairy (whose cheeky logo is "Now flying wherever flies come undone") is actually a dedicated team of mostly Wellness & Prevention Student Health Ambassadors (SHA), undergrads who have been trained by professionals to be peer educators in different aspects of well-being, including sexual health and relationships. Among their duties are assembling and mailing Condom Fairy packages. "They really make the program run," says Erica Schonman, SHS wellness program coordinator.
Mooney says there was some initial uncertainty about whether the program would be effective. "We had no idea whether or not students would be interested in getting sexual health supplies in the mail," she says.
Numbers show that they are. The Condom Fairy distributes approximately 5,000 packages annually. So far this academic year, more than 15,000 male condoms, 900 female condoms, 8,000 packets of lubricant, and 600 oral dams have been mailed out.
"We feel really strongly that the money is well spent," says Mooney. The feedback she and her team have gotten bears that out. Follow-up surveys, which are sent to customers about one month after they order, show that almost all the students who order male condoms use them. And 91 percent of students report that Condom Fairy makes it easier to practice safer sex, and 66 percent of those who use the service say they make more responsible decisions because of the program.
"I think it's doing a lot to normalize safer sex on campus and normalize healthy conversations," Mooney says.
Find out more about the Condom Fairy here. BU students can see available supplies here and order online here. Follow Student Health Services on Facebook, Instagram, and Twitter for promotions and news.
Madeleine O'Keefe can be reached at mokeefe@bu.edu.