Boston's Best French Fries
10 don't-miss places to chow down for National French Fry Day
As a nation, we love our french fries. The average American eats 29 pounds each year: that's a whopping 2 million tons. Whether you like them curly, skinny, thick-sliced, or crinkle-cut, dipped in ketchup or served straight up, they've been an American diet staple for nearly 100 years. Word is that President Thomas Jefferson first served deep-fried potatoes at a state dinner in 1802, after a trip to France. But it wasn't until American troops returned from France at the end of World War I that they became popular.
Today is National French Fry Day, and BU Today has done some research and come up with a list of 10 nearby restaurants known for outstanding fries—and a recommended pick at each. Our top spots:
1. Saus
33 Union St., Boston
Saus is famous for its house-aged, twice-fried Idaho russet potato fries, dozen-plus homemade mayos for dipping, and create-your-own poutine fries, topped with local cheddar curds and secret Saus gravy (choose your size, toppings, and gravy).
Must try: Poutine topped with shallots
You'll be amazed by the toppings that come with these fries: garlic-asiago mayo, chipotle mayo, bacon-horseradish aioli, apricot IPA bbq, creamy beer mustard, and truffle ketchup.
Must try: The signature hand-cut Monk's Frites, hand-cut Yukon gold potatoes, dusted with sea salt and served in a traditional paper cone
3. The Gallows
1395 Washington St., Boston
This popular South End gastro pub has won a reputation among locals for its pizza fries and World Cup of Poutine, hand-cut fries topped with a rotating list of favorites from World Cup contenders.
Must try: Pizza fries, hand-cut fries with Italian seasoning, pomodoro, and mozzarella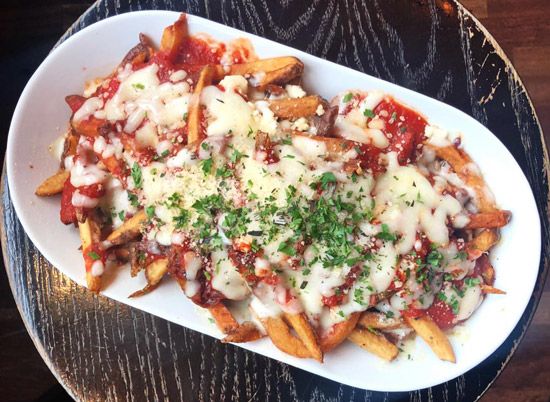 4. Tasty Burger
1301 Boylston St., Boston
This chain never disappoints when it comes to classic, crispy french fries.
Must try: The 50/50 fries and rings: just what it says, french fries and onion rings—perfect together
5. Deep Ellum
477 Cambridge St., Allston
This eatery has won us over with its home fries, poutine (with rosemary), and decadent truffle fries.
Must try: Truffle gorgonzola fries
Best known for—you guessed it—grilled cheese sandwiches, Roxy's serves a delicious plate of hand-cut truffle fries and poutine.
Must try: Poutine made with Vermont cheese curds and homemade short rib gravy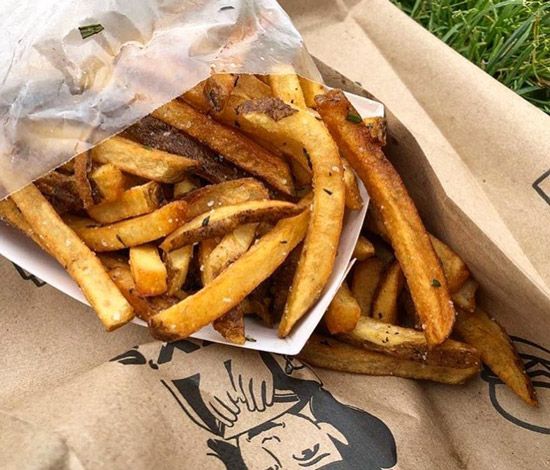 7. Eastern Standard
528 Commonwealth Ave., Boston
French fries aren't the first thing, or even the third or fourth, that comes to mind when you think of this elegant Fenway restaurant, but it serves possibly the best french fries in Boston.
Must try: The classic thin-cut fries, tossed with chervil, chives, and parsley
8. The Bristol
200 Boylston St., Boston
Nestled inside the Four Seasons hotel, this clubby lounge and restaurant serves three kinds of fries: truffle, sweets, and classic.
Must try: The truffle fries: classic fries tossed in truffle oil and parmesan cheese
9. Earl's Kitchen + Bar
Prudential Center, 800 Boylston St., Boston
This Canadian-based chain opened in the Pru less than a year ago. Best known for burgers, tacos, salads, and sushi and rice bowls, its fries are ideal for sharing.
Must try: Garlic fries, tossed with fresh garlic and parsley, with creamy Grana Padano parmesan dip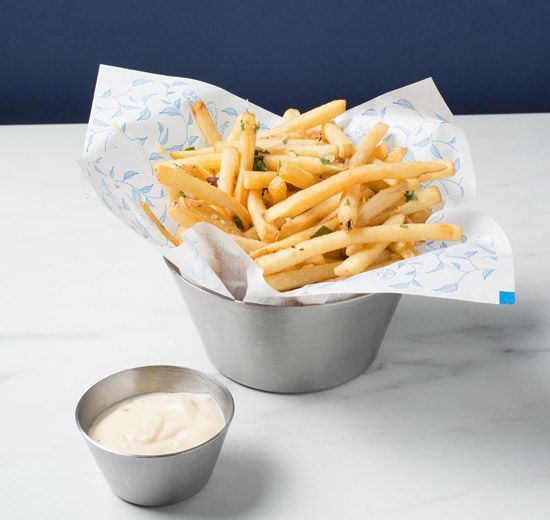 This spot near the Boston Opera House serves regular crispy fries, but is best known for truffle fries.
Must try: Loaded truffle fries, with gouda cheese, steak bits, and yogurt sauce, topped with fried onion rings
Have a favorite french fries place that's not on our list? Add it in the Comment section below.
Lexi Herosian can be reached at lexheros@bu.edu.