A Dozen Tips That Could Save Your Life in a Fire
Steps to take to prevent a fire and what to do if one happens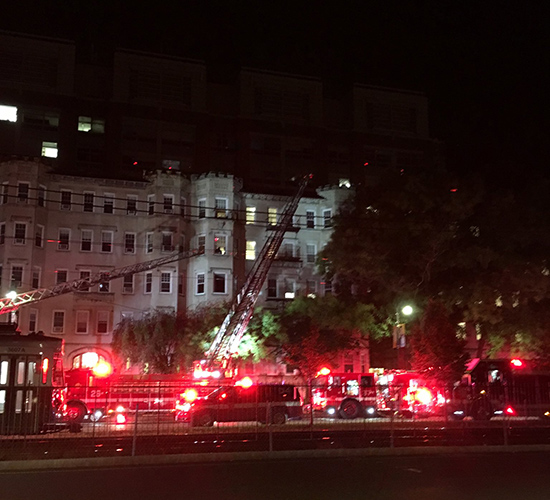 The semester has barely begun, and there have already been two fires on the Charles River Campus. The first, on September 1 at 722 Commonwealth Avenue, was started by a lit candle and forced the temporary evacuation of students and caused $200,000 in damages. The cause of the second, on September 5 on the ninth floor of Danielsen Hall, remains under investigation. Fortunately, there were no serious injuries or fatalities, but the two incidents underscore the importance of knowing what safety measures to take to prevent a fire in the first place.
In 2013, BU student Binland Lee (CAS'13) died in a fire at her off-campus residence, on Linden Street in Allston, just two weeks before she was to graduate. Among the housing violations cited in the report of that deadly fire were the number of tenants—18 (the city of Boston permits no more than 4 undergraduates to live in a house full-time)—and only one exit from the floor below her room.
That tragedy spurred the city to boost apartment inspections and other safety measures and highlighted the fact that BU students living off campus are beyond the purview of the University's rigorous fire safety rules. With a new school year under way, the University is advising students, on and off campus, about ways to keep safe and of city and BU resources that can help them do so.
If you see smoke or fire, immediately activate the nearest fire alarm and evacuate the building, and once you've safely left the building, call 911 and then the BU Police, at 617-353-2121; if the building is on the Medical Campus, call 911 and then Medical Campus Public Safety, at 617-638-4444.
Additionally, here are a dozen critical tips for how to avoid starting a fire—and what to do in the event of one:
Before moving in, walk through the building and make sure there are working smoke detectors and carbon monoxide detectors. Check the locks for deadbolts or padlocks that would prevent you from getting out in the event of a fire.
Candles are banned in BU dorms for a reason. Don't use them. Wax-with-wicks are the most common fire-starters among college students. Also banned are incense, open flames, and smoking.
Have a fire extinguisher within easy reach. Also, purchase flashlights and extra smoke detectors, and batteries for both.
Make sure there is a smoke detector outside each sleeping area in the apartment.
Have a carbon monoxide detector on each level of the house.
Know two escape routes out of your building and make sure they are free of debris.
If you smoke, have a metal canister with sand or water to put out smoking materials safely. Better still, don't smoke inside. (Smoking is prohibited in University housing.)
Don't overload electrical outlets. All electrical equipment, cords, and power strips should be listed by safety certification company UL.
Whenever an alarm sounds, assume it's for a reason and that it's not a false alarm—and get out.
If there's a fire and you must evacuate the building, stay low to the floor if it's smoky. Before opening a door, feel it with the back of your hand, and don't open it if the door is hot.
Never use a gas stove or oven to heat your place; it could lead to carbon monoxide poisoning.
If you grill, watch where you do it. Boston and Brookline ban charcoal  grills on wooden porches. And make sure you put out the embers with water when you're finished. As for gas grills, state law forbids their use or storage anywhere inside or above the first floor of any residence—this includes balconies, decks, porches, rooftops, and fire escapes. Grills should be on level ground away from walls, trees, porch railings, and other combustible materials. No barbecuing is allowed on the BU campus except at officially sanctioned events supervised by Campus Dining Services.  
Resources with this information and other details include BU's fire safety website, which lists the University's fire regulations and advice; BU's Environmental Health and Safety website, with a fire safety checklist, questions to ask before signing a lease, and tips on hosting safe parties; BU's Emergency Management website; a state website listing renters' rights; and the city's Bos:311 service, for reporting problems with unresponsive landlords and broken smoke alarms.
Students whose landlords have refused to fix problems can contact the city's Inspectional Services at 617-635-5300 to schedule an inspection of their unit. The department will cite the landlord for any violations and order the landlord to correct them. The Boston Fire Department offers a list of safety tips, and the city provides a home safety checklist.
BU also provides, via Blackboard, online training for managing an emergency here; scroll to the "Take Online Emergency Training" section.