Night Shift
Liu Astronomical Observing Center gives astronomers local access to telescopes worldwide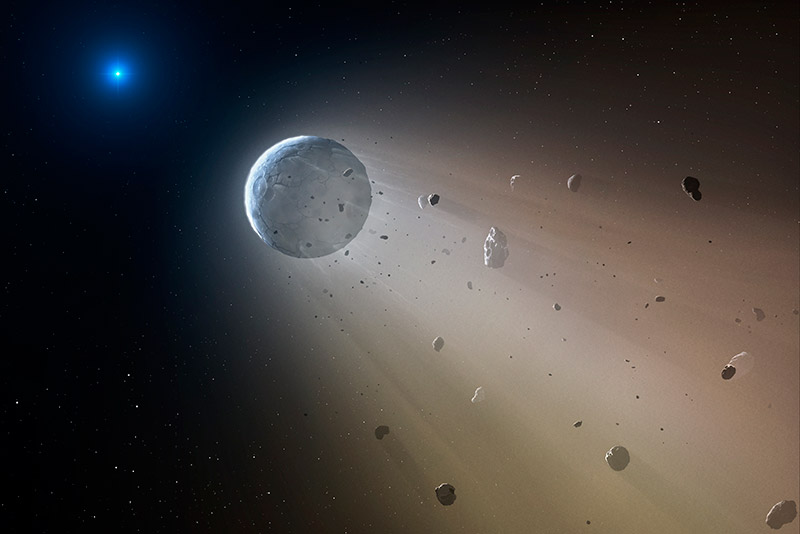 It's 10 p.m., and Paul Dalba (GRS'20) is waiting for the sun to set.
Dalba, a fourth-year graduate student studying astrophysics, is settling in to his workstation in the Liu Astronomical Observing Center, on the fourth floor of the Boston University College of Arts & Sciences (CAS) building. Outside, night rain is pelting Commonwealth Avenue. Inside, on a computer monitor hung above a line of workstations, wispy clouds are skimming over Happy Jack, Arizona, where the 4.3-meter Discovery Channel Telescope (DCT) is initiating its calibration maneuvers.
Joining Dalba are Philip Muirhead, CAS assistant professor of astronomy and Dalba's research mentor, and astronomy major Sheila Sagear (CAS'20). Also present, thanks to a live Skype link lighting up a monitor at the far side of the room, are Andrew Hayslip and Teznie Pugh, two telescope operators on-site in Happy Jack. A webcam sends video from Boston back to Arizona.
Modern astronomy looks a lot different from its popular depiction. Instead of squinting into a telescope eyepiece beneath a creaky old dome, today's astronomers work at computers, scanning data coming in from sensitive cameras that sit at the tail end of the telescope's optical system. This is fly-by-wire astronomy, and while it may lack some of the romance of the old way, it opens up the possibility of "remote observing"—that is, using a telescope while sitting hundreds or even thousands of miles away. For more than a decade, taking advantage of high-speed internet and computerized telescope control, astronomers have increasingly been choosing to observe from afar, sparing the expense and hassle of far-flung travel.
Thanks to a special partnership, BU observers typically get about 40 nights each year on the DCT, which is run by the Lowell Observatory, and a growing share of that research is done remotely. But until 2015, BU lacked a dedicated space for remote observing—astronomers typically ran the telescope from their office computers or even from home.
Recognizing a need, astronomy department alum Tianxing "Tim" Liu (GRS'86,'90), who studied with BU's Kenneth Janes (now a professor emeritus), directed a $100,000 gift to the creation of the new lab. The gift transformed an unloved computer room on the fourth floor of 725 Commonwealth Avenue into an ideal spot for remote observing.
David Bradford, systems manager for the astronomy department, has been responsible for outfitting the lab and making it foolproof for sleep-deprived astronomers, who, he says, are "just zonked" by the end of the night. The lab has a rugged internet connection, four workstations, videoconferencing equipment, and wall-mounted monitors for displaying video feeds from faraway telescopes and control rooms. Poster-sized astronomy images decorate the walls, and Bradford hopes he might be able to find room in the budget for a couch, so that observers can nap while they wait for clouds to clear.
It's a technical step up from the previous homegrown setups, but the advantages go beyond equipment, says Muirhead. "It's a good environment to do science. If you're in your office or home, you get distracted."
"When you go to the telescope, you're serious, because you're there and you're focused," says Dalba. "I find a similar thing about this room—I don't spend time in this room unless I'm here to observe, so I get into that mindset."
Around 11:40 p.m., it's finally dark enough to get started. With help from the operators, Dalba points the DCT at his source, a white dwarf star about 570 light years from Earth. For the next two hours, the camera on the DCT will take a series of 30-second shots; Dalba will string them together later on.
The star—technical name: WD 1145+017—is unusual among white dwarfs. Every four hours or so, it becomes up to 40 percent dimmer, suggesting that something is passing in front of it and obscuring its starlight. But what? The dimming is too erratic to be caused by a planet. Perhaps, the rubbly remnants of an old planet, broken up by the strain of the white dwarf's gravity, are orbiting around. Or maybe a dust cloud, created by the collision of two or more asteroids, is whirling about the star and blocking its light.
To figure the mystery out, astronomers need to observe the star in different colors of light. If the dimming is caused by a dust cloud, it should look abnormally red, like a sunset. But the Earth's atmosphere blocks all but a narrow range of colors, limiting what astronomers can learn from observations done on ground-based telescopes alone.
That's why, when Dalba learned that researcher Siyi Xu, a postdoctoral fellow at the European Southern Observatory, would be tracking WD 1145+017 with the Hubble Space Telescope, he scrambled to get a few concurrent hours on the DCT. Because of the observatory's remote capabilities, he didn't have to get a last-minute plane ticket to make it work. He only had to travel down the hall to Room 414.
"There was clearly pent-up demand" for the lab, says Bradford, and department researchers are already using it to connect to telescopes beyond the DCT. Catherine Espaillat, a CAS assistant professor of astronomy, and her students use the Liu Astronomical Observing Center to study young stars with the NASA Infrared Telescope Facility in Hawaii. Dan Clemens, a CAS professor of astronomy, has used it to monitor observations going on at the Arizona Radio Observatory on Kitt Peak. "It has had a huge, positive impact on our ability to do research because it saves so much time and money compared to the traditional mode of observing, in which one has to travel to the telescope in order to use it," says Tereasa Brainerd, chair of the CAS astronomy department.
A little before 2 a.m., it's time for Dalba, Muirhead, and Sagear to hand over the telescope and head home for the night. They'll be back at work in a few hours. After all, there's new data waiting for them.