Revisiting the Spirit of '67
BU's Tom Whalen explores the dramatic birth of Red Sox Nation a half-century ago
In Spirit of '67: The Cardiac Kids, El Birdos, and the World Series That Captivated America (Rowman & Littlefield Publishers, 2017), Thomas Whalen, a College of General Studies associate professor of social sciences, examines the sensational rise of the "Impossible Dream" Red Sox 50 years ago, how they captured the country's imagination amid the tumult of the 1960s, and their enduring effect on the city.
Whalen is a longtime Red Sox fan
"It's in my DNA, I suppose," says Whalen, a sandlot ballplayer who grew up in Beverly, Mass. His father took him to his first game at Fenway Park in the 1970s to see Luis Tiant pitch. "I remember going up the ramp and seeing the field for the first time–it's like electricity going through your body when you see the wall. And then it was without the ads, it was just kind of pure and pristine."
Fenway's still great, too, right?
"I think Fenway is the most overrated park in baseball," Whalen says. "Let's face it, it's all this nostalgia. They made it nicer, but it's more hype than anything. They really need a new ballpark. I don't think people need to be crammed into those 1912 seats."
Why was the '67 team such a big deal?
After Ted Williams retired in 1960, the Red Sox were mostly losers, and Fenway Park attracted few fans. Owner Tom Yawkey even considered moving the team. Baseball in Boston had been dead for a long time. Whalen says that "1967 changed everything. Out of nowhere they won the American League pennant and entered that great World Series against the Cardinals. And left fielder Carl Yastrzemski had arguably the greatest season a modern player has enjoyed, with his clutch hitting, and defensively. That's what revived the franchise and revived baseball in Boston."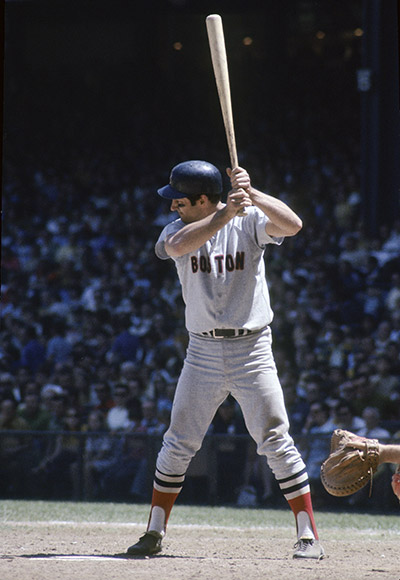 Long-shot heroes
No one took the Red Sox seriously until after the All-Star break, when a 10-game winning streak made them a sudden sensation. "There were three television networks, no cable networks," Whalen says. "There weren't many choices on the sports menu in the late 1960s. And in the summer, you basically had the Red Sox—there was no competition." Some 15,000 fans greeted the team when they returned to Logan Airport on a Sunday night, and suddenly Red Sox Radio Network broadcasts were blaring from every car and every transistor radio at the beach. "They were part of the sound of summer."
Consider the demographics
"By 1967, the majority of Americans were under 25. This is the Baby Boomer generation just coming to fruition. So, you had a lot of young potential fans, and the Red Sox hit stride just as they were coming of age. It made their summer special. And as they had kids, they passed on this legacy."
The beaning
Hometown hero Tony Conigliaro grew up on Boston's North Shore and joined the Red Sox in 1964 as a 19-year-old rookie outfielder, leading the league in home runs in his second season. But at Fenway on August 18, 1967, he suffered a horrifying, season-ending injury, hit in the head by a pitch and carried off the field on a stretcher. The drama brought the city together around the team. ("Tony C." returned to the game in 1969, but his career was shortened, and he died of a heart attack in 1990, at age 45.)
Seventh inning stretch: time for some music
"The Carl Yastrzemski Song," performed by Jess Cain, longtime WHDH radio personality
"The Impossible Dream" (from Man of la Mancha), performed by Andy Williams
The Cardiac Kids!
After a nail-biter of a final week, during which Boston fans could talk of little else, the Sox finished with a 92-70 record, just ahead of the Detroit Tigers and the Minnesota Twins, who both finished 91-71. Yaz was named American League MVP and won the Triple Crown, a feat accomplished only 16 other times in Major League Baseball history, hitting .326, with 44 homers and 121 RBIs. Pitcher Jim Lonborg won the American League Cy Young Award, going 22-9. The Sox then faced the National League champion St. Louis Cardinals—newly dubbed "El Birdos"—in the World Series.
Nooooo!
After a dramatic back-and-forth series filled with heroics, the Cardinals won the deciding seventh game at Fenway Park, 7-2, a disappointing end to the Red Sox miracle season. And when that disappointment was repeated in increasingly disastrous fashion in 1975, 1978, and 1986, it seemed to make Sox fans fatalistic—but perhaps perversely, even more faithful. "Even in '86, when they came close," Whalen says, "you just had the feeling that it was a bridge too far."
Curse of the Bambino?
Why they kept snatching defeat from the jaws of victory is a question with "some really ugly answers," Whalen says, and it has nothing to do with the superstition about selling Babe Ruth to the Yankees back in 1919. More like bad management and "incredibly racist team policies" under Yawkey ownership. "I think with the new ownership, they've caught up to modern times."
The '67 story really didn't end until 2004…
…when the Red Sox won the first of their three World Series this century, to the joy of countless fans. Those who believed in the curse laid it to rest. But 1967 was "ground zero for Red Sox Nation," Whalen says. "It's just amazing how that one year changed everything. We probably never would have been the sports town that we are, because the Red Sox probably would have moved. Imagine no baseball in Boston. We lucked out."
What's next for Whalen?
He's writing a book on Bobby Orr and the Big Bad Bruins. It will complete a Boston sports trilogy with Spirit of '67 and his Dynasty's End: Bill Russell and the 1968–69 World Champion Boston Celtics (Northeastern University Press, 2003).
Tom Whalen will speak about his book and the Red Sox in CGS 505 at 1 p.m. on Saturday, October 14, during Friends and Family Weekend. Details TBA.