Bach Masterpiece Being Performed at Marsh Chapel Tomorrow
Marsh musicians joined by Ashmont Boys Choir in St. Matthew Passion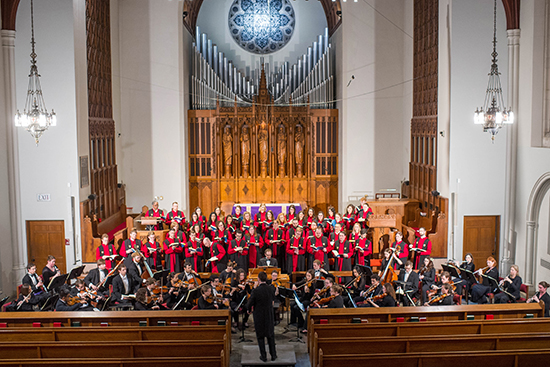 Marsh Chapel is reaching for the heavens, and into a neighboring Boston parish, to perform one of sacred music's greatest and most daunting masterpieces tomorrow: Johann Sebastian Bach's St. Matthew Passion.
First performed in 1727, the oratorio requires two orchestras, two choruses, a boys choir, and two and a half hours to perform. The chapel will provide the orchestras and choruses through the Marsh Chapel Choir and the Marsh Chapel Collegium. For the younger voices, the chapel is collaborating with the Ashmont Boys Choir of the Episcopal Parish of All Saints in Dorchester.
"It is universally acknowledged as the piece that exemplifies love, redemption, fidelity…through the level of Jesus' Passion," says Scott Allen Jarrett (CFA'99,'08), Marsh music director, who will conduct the performance. He is also the College of Fine Arts School of Music acting director of choral activities.
"The primary benefit offered to the boys comes from the chance to sing in a performance of one of the great masterpieces of all time," says Andrew Sheranian, All Saints master of choristers. "We are very grateful to Scott Jarrett for inviting the boys…to participate in the performance." In particular, the trebles in the choir, whose singers are as young as seven, "rarely get the opportunity to perform with an orchestra."
The Passion text includes words from Matthew's Gospel, well-known chorales (hymns) that Bach included, and words written by Christian Henrici, a German collaborator of Bach's. When Bach wrote the original score, he penned parts, including the Gospel's words, in red ink, an "expensive, but simple and beautiful touch," says Jarrett. In another touch, strings accompany ("halo") Jesus' sung words, he says.
One commentator noted the varied and constantly moving parts of the work: "The musical textures range from complex counterpoint to simple hymns. Dramatically, the point of view shifts regularly, from the narrative of the Evangelist, to the actual words of Jesus and his disciples, to reflections that speak for the individual believer."
The performance coincides with Marsh's ninth annual Bach cantata series, which presents four of the maestro's cantatas as well as talks about Bach throughout the academic year.
The Marsh Chapel Choir and Marsh Chapel Collegium will perform the St. Matthew Passion Saturday, February 27, at 7:30 p.m., at Marsh Chapel, 735 Commonwealth Avenue. The performance is open to the public; admission is $10, free for BU students with ID.