Open Mic Night Tonight at Club Passim
Musicians, poets, storytellers welcome at legendary music venue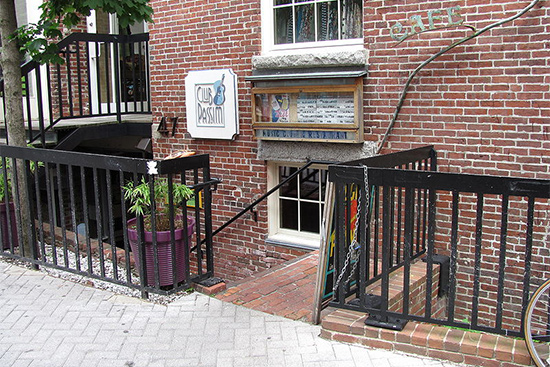 If you've ever dreamed of performing on the same stage that helped launch the musical careers of Joan Baez, Joni Mitchell, Judy Collins, and Bob Dylan, tonight's your chance. Club Passim, the legendary Harvard Square music venue that's been a mainstay of the Boston music scene for nearly six decades, is hosting its weekly Tuesday Open Mic night at 7:30 p.m. Musicians, poets, and storytellers are welcome; each can take the stage for 2 songs or 10 minutes, whichever comes first.
Original work is encouraged; performers can add their names to the list starting at 6:30 p.m. and the order will be determined by lottery and announced at 7:30 p.m. The only caveat to the event? It's live performances only—no amplifiers or prerecorded tracks are allowed. A keyboard will be provided.
A limited menu is available as well. Among the offerings are the signature Passim Burger, grass-fed beef, Vermont smoked bacon, cheddar cheese, caramelized onions, and chipotle mayo, with fries ($16), and kale and arugula salad, with toasted hazelnuts, seared artichokes, parmesan cheese, and lemon vinaigrette. A full menu can be found here. Beer and wine are also served.
Open Mic night at Club Passim, 47 Palmer St., Cambridge,, is tonight, Tuesday, June 28, beginning at 7:30 p.m.. General admission tickets are $5 and can be purchased online here. Take an MBTA Red Line train to Harvard Square. 
Find a full schedule of upcoming events at Club Passim here.
Connor Lenahan can be reached at lenahan@bu.edu.