The Problem Parenting Behind Asian Women's Suicide Rate
UROP research seeks causes of "disempowering" parenting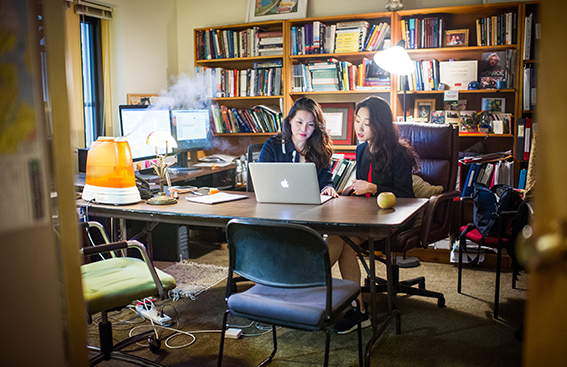 The young woman's home life with her Vietnamese parents was one of unrelenting strife: perfectionist demands over grades and behavior that made her feel inadequate, and ironclad restrictions regarding her free time and choice of friends. A knock-down-and-drag-out over her boyfriend finally made her snap, and she attempted to hang herself from a rafter, blacking out before her father rescued her. But rather than ask about the pain driving his daughter's despair, he was angry about her act, telling her, "You'll go to hell."
Yujin Kim (CAS'17) recounts this story from one of the 39 Asian American girls and young women in greater Boston whose lives she's studying, 16 of whom attempted suicide, considered it, or committed other self-harming acts. Kim's project, for the Undergraduate Research Opportunities Program (UROP), seeks explanations for the high rate of self-destruction among young Asian American females in the United States.
It's a quest begun by her UROP mentor, Hyeouk "Chris" Hahm, who has found that the 16 suicidal women shared a similarity: mothers and fathers practicing what Hahm, associate professor at the School of Social Work, calls "disempowering" parenting (more on that shortly). The goal of Kim's UROP project was to explore "what kind of social and economic reasons" undergird that parenting.
The most prevalent theme, reported by 63 percent of the subjects, was parents who faced language or cultural barriers in the US, from problems with English to an inability to write a check. Of the 16 women, 56 percent said they couldn't describe their parents' personal backgrounds, possibly because the elders were embarrassed by something in their history, Kim and Hahm reported. The third most prevalent theme (44 percent) was marital discord.
Other factors included parents' financial hardship; parental trauma, such as war or persecution in their home country; mental or physical health problems; and parents who had little emotional support from family, friends, or community organizations.
According to 2014 data from the National Center for Health Statistics, 23 percent of deaths among Asian American women age 15 to 24 were from suicide. The rate among US women overall in that age group was 13 percent; among white females, 14 percent; and among African American females, 6 percent.
The UROP subjects, who had participated in Hahm's previous, longer-term research, either came to the United States as children or were born here, and, as with that father who berated his daughter for her suicide attempt, "there are a lot of extreme cases in these interviews" of emotional abuse, Kim says.
She's not referring to Tiger Mother, the Chinese-style, academically demanding approach made famous by Yale law professor Amy Chua's 2011 bestselling memoir Battle Hymn of the Tiger Mother. Chua admitted that her own expectations were so burdensome that her second daughter rebelled, and imposing excessive burdens is a trait of disempowering parenting, Hahm says. But Chua's household lacked the other themes of such parenting.
"She doesn't have a substance abuse problem," says Hahm. "She has a good marriage. Both are professors at Yale. Linguistic barrier? She doesn't have it."
"We did not want to pathologize Asian parents" in the research, she adds. So what's to be done to help daughters from these families? This fall, Wellesley College became the first campus to launch a support group-cum-counseling for Asian students, designed by Hahm with a National Institutes of Health grant. She says BU is contemplating its own version of the program, which Wellesley adopted after several of its Asian students participated in a federally funded study she did called Asian Women's Action for Resilience and Empowerment (AWARE).
AWARE aims to improve Asian women's mental health with an eye toward their culture and its challenges. The subjects in Hahm's research and Kim's UROP project described those challenges, including parents' rigid adherence to their home culture's values. If a daughter were gay, for example, "It could be interpreted as a very temporary behavior, not as an identity," Hahm says. "The understanding of homosexuality is very limited and very punitive."
Some interviewees described parents foisting financial burdens on them: "It cost me $300,000 to raise you. You need to pay me back," Hahm says. The interviewees said that unlike their brothers, they were denied freedoms such as sleepovers with friends while being saddled with more household chores. Fathers in these families typically play a breadwinning role, remaining unengaged with their daughters' lives otherwise.
It can be different. A daughter of Taiwanese immigrants wrote a New York Times op-ed describing how, by downplaying her school grades, her parents allowed her natural work ethic to flourish. But for Kim, who is from South Korea, her research resonates with personal experience.
"I know of a lot of second-generation Asian friends from America," she says, "and they do have these problems. Their parents do not speak English, and they cannot teach anything to [their] children.…They are not suicidal, but I can say that depression is a problem."