WTBU Vies for Best College Radio Station Tonight
Nominated for a mtvU Woodie Award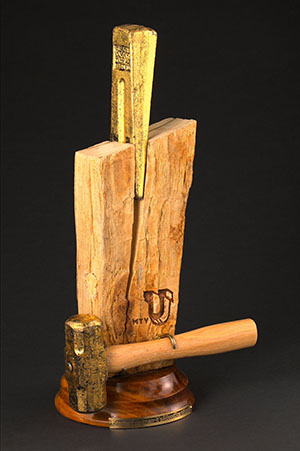 For the second year in a row, WTBU, BU's student-run radio station, has been nominated for a College Radio Woodie, given to the best college radio station in the country. The winner will be announced at tonight's annual mtvU Woodie Awards, which will air live on MTV at 9 p.m. The ceremony, hosted by indie pop band Bleachers front man Jack Antonoff, will feature both live performances and award presentations.
Established in 2004, the Woodie Awards are unique because of their emphasis on emerging artists as opposed to well-established and more commercially successful performers. In fact, says Carlo DiMarco, mtvU senior vice president of college relations and partnerships, the Woodies often help propel lesser-known musicians into the mainstream. Some of this year's nominees are relatively unknown acts, like FKA Twigs and Porter Robinson, and some are already on their way to becoming household names, like Charli XCX and recent Grammy winner Sam Smith. Past winners include many now-famous acts, such as the Killers, Fall Out Boy, Kings of Leon, and Macklemore & Ryan Lewis, a testament to the Woodies' influence on constantly evolving musical tastes.
While seven of tonight's awards honor up-and-coming musical acts, the eighth celebrates the work being done by the nation's top college radio stations, which DiMarco describes as the "new music vanguard." WTBU is nominated alongside stations from Arizona State University, Eastern Illinois University, Hofstra University, James Madison University, Loyola University, Marywood University, St. Edward's University, U.C. Berkeley, and the University of Pittsburgh. The nominees are selected based on rankings from the Princeton Review and interactive music outlet CMJ, as well as from online nominations and the strength of a station's social media presence. "We really love handing out this award, and it's always one of the highlights of the show," DiMarco says. "College radio stations are rightly lauded for championing artists before they achieve mainstream success, much like we do with the Woodies. It's the perfect awards show to reward the contributions of our country's best college stations."
WTBU station manager D. J. Rock (COM'17) explains that the station's tagline "The Beat of Boston University," embodies the staff's goal: to act as campus tastemakers and introduce the BU community to music they won't hear anywhere else on the radio. "What's really unique about college radio is our ability to reach out to the community and play local artists," Rock says. "What we're really trying to do is kind of give a voice to these small, lesser known artists. If you turn on a Top-40 station, you can hear a Lady Gaga song 50 times, but I'm playing a two-hour show right now with 30 bands that no one has ever heard of. And so it's really just giving these small local artists a voice and an opportunity to play."
The commitment to featuring smaller artists is evident in WTBU's special programming, interviews, and live in-studio performances. This past year alone, the station has hosted performances in its studio of Brooklyn-based cyberpunk band ONWE, indie dance duo Matt & Kim, and alt-rock band Walter Mitty and His Makeshift Orchestra. Last fall, the station held an outdoor concert and record sale on the COM lawn featuring Allston-based band House Guests. Several COM classes were canceled for the afternoon so students could enjoy the free show. The station also attracts more recognizable names: rapper and TV star Ice Cube and voice actor H. Jon Benjamin (Archer and Bob's Burgers) have appeared on WTBU during the past year as well.
Unlike many college radio stations, WTBU is entirely run by students. The station is home to nearly 200 DJs hosting a total of 70 shows each week, covering a wide variety of musical genres (from indie rock to hip-hop to movie soundtracks) and topics (the station has a long-running, NPR-style news show, as well as shows dedicated to sports and dating advice).
While Anne Donohue (COM'88), a COM associate professor of journalism, is the station's official faculty advisor, Rock says the task of managing the station, —which includes planning events, holding meetings, and arranging for local artists to play in-studio, among other things—falls under the jurisdiction of WTBU's executive board and student volunteers. And that, he says, works to the station's advantage: "It allows us more control over our products and the creative space to express ourselves through the music that we play."
It seems that such creativity and innovation is paying off. In addition to the station's back-to-back Woodie nominations, WTBU has been named "Station of the Year" by CMJ at the College Radio Awards for the past three years. Rock says that winning that award, one of the most coveted in the world of college radio, is a testament to the quality and originality of WTBU's extensive programming. "The people who vote for the CMJ award are other college radio stations and music promoters," he says. "So that's the one we always focus on, because it's people who do what we do and know what we do who are picking us for Station of the Year."
As for tonight's awards ceremony, Rock says, "we're just happy we're even nominated, and we're excited that people have shown so much support throughout this process. Just to be on that list of best in the country has been really awesome."
The 2015 mtvU Woodie Awards will air live tonight at 9 p.m. on MTV.
Samantha Pickette can be reached at pickette@bu.edu.