Transforming Everyday Objects into Works of Art
Artist Willie Cole's water bottle sculptures on view at 808 Gallery
Most people looking at a discarded pair of women's high heel shoes, an iron, or an old hair dryer would likely dismiss them as junk. But for sculptor Willie Cole, these ordinary objects are alive with artistic possibility. In his hands, old hair dryers are transformed into a Buddhist wheel of life, a heated iron's scorch marks on canvas or paper become emblematic of African shields, and women's shoes morph into exotic blossoms, chairs, even a sculpture of civil rights icon Rosa Parks.
Considered one of today's most influential sculptors, Cole describes himself as a "perceptual engineer"—taking everyday objects and through repetition creating visually stunning three-dimensional works that become a vehicle for commenting on serious issues like consumerism and race, often in a playful way. His work, he has said, is about creating new ways to see old things.
Two years ago, long after his sculpture had earned him an international reputation, Cole began collecting discarded plastic water bottles, melding them into fanciful, often dazzling sculptures. Viewers can see those water bottles featured in an exhibition at the 808 Gallery, Willie Cole: Aquahallic, through December 4.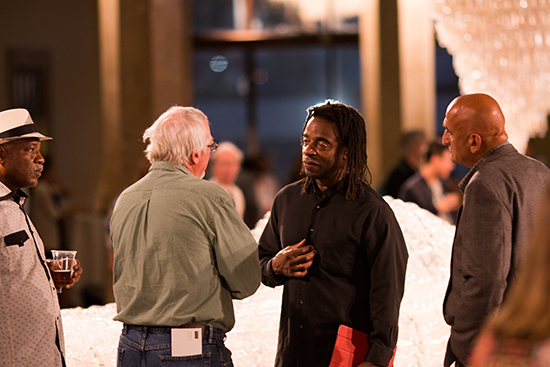 The show consists of just three pieces, albeit monumental in scale: two intricate chandeliers and a life-size 1959 Cadillac Eldorado, replete with fins—an homage to the gallery's previous life as a Cadillac/Oldsmobile dealership. Where Cole's blossom sculptures required as many as 2,000 to 3,000 high heel shoes, his automobile sculpture, titled H2O El Re, is made from about 7,000 water bottles. Like so much of his work, these sculptures offer a critique of Americans' overweening consumerism. The very title of the show—Aquahallic (a play on the word alcoholic)—is a sly pun on our seemingly unquenchable thirst for bottled water.
"Willie is a humanist, and this is a way for him to make art using castaways, throwaways, things that somebody didn't need anymore," says Lynne Allen, College of Fine Arts interim dean and a CFA professor of art. "It's more a statement about our excess. As he says, he finds beauty in the commonplace."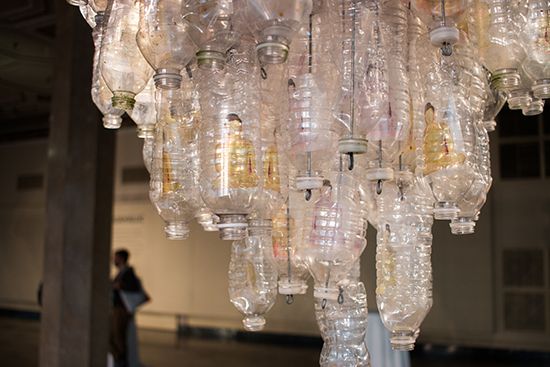 Allen, a friend of the artist for decades, has long wanted to mount a show of his work at BU. A versatile artist, Cole has designed theater and opera sets, album covers, and prints. But he's best known for his sculptures, which can be found in the permanent collections of the Museum of Modern Art (MOMA), in New York, the National Gallery of Art, in Washington, D.C., and many other institutions across the globe. Cole studied briefly at the BU School of Visual Arts in the 1970s before transferring to the School of Visual Arts, New York, graduating in 1976. His numerous honors over a nearly four-decade career include the David C. Driskell Prize, the first national award to honor contributions in African American art.
When Allen and Lynne Cooney, BU Art Galleries artistic director, first approached him about putting together an exhibition of his 3-D work, they hoped to show some of his iconic shoe sculptures. But as Cole saw photos of the gallery and heard about its history as an automobile showroom, he thought the space would lend itself perfectly to the chandeliers and car sculptures he'd begun constructing. He'd already sculpted one car out of water bottles, and he wanted to create another as homage to the building's past.
The result is trademark Cole. "It's the idea of repetition," says Cooney. "You have all these individual objects, water bottles, that kind of all work together to transform and become a completely different thing. You can see the individual components and you can recognize what it is, but really, when you take in the whole of it, it becomes this other thing."
To accommodate the sculptures' grand scale, and make the installation as powerful as possible, Cooney and Allen did something that hadn't been done since BU took over the space as a gallery: they took down the walls, restoring it to a large, gleaming showroom. Without the walls, even passersby on the sidewalk can view the elegant work, which more than holds it own against the ornate ceiling tiles, plasterwork, and plate glass windows. Cole sculpted each piece in his Newark, N.J., studio and shipped the pieces to BU. The Cadillac sculpture comprises three parts, each packed separately and assembled on site.
Cole's repetitive use of a single object imbues his work with a spiritual quality. In taking discarded objects and turning them into something beautiful, the artist is asking us to think before we throw something away, to reconsider how we use and dispose of items.
"Willie's work is all about making beauty where one least expects it," says Allen. "But he is also very conscious of ecology, and he lives his life in a way that respects it, not only in his art, but in his daily practice as a human being."
Chances are, after taking in the 808 Gallery show, you'll never look at a plastic water bottle the same way again. And that would suit Cole just fine.
Willie Cole: Aquahallic is on view at the 808 Gallery, 808 Commonwealth Ave., through Friday, December 4.; phone: 617-353-3371. Gallery hours: Tuesday through Sunday, 12 p.m. to 5 p.m. The gallery is open until 8 p.m. on Thursdays and is closed on Mondays. The gallery will be closed November 24 through November 29 for the Thanksgiving holiday.