Nightlife: Orchard Skateshop
Skateboarding and art converge in Allston
Ask anyone in Boston's skateboard community about Orchard Skateshop, and you're likely to get a enthusiastic response. The Allston store has become a mecca of sorts, famous for its huge selection of skateboards, apparel (the place even has its own line), and footwear, to say nothing of the decks, wheels, grip tape, trucks, and other equipment for sale. It's is equally famous for its indoor mini-ramp, free to all skateboarders regardless of age or skill and especially popular during winter months when outdoor skating is nearly impossible. But there's more. Much more. Orchard hosts regular skate jams, skate video premieres, and contests and pro signings that draw fans from all over the Boston area. There's even a second floor art gallery featuring work by local skateboarders.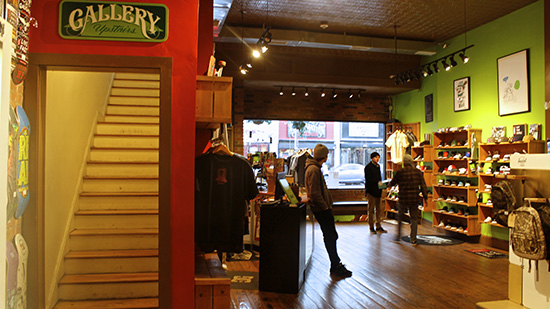 When we stopped by on a recent Saturday, we were greeted by co-owner Broderick Gumpwright. Also on hand was another mainstay of the Boston skate scene, Nick Rudzinski, a shop supporter since it first opened in Mission Hill (it moved to Allston in 2010 and a second location opened on Newbury Street in 2013). Orchard's website declares that it is 100 percent skateboard owned, and it was quickly apparent that staff live and breathe skateboarding. Gumpwright invited us to explore the shop and gallery (and gawk at those shredding on the mini-ramp). The atmosphere was so inviting that we never felt like outsiders.
Gumpwright says they've created the store's versatile programming so people will come out, try the offerings, and have a good time. "We want kids and adults to have access to what we're doing," he says.
As tempted as we were to check out the equipment and clothing, we gravitated to the mini-ramp, where a boy of about 11 was ripping alongside a guy in his 20s. We weren't the only ones impressed with the action—a shopper standing next to us whipped out his phone to record the competition for his snap story.
Once the skaters took a break, we headed up to the free gallery, which features a constantly changing array of work by local painters, photographers, and sculptors, all with ties to the local skate community. Exhibitions change every month or so, and a sign notes that a portion of the sale proceeds goes to support the greater Boston skate community. The gallery is open during regular store hours and all ages are welcome.
Among artists who have exhibited are Dennis McNett, who showed his collection of skateboard graphics, Russ Pope, who also created the floor-to-ceiling mural behind the mini-ramp, and Erin Riley, whose show included a series of collages and small pieces fabricated from lost and found objects. The evening we stopped by, the gallery was hosting Wide Angle Vision: A Glimpse of America, a photography show by artist, skater, and New England School of Photography grad Rob Collins. Each room had wall-to-wall images documenting a cross-country journey by Collins and his brother Paul. Also featured were two skateboards, a collage of the travelers' receipts, and a floor-to-ceiling map charting their route.
After leisurely perusing the exhibition, we were drawn back downstairs by the clamor of more skaters tearing up the mini-ramp. This time, four men, ranging from 20s to early 30s—were posted up on the ramp. Gumpwright told us that the shop brings in pro skateboarders affiliated with the brands Orchard carries—like Converse and Vans—to do demos on the ramp, hold meet-and-greets with customers, and sign autographs. Skaters Christian Hosoi, Tony Alva, Dillon Buss, Frankie Nash, and notably, one of the rare female skaters, Alexis Sablone—who won the X-Games a few years back and is currently a grad student at MIT—have all stopped by.
But the ramp isn't just for pros to strut their stuff. Most days, anyone is welcome to use it, provided they sign a waiver. Each February, Orchard hosts its annual "Dead of Winter" mini-ramp contest, where skateboarders of all ages and skill levels are welcome to compete. If you're like us and prefer to leave the skating to the pros, check out events like Orchard's Battle at the BARrics, where New England's best flat-ground skaters play S.K.A.T.E. (think H.O.R.S.E. in basketball) in a winner-takes-all-style competition.
Our visit to Orchard lasted much longer than we expected. We were definitely bitten by the skate bug by the time we left. Whether you're in the mood for art, action, or a little shopping, the place offers something for everyone. And the store's 8 p.m. closing means there's still plenty of time afterward to grab a drink at any of the nearby Allston watering holes, such as Wonder Bar, Patron's, White Horse Tavern, and Tavern in the Square. It won't be long before we return. After all, these skaters are far cooler than we'll ever be.
Orchard Skateshop, 156 Harvard Ave., Allston, is open Monday to Friday from noon to 8 p.m., Saturday from 11 a.m. to 8 p.m., and Sunday from noon to 7 p.m. The store's gallery and mini-ramp are free and open to all ages. Take a MBTA Green Line B trolley to Packard's Corner, walk down Brighton Avenue and turn left on Harvard Avenue. Orchard also has a store at 297 Newbury St., Boston (no mini-ramp or gallery), open Monday to Friday from noon to 7 p.m., Saturday from 11 a.m. to 7 p.m., and Sunday from noon to 7 p.m. Take any MBTA Green Line trolley to Hynes Convention Center.
This is part of a series featuring Boston nightlife venues of interest to the BU community. If you have any suggestions for places we should feature, leave them in the Comment section below.
Rebecca Jahnke can be reached at rsjahnke@bu.edu.